Low carb coconut flour pancakes are delicious easy, healthy fluffy keto pancakes made with coconut flour, 100 % grain free and dairy free.
Low carb coconut flour pancakes – NO banana + grain free
I love low carb baking especially coconut flour recipes: my coconut flour crepes has been my all time favorite breakfast until this new coconut flour pancake recipe ! it is amazing how many delicious recipes you can create using healthy low carb flours. Most people believe that a low carb diet is restrictive and boring but I don't agree. I never feel so happy since I made the big switch 5 years ago.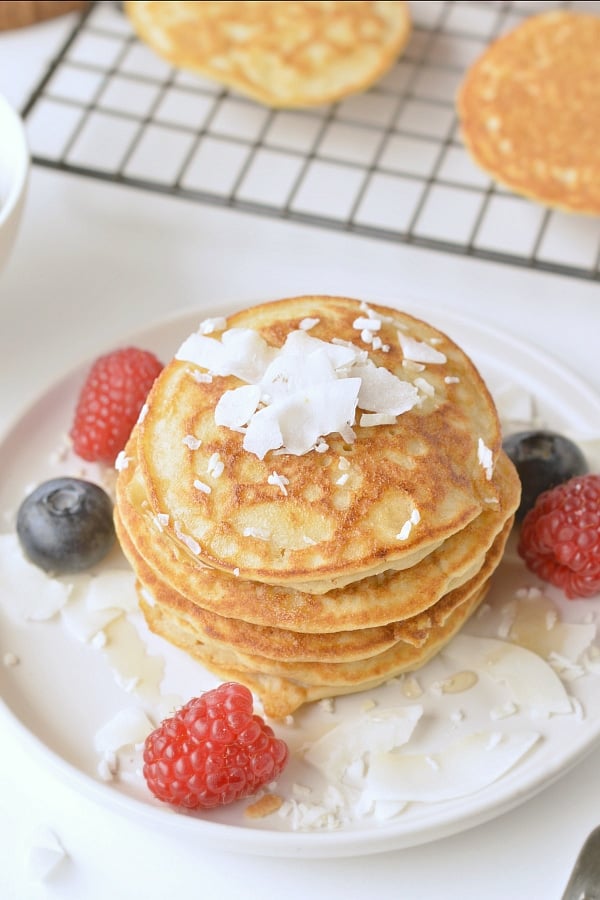 It take time and you have to bake your own food to enjoy low carb baking but it so worth it. Those low carb coconut flour pancakes are the best way to tun any pancakes lovers into low carb eating. They are the fluffiest pancakes I ever made and even my kids prefer this recipe to their regular wheat pancakes. Plus, those low carb coconut flour pancakes are made in 10 minutes in a blender with only few wholesome ingredients, so let is try this.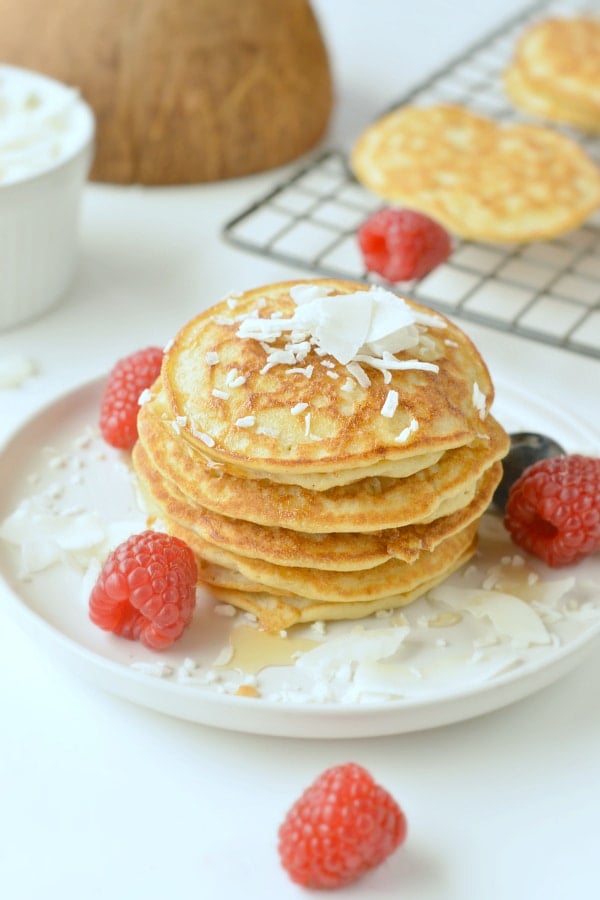 Note: recipe has been updated on 19 January 2019 as many struggled baking with coconut flour. I now recommend to use guar gum, no apple cider vinegar and full fat coconut milk from the can for perfect result each time! So all you need are:
Coconut flour – make sure you use fresh coconut flour with no lumps or for perfect result weight the flour in grams (not cup) to make sure you are using the right amount. Coconut flour is high in fiber and if stored for long, it creates lumps.
Baking soda
Guar gum
Vanilla essence
Full fat canned coconut milk – minimum 18 g fat per 100 g
Coconut oil
Salt
Vanilla essence
Eggs
One bowl blender recipe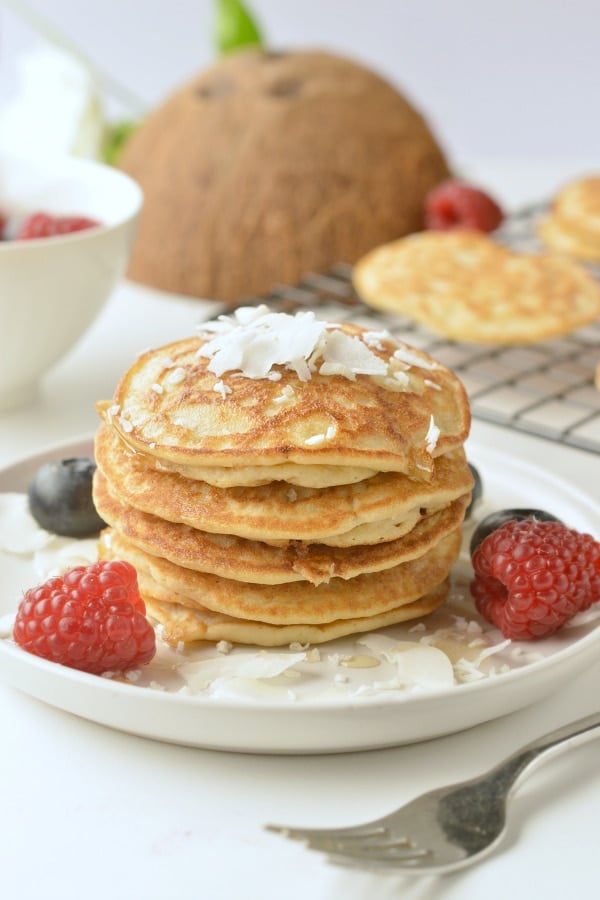 I love this recipe because it is a 10 minute blender recipe. It is so easy to blend a batch of those in the weekend for family breakfast. If you don't have a blender, you can also use an electric beater. A manual whisk, can work too but sift the coconut flour before weighing to make sure there is absolutely no lumps. Coconut flour lumps are more difficult to break without an electric tool and the recipe won't work as well if there is lumps.
Fluffy pancakes: use a non stick crepe pan or griddle
To make my pancakes extra fluffy without using any dairy I use apple cider vinegar, almond milk and baking soda. All together it gives a delicious fluffy coconut flour pancake texture without using any cream cheese or banana.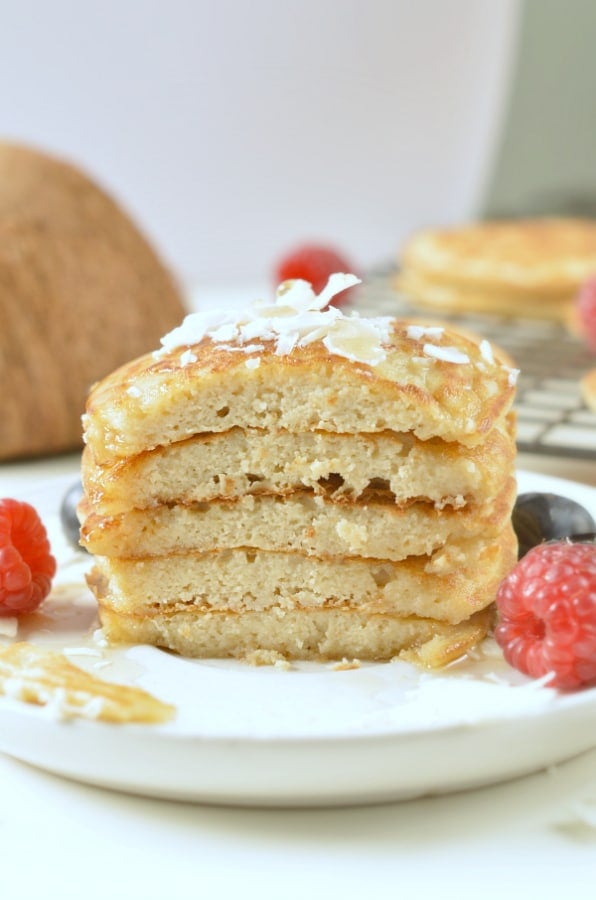 To make sure those fluffy pancakes are easy to flip over I recommend you use a non stick crepe pan or non stick pancake griddle. They will cook perfectly in one of those. Always slightly grease the pan surface with a piece of absorbent paper covered with coconut oil. If you add too much oil, the batter will fry it won't be as fluffy and delicious.
Sugar free Toppings ideas
I usually don't sweeten my pancake batter. I simply add vanilla extract and add the sweet toppings on top.
Sugar free toppings that I recommend are :
Unsweetened almond butter or peanut butter,
Combo of berries like raspberries, strawberries and blueberries, unsweetened
Sugar free liquid sweetener made of Monk fruit sugar, there is no carbs, no sugar in this sweetener.
Unsweetened shredded coconut or coconut chips – I like to toast mine in a frying pan for few minutes to add extra flavor
Cinnamon – sprinkle some cinnamon add a naturally sweet flavor
Coconut cream – a dollop of fresh whipped coconut cream with few drops of vanilla stevia drops is delicious
Watch the coconut flour pancakes recipe video and make them now
xoxo Carine
Low carb coconut flour pancakes
Low carb coconut flour pancakes, healthy easy fluffy keto pancakes, 100 % grain free + dairy free.
Prep Time: 10 mins
Cook Time: 15 mins
Total Time: 25 mins
12 pancakes
Print The Recipe
In a blender, add all the ingredients, order doesn't matter so feel free to add the ingredients in any order.

Blend on high speed for 30 seconds. Stop, scrape down the side and bottom of the blender - sometimes some coconut flour stick to the bottom. Blend again for 15 seconds.

Transfer the pancake batter into a medium bowl. Set aside 10 minutes to let the coconut flour fiber activate. The batter will slightly thicken.

Warm a non stick crepe maker or non stick pancake griddle until hot or as you will do for regular pancakes. Make sure you warm on low heat-medium heat to avoid burning the pancakes.

Slightly grease the griddle using a piece of absorbent paper covered with 1/2 teaspoon of coconut oil or vegetable oil.

Scoop 1 tablespoon of batter, this will make one pancake. Repeat leaving 1 thumb space between each pancakes as they will expand slightly on the hot griddle.

Cook for 2-3 minute on one side, you know it is cooked when the sides starts to set and the center of the pancakes dry out. Be careful, the border must be set before flipping over or they will be too fragile and break.

Slide a kitchen spatula under the pancake, flip over and cook for an extra 30 -45 seconds.

Store on a rack until all the pancake batter has been cooked. This recipe makes about 12 small pancakes.
Nutrition Facts
Low carb coconut flour pancakes
Amount Per Serving (1 small pancake)
Calories 61 Calories from Fat 31
% Daily Value*
Fat 3.4g5%
Carbohydrates 3.4g1%
Fiber 1.7g7%
Sugar 1.2g1%
Protein 3.2g6%
Net Carbs 1.7g
* Percent Daily Values are based on a 2000 calorie diet.