Coconut Flour Pancakes (Keto, Gluten-Free)
These Coconut Flour Pancakes are delicious easy, healthy, fluffy keto-friendly pancakes made with coconut flour, 100% grain-free, paleo, and dairy-free.
Pancakes are an absolute staple on any breakfast table. They are so versatile, as pancakes can be made with Almond Flour, Zucchini, Pumpkin, or even Protein Powder.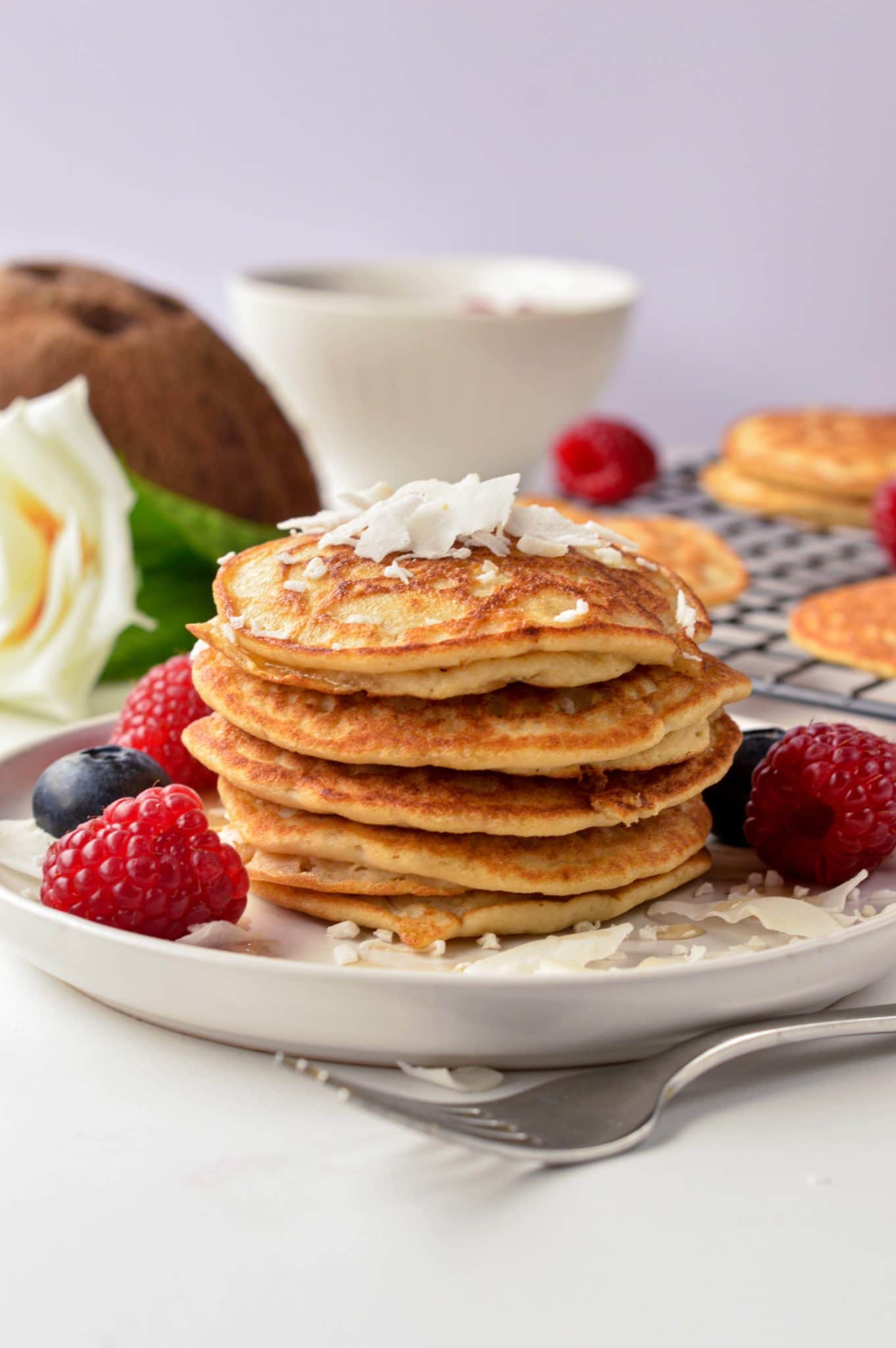 What Are Coconut Flour Pancakes?
Coconut Flour Pancakes are like classic pancakes, but they are made with coconut flour, a low-carb flour rich in fiber and micronutrients.
Coconut flour is a little bit more challenging to work with than any other flour, so it's essential to follow a proven recipe to make coconut flour pancakes.
Since these pancakes are made without any sugar, they are low-carb and keto-friendly
How To Make Coconut Flour Pancakes
As their name suggests, Coconut Flour Pancakes are made with Coconut Flour. This flour gives them a delicious taste and fluffy texture but without the carbs of regular all-purpose flour.
As a result, these pancakes are also gluten-free, nut-free, and grain-free for a very allergy-friendly weekend breakfast.
On top of that, this recipe is incredibly easy as you blend the ingredients in a blender.
So you don't have to be on a keto diet to enjoy these!
How Is Coconut Flour Different?
Coconut Flour is a flour made of desiccated coconut ground very finely. Its coconut taste is very mild, so there's no risk of overpowering the toppings.
It's one of the best low-carb flours, but it's so water-absorbent that it can be tricky to work with if you don't follow a recipe to the letter.
Ingredients
You only need six wholesome ingredients to make these delicious keto pancakes. Let's see how to pick them:
Coconut Flour – make sure you use fresh coconut flour with no lumps. For a perfect result, weigh the flour in grams (not cups) to ensure you have the exact amount required. Coconut flour is high in fiber, and if stored for long, it creates lumps.
Eggs
Baking Soda – not baking powder!
Guar Gum – to thicken the pancakes.
Vanilla Essence – It's optional, but it brings a delicious flavor.
Full-Fat Canned Coconut Milk – with a minimum of 18 grams of fat per 100 grams. No heavy cream needed.
Coconut Oil
Salt
Making Fluffy Pancakes
While some recipes require a specific order and timely stirring, this recipe is very simple.
All you have to do is to combine all the Coconut Flour Pancake ingredients into the jug of a blender, in any order. If you don't have a blender, I have an option in the FAQ below!
Then blend on the high-speed setting for 30 seconds.
Stop blending, and scrape the sides of the jug to ensure that no flour is left behind.
Repeat that a few times until the ingredients are well combined, and the pancake batter is smooth, light, and fluffy.
Transfer the batter to a large bowl and get ready to cook the pancakes!
Cooking The Pancakes
Heat a high-quality pancake griddle or non-stick crepe pan on low-medium heat. Make sure your pan is good quality, or the pancakes will stick and break.
When the pan is hot, grease them with a touch of coconut oil or avocado oil on some paper towel.
Scoop the pancake batter with a measuring cup. Pour one tablespoon of batter per pancake.
You can easily cook several pancakes at once, provided your skillet is a 10-inch one or larger.
Make sure to leave enough space between each as they will slightly expand when cooking.
Let the coconut flour pancakes cook for 2 to 3 minutes on one side before sliding a spatula under them and flipping them.
You know they're cooked when the sides are lightly brown, some bubbles form, and the center of the pancake is still moist but not as liquid as the uncooked batter.
Cook for another 30-45 seconds on the other side.
Store your cooked pancakes on a cooling rack while cooking the whole batch of 12 small pancakes.
Healthy Topping Suggestions
I usually don't sweeten my pancake batter. Instead, I add some vanilla extract and add sweet toppings on top.
Sugar-free toppings that I recommend are:
Unsweetened Almond Butter or Peanut Butter – you can even make your own Natural Peanut Butter!
Combo of Fresh Berries like raspberries, strawberries, and blueberries, unsweetened.
A Liquid Sweetener made of Monk fruit sugar, no carbs, no sugar, like Sugar-Free Maple Syrup.
Shredded Coconut or coconut chips – I like to toast mine in a frying pan for a few minutes to add extra flavor.
Cinnamon – sprinkle some cinnamon to add a naturally sweet flavor.
Coconut Cream – a dollop of fresh whipped coconut cream with a few drops of vanilla stevia drops is delicious.
Fresh Fruit Slices – like banana, peach, or kiwi.
Cream Cheese or Greek Yogurt with chocolate chips for a bit more protein.
Storage Instructions
You can store your coconut flour pancakes in the refrigerator in an airtight container and rewarm them on the griddle the next day. You can also rewarm pancakes into the toaster.
Freeze them into freezer bags and defrost them just 30 minutes before breakfast. Rewarm as suggested above.
Frequently Asked Questions
Can I Store Coconut Flour Pancakes?
These keto coconut flour pancakes can be stored and cooked in the fridge for a day or two.
Rewarm them on the same griddle, in a bread toaster, or even in the microwave before serving.
You can also freeze them for up to 3 months in zip-lock bags or in an airtight container. Take them out of the freezer and thaw them on a hot griddle or in a toaster.
Can I Make This Recipe Without A Blender?
If you don't have a blender, you can still make this recipe.
Combine all the ingredients in a mixing bowl and use an electric beater to mix the batter until smooth.
You can also use a manual whisk but make sure to stir vigorously to remove any lumps.
Can I Make These Pancakes Rise More?
If you want to make them extra fluffy, add one teaspoon of Apple Cider Vinegar to the batter before blending it.
Can I Make It Without Eggs?
No, this recipe wouldn't work without the eggs. They bring the texture that gluten brings to regular pancakes.
Try this Almond Flour Pancake recipe if you want a low-carb pancake recipe with fewer eggs.
Why Is The Coconut Flour Measurement In Grams?
Coconut Flour can have vastly different densities depending on the brand, and as a result, one cup of coconut flour can weigh anywhere between 90 grams and 120 grams.
If you use cups for the coconut flour in this recipe, you will have up to 30% more coconut flour weight than what I used!
Can I Skip The Guar Gum?
Yes, you can. The recipe will still work, but the pancakes might be a little bit more fragile. Be careful when you flip them!
Can I Make These Vegan?
No, these low-carb pancakes can't be made without eggs. If you don't mind the carbs, you can try this vegan pancake recipe.
Can I Swap The Coconut Milk?
Yes, you can use almond milk instead of coconut milk to reduce the coconut flavors.
More Healthy Crepe or Pancake Recipes
If you like crepes and pancakes, you'll love these alternatives: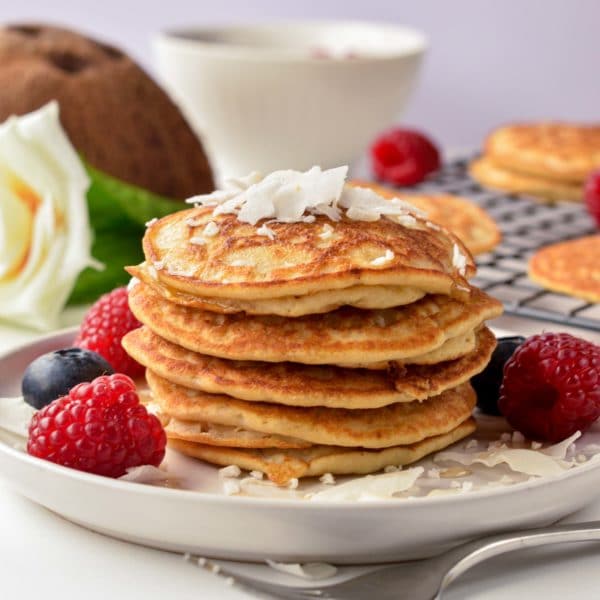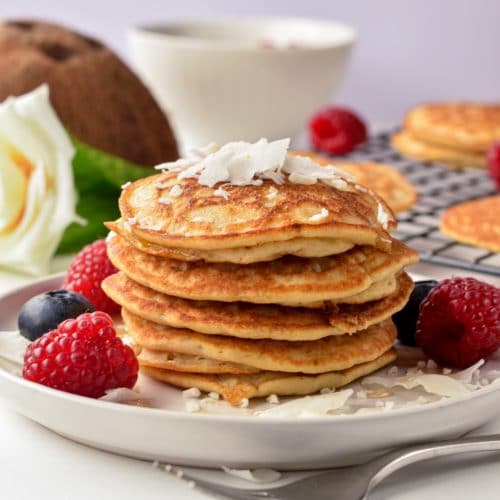 Coconut Flour Pancakes
These Coconut Flour Pancakes are low-carb, keto-friendly, easy, fluffy pancakes. made with 100% grain-free and dairy-free wholesome ingredients for only 1.7 grams of net carbs.
Serving Size:
1
small pancake
Ingredients
2.1

oz

Coconut Flour

(about 1/2 cup, weigh for better precision!)

¼

teaspoon

Baking Soda

1

tablespoon

Vanilla Extract

1

tablespoon

Coconut Oil

melted + extra to grease the pan

4

Eggs

at room temperature

1

cup

Unsweetened Coconut Milk

(minimum of 18g fat/100g) or heavy cream

¼

teaspoon

Salt

¼

teaspoon

Xanthan Gum

helps the batter hold better, highly recommended
This recipe may contain Amazon or other affiliate links. As an Amazon Associate I earn from qualifying purchases.
Instructions
Add all the ingredients to the jug of a blender. The order doesn't matter, so feel free to add the ingredients in any order.

Blend on high speed for 30 seconds. Stop, scrape down the side and bottom of the blender – sometimes some coconut flour sticks to the bottom. Blend again for 15 seconds.

Transfer the pancake batter into a medium bowl. Set aside 10 minutes to let the coconut flour fiber activate. The batter will slightly thicken.

Warm a pancake griddle until hot or as you would do for regular pancakes. Make sure you warm on low heat-medium heat to avoid burning the pancakes.

Lightly grease the griddle using a piece of absorbent paper covered with 1/2 teaspoon of coconut oil or vegetable oil.

Scoop 1 tablespoon of batter. This will make one pancake. Repeat, leaving a one-thumb space between each pancake as they will expand slightly on the hot griddle.

Cook for 2-3 minutes on one side, you know it's cooked when the sides start to set and the center of the pancakes dries out. Be careful, the border must be set before flipping over, or they will be too fragile and break.

Slide a kitchen spatula under the pancake, flip over and cook for an extra 30-45 seconds.

Store on a rack until all the pancake batter has been cooked. This recipe makes about 12 small pancakes.
Storage
Store in the fridge in an airtight container and rewarm on the griddle the next day. You can also rewarm pancakes into the toaster.
Want My Kitchen Equipment?
Serving Size:
1
small pancake
Serving:
1
small pancake
Calories:
58.3
kcal
(3%)
Carbohydrates:
3.2
g
(1%)
Fiber:
1.5
g
(6%)
Net Carbs:
1.7
g
Protein:
2.6
g
(5%)
Fat:
3.5
g
(5%)
Saturated Fat:
2.2
g
(14%)
Polyunsaturated Fat:
0.4
g
Monounsaturated Fat:
0.7
g
Trans Fat:
0.1
g
Cholesterol:
54.6
mg
(18%)
Sodium:
131.5
mg
(6%)
Potassium:
22.1
mg
(1%)
Sugar:
0.6
g
(1%)
Vitamin A:
79.2
IU
(2%)
Vitamin B12:
0.1
µg
(2%)
Vitamin D:
0.3
µg
(2%)
Calcium:
33.4
mg
(3%)
Iron:
0.4
mg
(2%)
Magnesium:
1.9
mg
Zinc:
0.2
mg
(1%)
Posted In: