These Ants On A Log are my favorite back-to-school snack idea for kids aged between 5 and 15 years old.
They are low-sugar, low-carb, and packed with vitamins and nutrients from fruits and vegetables.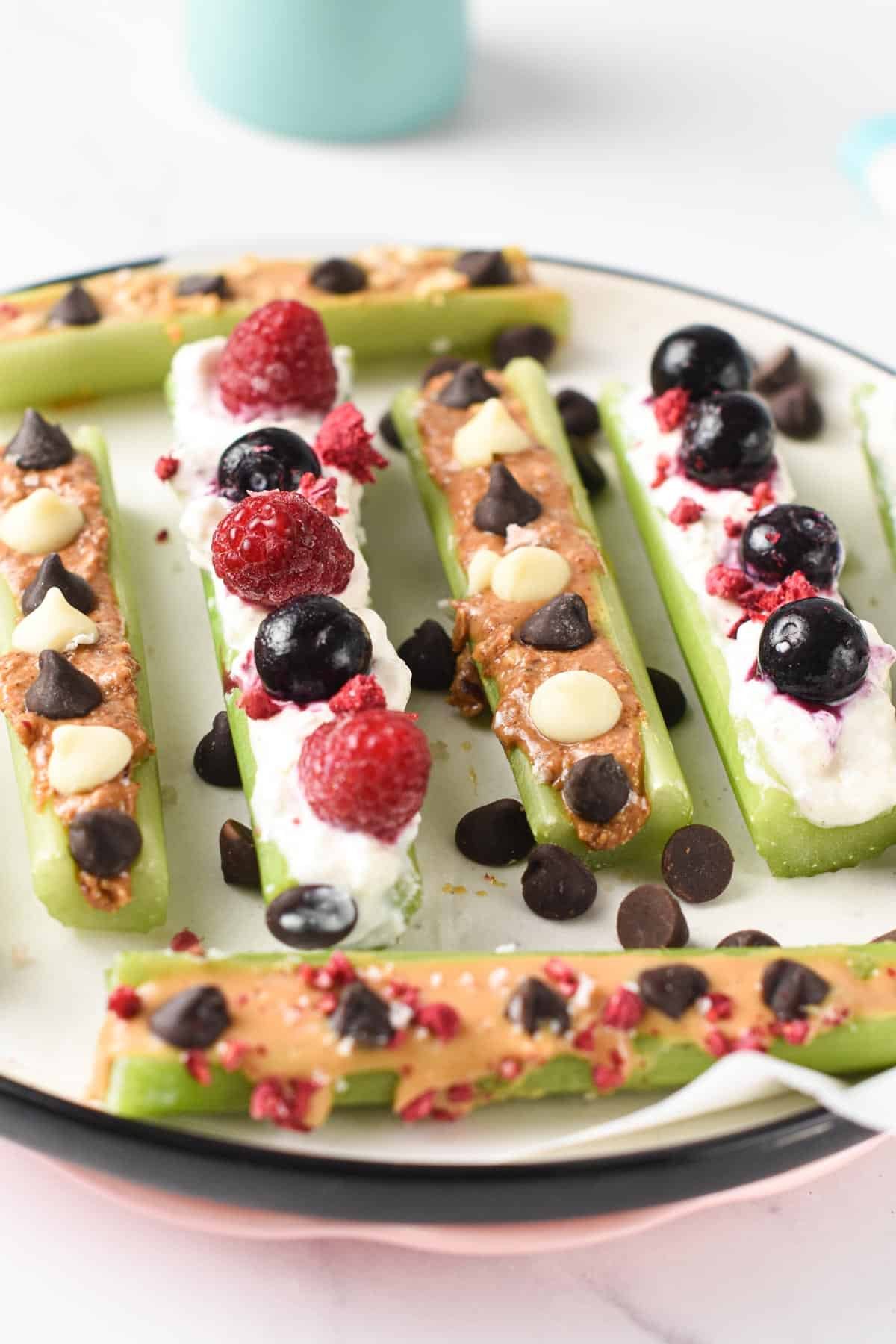 Back-to-school snacks are always a challenge, especially on hot days, because kids crave some sweet and cold treats.
While they love my strawberry smoothie or low-carb blueberry smoothie, sometimes they are after something more crunchy.
These classic celery snack sticks, also called ants on a log, are great healthy snacks for your little one.
I have been making this for my kids for years, so it's time to share with you this simple snack idea that appears to also be low-carb and keto-friendly.
What Are Ants On A Log?
Ants on a log are celery sticks, usually stuffed with peanut butter and raisins as a fun and easy kid-friendly snack.
There's a variety of food that can also be added to ants on a log, like cream cheese, cottage cheese, yogurt, or hummus.
The recipe gets its name from the raisins on the celery that look like ants on a branch, and that's why people call them ants on a log.
The name makes this snack even much more fun for the kids to eat, so it's a win-win.
How To Make Ants On A Log Celery Snack
It is super easy to make this fun snack for you or your kids!
Ingredients
All you need are the following:
Celery Stalks – Pick fresh celery and cut the sticks to about 6 inches or 15 cm long – that's what we call the log.
Creamy Filling
Some Toppings
Preparation
First, cut the celery sticks to about 6 inches in length (15 cm). Wash and pat dry the celery.
I like to cut a flat base on the round side of the celery stick.
This makes it easier to stand the celery sticks on a plate, or they roll on their sides when filled later on.
Next, pick some of your favorite creamy fillings. I will list some sweet filling and savory filling ideas below.
Let me tell you a bit more about how you can fill the celery sticks.
Sweet Fillings
The best sweet filling for these sticks are:
Creamy Peanut Butter or almond butter, or any nut butter you love.
Sunflower Seed Butter.
Plain Yogurt, like Greek yogurt
Savory Fillings
The savory fillings that taste great with celery are:
Use a teaspoon and spread the peanut butter or any filling all over the curve part of the celery stick. Set aside on a plate.
Toppings And Variations
Now, time to add some crunchy toppings. There are sweet and savory options.
Sweet Toppings
Celery goes perfectly with sweet fruits and even with chocolate. Try some of the below:
Berries like blueberries, blackberries, strawberries, and raspberries.
Apple slices, pear chunks, or banana bites
Dark chocolate chips, milk, or white chocolate chips.
Dried fruits – like dried raisins, chopped dried dates, or apricots.
Savory Toppings
Savory toppings that are amazing with celery snacks are:
Salted Peanuts
Bacon Bites
Chives finely chopped
Sundried Tomatoes
Bagels Seasoning
Shredded Carrots
Neutral Toppings
These are toppings that I always add with any sweet or savory toppings. They are crunchy and go well with anything.
Crushed Peanuts
Crushed Almonds
Sesame Seeds
Pumpkin Seeds
Best Flavor Combinations
The best combinations of flavors to fill the celery are.
Celery, peanut butter or almond butter base, berries or chocolate chips, desiccated coconut or crushed nuts.
Celery, cottage cheese base, chopped dill, bacon bites, or bagel seasonings.
Celery, yogurt, berries, dark chocolate chips.
Celery, cream cheese, salted peanuts, sundried tomatoes.
Celery, peanut butter, and raisins.
Frequently Asked Questions
Below I answered some of your most popular questions about this easy celery snack recipe idea.
Can I Flavor The Celery Stick Filling?
Yes, you can stir 2 teaspoons of maple syrup (or sugar-free syrup) per 1/4 cup of peanut butter before adding it to the celery to boost its sweet flavor.
For the savory filling, you can stir salt, pepper, garlic powder, or fresh herbs in the cottage cheese or yogurt before filling the sticks.
Is Celery Keto-Friendly?
Yes, celery is one of the low-carb vegetables that can safely add to your keto snack list.
All these ants on a log are keto-friendly and delicious as part of a keto snack.
More Fresh Recipes
If you like this recipe, you'll love these other healthy snack recipes:
Ants On A Log Recipe
These Ants on a Log are my favorite back-to-school snack idea for kids. Plus, they are low-sugar, low-carb, and packed with vitamins and nutrients from fruits and vegetables.
Ingredients
Cream Cheese
⅓

cup

Cream Cheese

¼

cup

Berries
This recipe may contain Amazon or other affiliate links. As an Amazon Associate I earn from qualifying purchases.
Instructions
Cut the celery stalks into 10-15 cm long logs – I get 3 sticks from each stalk. Wash, pat dry and cut a part on the rough side of the celery stick to make sure it hold flat when placed on a plate.

Use a teaspoon to spread the cream cheese or peanut butter on the concave part of the stick.

Sprinkle berries or chocolate chips on top. Feel free to add crunch by adding chopped peanuts or coconut flakes.
Want My Kitchen Equipment?
Serving:
1
stick
Calories:
53.4
kcal
(3%)
Carbohydrates:
3
g
(1%)
Fiber:
1
g
(4%)
Net Carbs:
2
g
Protein:
1.6
g
(3%)
Fat:
4.5
g
(7%)
Saturated Fat:
1.2
g
(8%)
Polyunsaturated Fat:
0.9
g
Monounsaturated Fat:
1.8
g
Sodium:
31.3
mg
(1%)
Potassium:
42.2
mg
(1%)
Sugar:
0.8
g
(1%)
Vitamin A:
3
IU
Vitamin C:
0.02
mg
Calcium:
3.8
mg
Iron:
0.2
mg
(1%)
Magnesium:
12.2
mg
(3%)
Zinc:
0.2
mg
(1%)
Posted In: