This high-protein cottage cheese cake is packed with 10 grams of protein per slice and only 100 calories. Plus, it's super easy to prepare for a quick low-carb dessert.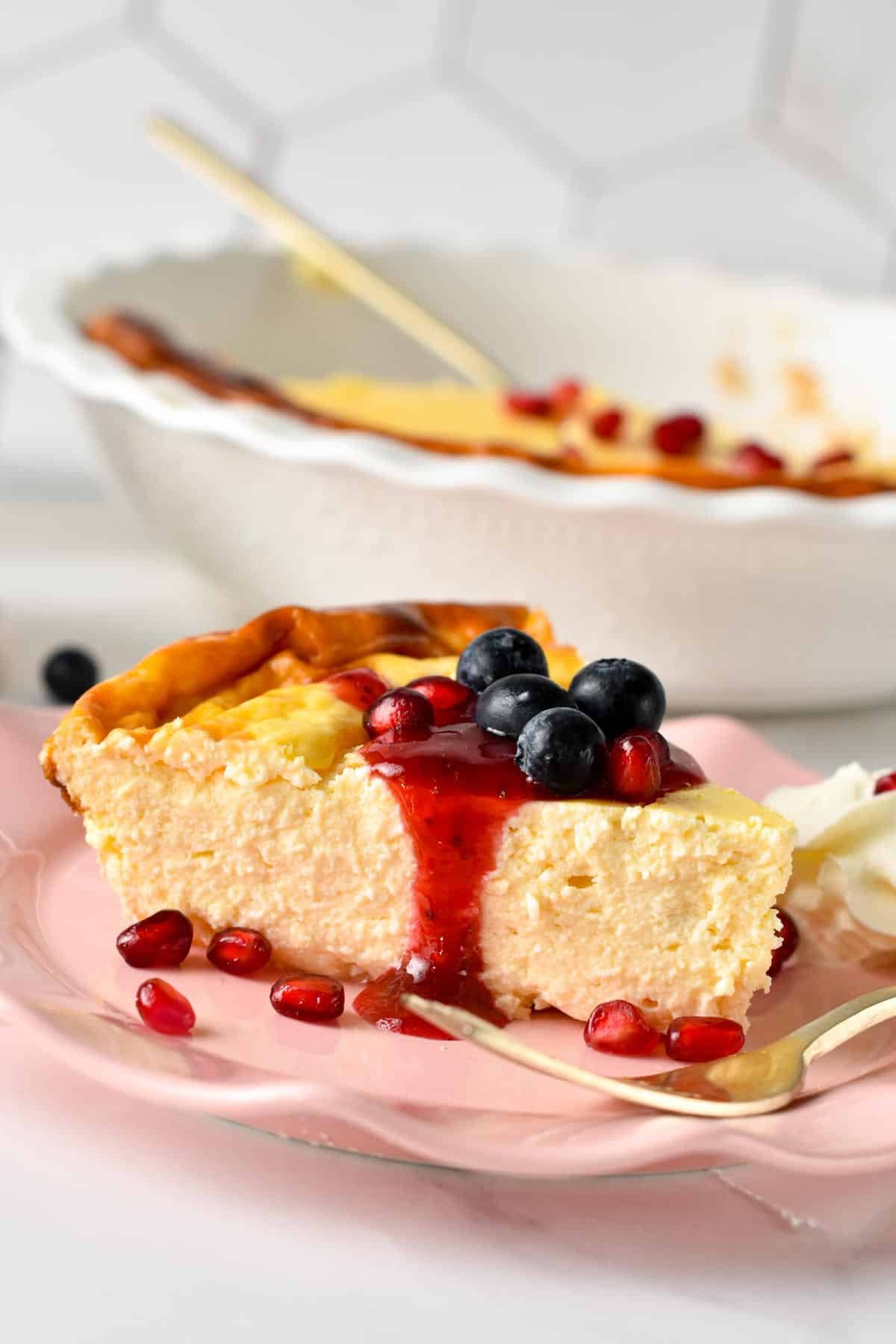 I have an unconditional love for the cottage cheese recipes.
It is one of the most versatile ingredients I've ever added to my fridge, and it makes delicious recipes like my Cottage Cheese Salad, Cottage Cheese Ice Cream, or this cottage cheese cake. The possibilities are endless.
Why Cottage Cheese Is Good For You
The reason why I love, and recommend you to use more cottage cheese are simple:
It's a great vegetarian protein source.
It's lower in fat than a most creamy products like sour cream or cream cheese but adds the same texture to recipes.
Cottage cheese tastes amazing as long as you add flavors.
It's pretty low in carbs.
It's not that expensive a source of proteins compared to protein powder.
Are you convinced to make more of my cottage cheese recipes? Let me share this new dessert, a cottage cheese cake.
What Is A Cottage Cheese Cake?
A cottage cheese cake is a crustless cheesecake-like dessert but made from cottage cheese with no cream cheese or sour cream needed.
It's a high-protein, low-calorie, and low-sugar dessert that is perfect if you love a treat that won't compromise your health goals.
How To Make Cottage Cheese Cake
It's the easiest cake recipe ever, even easier than my keto no-bake cheesecake because you don't need to make a crust or whip the cream.
That's why I don't call this recipe a cottage cheesecake but a cottage cheese cake!
Ingredients
All you need to make this cake with cottage cheese are:
Cottage Cheese – I am using full-fat cottage cheese, but feel free to use a low-fat version if needed.
Eggs – The recipe needs eggs or it won't firm up as well.
Vanilla Extract
Almond Extract
Cornstarch or arrowroot flour if grain-free.
Sugar-Free Crystal Sweeteners like erythritol or allulose, or try a teaspoon of stevia glycerite. These options are natural and low-calories, so they are fantastic to cut the empty calories from the sugar in this delicious healthy dessert.
Lemon Juice
Salt
Whipping Cottage Cheese
The first step involves blending the cottage cheese, vanilla extract, salt, almond extract, sweetener, and lemon juice.
You can use a blender if yours has a tamper tool. If not, you must use a food processor, or blending will be difficult without the tamper tool.
Blend or process until it looks smooth and super thick. If using the blender, you need to blend on low-medium speed and push and swirl the food using the tamper attachment.
If using a food processor, blend on medium speed, stop a few times and scrape down the sides of the bowl with a silicone spatula and repeat until smooth.
Too Difficult To Blend?
If too difficult to whip, you can add 1/4 cup of Greek yogurt to the blender. It also adds creaminess to the cheese cake and extra protein.
Whisking The Eggs
Now, transfer the thick, slightly grainy cottage cheese mixture to a large bowl.
Using a hand whisk, whisk in one egg at a time, repeating this until the four eggs are well combined into the cottage cheese.
Baking
Preheat the oven to 350°F (180°C).
Grease a 9-inch pie plate or baking dish with coconut oil or unsalted butter.
Pour the cottage cheesecake filling into the plate and bake in the center rack of your oven for about 45 minutes.
The cheesecake is ready when the sides are dark brown, the center golden brown and still jiggly, but the top is set.
Remove the cottage cheese cake from the oven and let it cool down for one hour at room temperature.
Transfer to the fridge overnight or for a few hours to cool completely and firm up.
Serving
Slice and serve with your favorite toppings like:
Berry fruit coulis
Fresh Fruit like peaches, banana or fresh berries : blueberries, raspberries, or pomegranate.
Whipped cream
Dust of powdered sweetener
Storage Instructions
Store the cottage cheese cake in an airtight container or cake box in the fridge for up to 4 days.
You can't freeze leftovers or the texture gets very wet and soggy after thawing.
Variations – Making A Classic Cheesecake Crust
If you prefer to turn this recipe into a cottage cheesecake recipe, try one of the below gluten-free cheesecake crust options.
Almond Flour Cheesecake Crust
For a healthier graham cracker crust recipe used on my key lime cheesecake recipe.
To make the crust, you will need melted butter, almond flour, vanilla, and the sweetener of choice.
Graham Cracker Cookie Crust
You can also use a batch of my keto graham crackers cookie, blend 1 cup + 1/4 cup of crackers with six tablespoons of melted butter to form a crumbly mixture that sticks together.
Pour the crumbly graham cracker crumbs onto a greased 9-inch springform pan and press with the back of a spoon to firmly coat the bottom and sides of the pan with the cheesecake crust.
Prebake the crust for 10 minutes in an oven preheated at 350°F (180°C).
Then, remove from the oven and pour the cheesecake mixture in the crust and return to the oven for 45 minutes, until the cheesecake is cooked.
Allergy Swaps
Here are some ingredient substitution ideas if you need them:
Lemon Juice – You can use any citrus juice to flavor the batter like orange juice, mandarin juice or lime juice.
Low-Fat – Use low-fat cottage cheese.
Eggs – You can't make this recipe egg-free.
Corn-Free – Use tapioca flour or arrowroot flour.
Sugar-Free – I do use sugar-free sweetener in this recipe but feel free to use regular sugar or unrefined cane sugar if preferred. This raises calories and sugar content.
Frequently Asked Questions
Below are my answers to your most common questions about this healthy cottage cheese cheesecake.
What goes best with cottage cheese ?
Cottage cheese goes well with sweet, tangy berries like raspberries, strawberries, or blueberries.
It's a delicious spread to blend with honey, cinnamon, or vanilla to make a quick dessert bowl.

Can I use cottage cheese instead of cream cheese in cake?
Yes, you can use full-fat cottage cheese in cakes, but it's better to whip it in a blender or food processor before using it as a swap to cream cheese, or it leaves a grainy texture.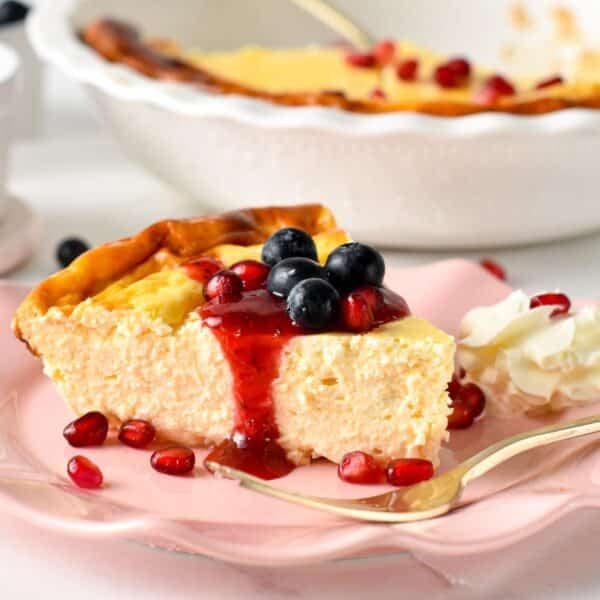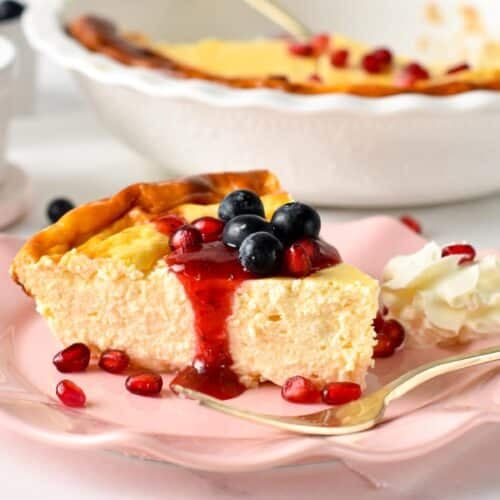 Cottage Cheese Cake
This high-protein cottage cheese cake is packed with 10 grams of protein per slice and only 100 calories. Plus, it's super easy to prepare for a quick low-carb dessert.
Ingredients
3 ½

cups

Cottage Cheese

full-fat cottage cheese

4

large

Eggs

⅔

cup

Erythritol

erythritol or sugar or 1 teaspoon stevia glycerite

½

teaspoon

Almond Extract

2

teaspoons

Vanilla Extract

1

tablespoon

Cornstarch

1

tablespoon

Lemon Juice

¼

teaspoon

Salt
This recipe may contain Amazon or other affiliate links. As an Amazon Associate I earn from qualifying purchases.
Instructions
Preheat the oven to 350°F (180°C). Grease a 9-inch pie plate with butter or coconut oil. Set aside.

In a blender or food processor, add the cottage cheese, vanilla extract, lemon juice, salt, almond extract, cornstarch, and sweetener of choice.

Blend on medium-high speed using the tamper attachment of your blender to push the cottage cheese next to the blend and blend until smooth. It takes about 30-45 seconds. You can also use a food processor if your blender doesn't have a tamper tool.

Transfer the blended cottage cheese into a mixing bowl, and using a hand whisk, whisk in the eggs, one at a time on low-medium speed, until just combined. Don't overdo it. You can also add the whipped cottage cheese to the bowl of a stand mixer with the whisk attachment.

Pour the mixture onto the pie plate, and bake on the center rack for 45 minutes or until a toothpick inserted on the edge (2 cm from the edges) comes out clean. The top of the cake should be brown, the sides should be puffed up, but the center be jiggly.

Cool for 1 hour at room temperature in the pie plate (you won't unmold this cake), then film the dish with plastic wrap to prevent the top from drying and store overnight in the fridge or for at least 3 hours.

The next day, slice and serve with berry coulis and extra berries.

Store leftovers for up to 3-4 days. If it release the liquid at the bottom of the pan, store the leftover on absorbent paper.
Want My Kitchen Equipment?
Serving:
1
serving
Calories:
106.9
kcal
(5%)
Carbohydrates:
3.6
g
(1%)
Fiber:
0.01
g
Net Carbs:
3.6
g
Protein:
10.7
g
(21%)
Fat:
5.1
g
(8%)
Saturated Fat:
1.9
g
(12%)
Polyunsaturated Fat:
0.5
g
Monounsaturated Fat:
1.3
g
Trans Fat:
0.01
g
Cholesterol:
86.9
mg
(29%)
Sodium:
318.2
mg
(14%)
Potassium:
107.1
mg
(3%)
Sugar:
2.2
g
(2%)
Vitamin A:
211
IU
(4%)
Vitamin B12:
0.5
µg
(8%)
Vitamin C:
0.6
mg
(1%)
Vitamin D:
0.5
µg
(3%)
Calcium:
72.5
mg
(7%)
Iron:
0.4
mg
(2%)
Magnesium:
8.5
mg
(2%)
Zinc:
0.6
mg
(4%)
Posted In: