Those raw brownies are vegan sugar free brownies ready in only 30 minutes. Plus, one piece of those unbaked brownies contains only 2.3g net carbs per serve so it is guilt-free treat  for all low carb sweet tooth.
What are raw brownies ?
Raw vegan brownies are unbaked chocolate slice or brownies that can be made without an oven. Consequently, no bake recipes are dairy-free, egg-free and often known as raw vegan desserts. While most raw recipes use dried fruits, this recipe don't, they are vegan sugar free brownies entirely sweetened with sugar-free maple flavored syrup.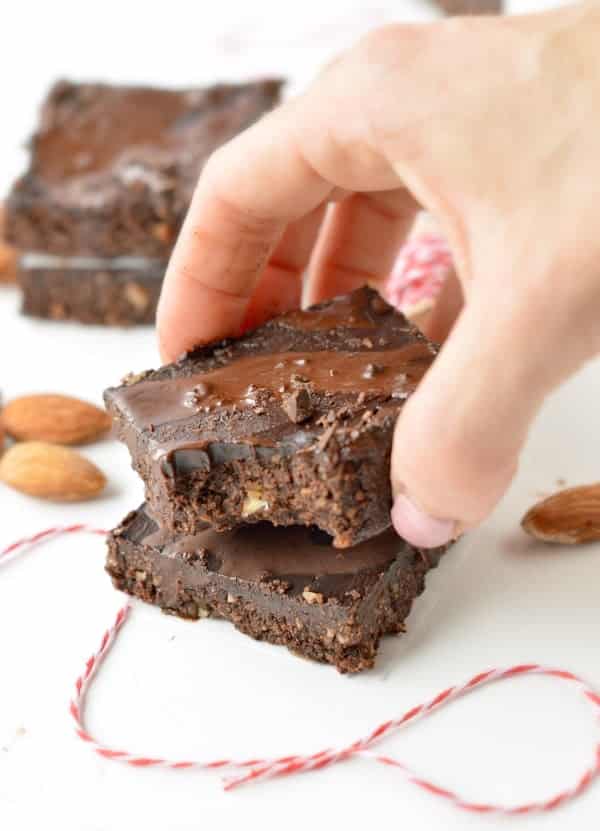 How to make no bake brownies ?
You don't need much to make delicious no bake recipes. First, you must have a good food processor. Indeed, most no bake recipes required to break or pulse nuts into a powder to form the raw batter. So this is a necessary equipment to have on hands to make those raw brownies. Next, make sure you have sugar-free maple flavored syrup. While any syrup will work in this recipe, you want to make vegan sugar free brownies right? So it is better to gather the right ingredient. Finally, a freezer is very useful to set your raw brownies quickly. However, if you only have a fridge, it will work too. It will simply take a bit longer to set the brownies.
Healthy vegan brownies ingredients
Those are the most healthy vegan brownies you can make. In fact, raw baking doesn't involve high temperature and preserve all the nutrients of food.
Let's see the health benefits of every single ingredients in this recipe:
Almonds – high in vitamins E, magnesium and healthy omega 3 fat
Coconut product – this brownie combine unsweetened coconut, coconut flour and coconut oil. For a long time people thought that the fat in coconut product was unhealthy because of its high amount of saturated fat. However, it is now proven that the fat in coconut are actually good Medium Chain Triglycerides (MCT) fat that accelerate fat burning on a keto diet. Also, coconut oil contains the highest amount of lauric acid, a natural anti fungal used for its benefits on the candida diet.
Unsweetened cocoa powder cover 77 % of your iron  and 140% of your magnesium needs, based on daily value of 2,000 calorie diet.
Sugar-free maple flavored syrup – this syrup is keto friendly, it has no sugar, no carbs and it is naturally made of Monk fruit and vegetable gum. It binds ingredients in this raw brownies recipe while adding natural sweetness without carbs.

More no bake keto vegan recipes
For all the no bake desserts lovers I have a wide range of no bake slices, cookies and bars to try. Obviously, they are all low carb, keto friendly and vegan.
xoxo Carine
raw brownies raw vegan desserts
Those raw brownies are vegan sugar free brownies ready in only 30 minutes.
16 brownies
Print The Recipe
In a food processor with the S blade attachment, add all the raw brownies ingredients, order has no importance.

Process on medium speed until all the ingredients comes together, about 2-3 minutes. You may have to stop the food processor every 1 minute, scrape down the bowl and repeat until it forms a sticky consistent batter. It is ok if there is some bites of almonds left but they must be pulsed enough to form a flour that brings all the ingredients together.

If it is too dry adjust with 1 tablespoon of water at a time or if it is too wet add a 1 teaspoon extra coconut flour.

Transfer the raw brownies batter into a brownies loaf pan covered with parchment paper. You can also slightly grease the parchment paper with coconut oil to make sure the batter don't stick.

Freeze the brownie while you prepare the frosting.
Raw brownies frosting
In a medium size microwave safe-proof, add the coconut oil and sugar-free syrup.

Microwave by 30 seconds burst until the coconut oil is melted. If your coconut oil is already melted you can skip this step and combine all the frosting ingredients together.

Whisk in vanilla essence and unsweetened cocoa powder until it forms a shiny frosting with no lumps of cocoa powder.

Remove the raw brownies from the freezer and evenly spread the frosting on top of your brownies using a spatula.

Bring the brownie back to the freezer for 10 minutes or until the frosting is half set.

Warm a knife blade under a a flame or hot water. Dry the blade with a towel and slice the brownie into 16 brownies slices.
Storage
You can store your raw brownies into the fridge in an airtight container for up to 3 weeks

If desired, freeze the brownies slices in a plastic bag, don't stack them or they will be difficult to unfreeze one-by-one. Defrost at room temperature for 1 hour and enjoy!
Net carbs : 2.3 grams per slice Nutrition panel is for one brownie slice including topping and using sugar-free maple flavored syrup.   
Nutrition Facts
raw brownies raw vegan desserts
Amount Per Serving (1 brownie slice)
Calories 185 Calories from Fat 146
% Daily Value*
Fat 16.2g25%
Carbohydrates 13.8g5%
Fiber 11.5g48%
Sugar 1.1g1%
Protein 3.1g6%
Net Carbs 2.3g
* Percent Daily Values are based on a 2000 calorie diet.