Spaghetti Squash Carbonara (Only 4.5g Net Carbs!)
This Spaghetti Squash Carbonara recipe is a delicious low-carb pasta meal made with a handful of simple ingredients for a flavorsome dinner that all pasta lover loves.
Bonus, one serving of these Spaghetti Squash Keto Carbonara brings only 4.5 grams of net carbs, so you can safely indulge in this pasta dish on a keto diet with no guilt.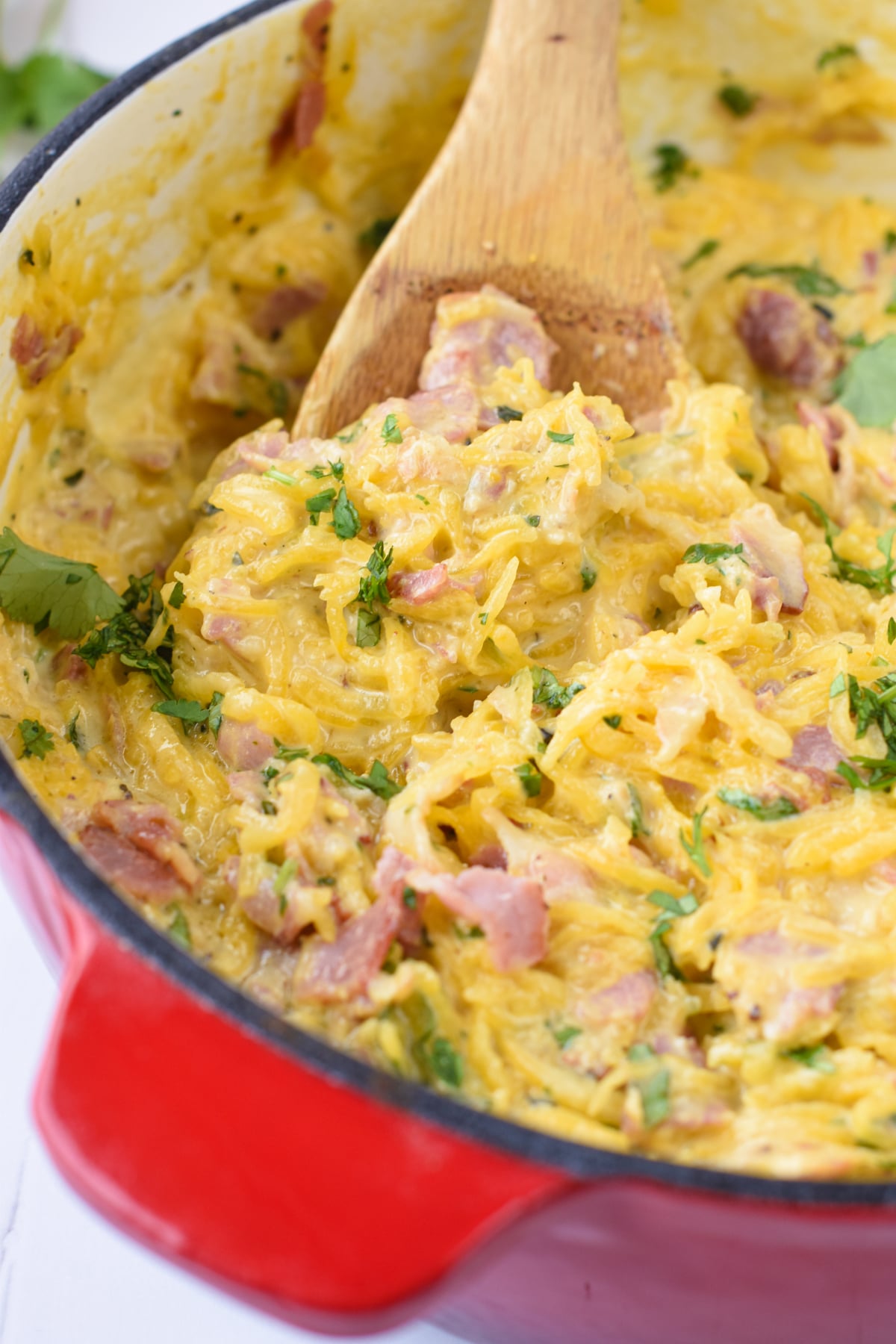 Are Spaghetti Pasta Keto?
Spaghetti is regular pasta made from high-carb wheat flour. As a result, it's far from a keto-friendly meal.
If you wonder how to make Keto carbonara, then using spaghetti squash is the answer! Not only is it a low-carb vegetable, but it also adds minerals and vitamins to your diet.
Of course, you can also use the sauce from this Spaghetti Squash Carbonara with zero-carb noodles to cut out the carbs even more.
However, I do think that spaghetti squash noodles are way tastier as a keto alternative to classic pasta.
Before sharing this amazing keto carbonara recipe, it's good to share some basics about carbonara sauce.
There are many recipes online to make carbonara sauce, but a carbonara sauce done properly, the Italian way, is not what everyone thinks of.
Let me explain.
What Is Carbonara Sauce Made Of?
An authentic carbonara sauce doesn't use cream or bacon! Instead, the true Italian carbonara sauce is made of cooked pancetta, egg yolks, eggs, and grated Parmesan cheese.
This mixture is combined into hot cooked pasta with no heat to create a silky, lukewarm smooth sauce.
Sometimes, a splash of hot water or hot broth is added at the end to loosen the sauce and make it silky smooth.
How To Make Keto Carbonara
An authentic carbonara sauce is naturally keto-friendly. The problem with carbonara pasta dishes is the pasta themselves.
They are made of wheat and high in carbs which spikes your blog sugar level and takes you out of ketosis.
So to make a keto carbonara recipe, you need to use low-carb pasta alternatives. There are a few options like:
Shirataki Noodles – also known as zero-carb noodles, but some people don't appreciate their fishy taste.
Wonder Noodles – made of yams fiber and also zero carbs. I love to use these in my keto meatballs spaghetti recipe, they taste like real pasta, but they are also an expensive option.
Spaghetti Squash – this is the magic vegetable that you can use as a keto pasta swap in many recipes. I already shared my keto spaghetti Alfredo casserole using these, and the texture, taste, and fulfilling effect are always guaranteed.
Zucchini Noodles – perfect if spaghetti squashes are not in season. Check my pesto zucchini noodle recipe to try this option.
So here I am sharing a Spaghetti Squash Keto Carbonara recipe.
The sauce is also adapted from the authentic Italian recipe to up your fat macros and make the dish fulfilling enough.
Ingredients
All you need to make this Spaghetti Squash Keto Carbonara recipe are a few simple ingredients:
Spaghetti Squash – that's your pasta replacement. A regular whole squash spaghettis contains about 6 cups of cooked spaghetti strands.
Pancetta
Olive oil
Eggs – learn why eggs are keto.
Egg yolk
Parmesan cheese – the grated Parmesan version is what melts the best in the sauce. Learn how to pick low-carb cheese.
Heavy Cream – as mentioned earlier, the authentic carbonara sauce doesn't use cream, but in a keto carbonara sauce, we want the sauce to be super fulfilling, so a touch of cream ups your fat, keeps you full, and makes the sauce silky smooth. And heavy cream is keto-friendly.
Vegetable broth or beef broth – this is optional but a great way to loosen the sauce.
Salt and pepper – pancetta is already salty. Add salt to taste.
Cook the Squash
Read my full detailed explanation of how to cook spaghetti squash for full details.
First, preheat the oven to 400°F (200°C). Next, line a large baking tray with parchment paper and set it aside.
Cut the sides of the spaghetti squash, and using a fork, poke the skin of the vegetable many times, all over.
Next, cut the squash halfway lengthwise. Finally, use a spoon to scoop out the seeds and discard them.
Place the two halves of spaghetti squash, and flesh down onto the baking tray.
Bake for 30-45 minutes, or until you can scrape out the spaghetti flesh with a fork and form spaghetti strands.
Sometimes, the vegetable cooks faster in the center, so scrape out these vegetable strands first, set them aside in a bowl, and keep baking the remaining vegetable until cooked through.
It's a good idea to check the cooking process after 30 minutes every 10 minutes, so as to not overbake the vegetable.
Cool the spaghetti strands down in a mixing bowl.
Cook the Pancetta
First, chop the pancetta into pieces. Then, heat olive oil in a non-stick skillet and cook the pancetta until crispy – about 3-5 minutes.
Add the spaghetti squash strands in the pan and stir to evenly flavor the vegetable strands with the pancetta – about 1 – 2 minutes.
Turn off the heat, cover the pan with a lid, and set it aside while making the sauce.
Make the Carbonara Sauce
In a mixing bowl, whisk eggs, egg yolk, and parmesan cheese. Pour the sauce over the spaghetti strand in the skillet, making sure your pan does not overheat, to avoid cooking the eggs and forming lumps.
The trick to making a delicious smooth spaghetti carbonara sauce is to quickly stir the egg mixture into the noodle without heat to create a lukewarm sauce that shines.
If you like, add a splash of lukewarm vegetable broth to loosen up the sauce. This is optional, but if you like your carbonara sauce thinner, go for it!
Now put the heat back to low, stir in cream and cook until hot.
Serving
To serve this keto pasta carbonara as an authentic Italian dish, top the plate with fresh chopped herbs and extra parmesan.
Storage
This recipe can be stored for up to 2 days in an airtight container in the fridge. You can also freeze the recipe and thaw it in the fridge the day before serving.
Rewarm the spaghetti carbonara in the microwave until hot or in the saucepan, adding some extra cream if needed.
Frequently Asked Questions
I've listed below the answers to the most common questions about this recipe.
Is Spaghetti Squash Keto Approved?
Absolutely, spaghetti squash is one of the low-carb vegetables with only 5.5g of net carbs per 100 grams, compared to 30g of net carbs for 100g of spaghetti pasta.
Why Do They Call It Carbonara?
There are many theories for the name of this dish. It is believed that it was severed to Italian charcoal workers, called Carbonari.
More Healthy Pasta Recipes
Below I listed more healthy pasta recipes you may want to try next time: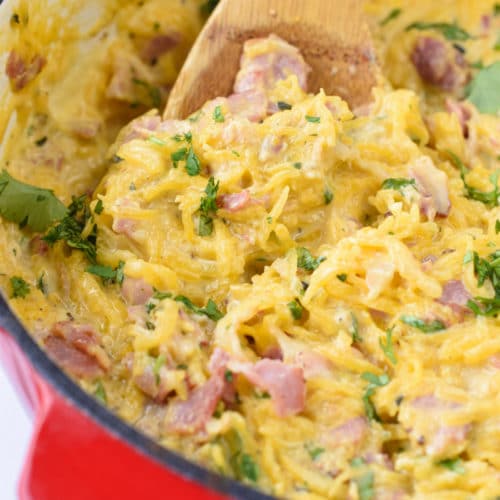 Spaghetti Squash Carbonara
Spaghetti Squash Carbonara is a keto pasta meal made with a handful of simple ingredients for a flavorsome keto dinner with only 4.5 grams of net carbs.
Yield:
servings (3/4 cup)
This recipe may contain Amazon or other affiliate links. As an Amazon Associate I earn from qualifying purchases.
Instructions
Cook the Spaghetti Squash
Preheat oven to 400°F (200°C). Line a large baking tray with parchment paper. Set aside.

Trim the ends of the squash, poke holes all over its skin using a fork.

Cut the squash halfway lengthwise, scoop out all the seeds with a spoon and discard the seeds.

Place each half of squash flesh down on the prepared baking tray.

Bake for about 30-45 minutes or until you can easily scrape out spaghetti strands from the vegetable using a fork. The outer flesh may cook faster than the inside. If so, scrape out the cooked spaghetti and keep baking the remaining part that is hard to scrape out until soft enough. Always use oven mittens to do this as the vegetable is quite hot.

Place the cooked spaghetti strands in a large mixing bowl to cool down for 10 minutes while preparing the pasta sauce.
Carbonara Sauce
Slice the pancetta roughly into pieces.

Heat olive oil in a non-stick large frying pan or skillet – large enough to fit the spaghetti squash strands as you will add them into this pan later in the recipe.

Cook the pancetta for 3-5 minutes or until crispy, tossing often. Add the chopped garlic. Stir in the cooked, hot spaghetti strands into the skillet. Toss with the crispy pancetta and cook for 1-2 minutes until the spaghetti strands are well combined and flavored. Stop the heat. Cover with a lid.

Meanwhile, microwave the broth for 30-50 seconds, or just until lukewarm. Set aside.

In another bowl, beat the egg yolks, egg, and finely grated Parmesan until well combined.

Remove the lid from the pan (make sure you turn off the heat!) and quickly add the Parmesan egg mixture to the pan. Always make sure the pan is not too hot and you work fast, or it cooks and scrambles the eggs!

Keep stirring to evenly cover the pasta with the sauce. Finally, add a splash of lukewarm stock to loosen the sauce and make it silky – optional.

Bring back to low heat and stir in heavy cream. Cook 1-2 minutes, until just hot, taste the sauce, and add salt or pepper to taste.

Plate up with extra Parmesan on top and chopped fresh herbs of choice.
Want My Kitchen Equipment?
Yield:
servings (3/4 cup)
Serving:
1
serving
Calories:
357
kcal
(18%)
Carbohydrates:
5.2
g
(2%)
Fiber:
0.7
g
(3%)
Net Carbs:
4.5
g
Protein:
14.4
g
(29%)
Fat:
30.9
g
(48%)
Saturated Fat:
12.3
g
(77%)
Polyunsaturated Fat:
4.1
g
Monounsaturated Fat:
12.6
g
Trans Fat:
0.1
g
Cholesterol:
148.5
mg
(50%)
Sodium:
589.5
mg
(26%)
Potassium:
196.4
mg
(6%)
Sugar:
1.5
g
(2%)
Vitamin A:
472.9
IU
(9%)
Vitamin B12:
0.8
µg
(13%)
Vitamin C:
1.4
mg
(2%)
Vitamin D:
0.8
µg
(5%)
Calcium:
190.4
mg
(19%)
Iron:
0.8
mg
(4%)
Magnesium:
19.2
mg
(5%)
Zinc:
1.5
mg
(10%)
Posted In: