This Keto Chicken Curry is an incredibly creamy keto coconut curry with juicy chicken tikka masala pieces, aromatic Indian spices, and only 5.4 grams of net carbs per serving.
This keto coconut curry recipe will turn your home into an Indian restaurant and all your family will enjoy it!
What's A Keto Chicken Curry?
A Keto Chicken Curry is a keto Indian meal made with juicy boneless chicken thighs cooked in fragrant Indian spices and tomato creamy Masala sauce.
What Is Masala Sauce?
Masala sauce is an Indian curry sauce made of tomato puree, cream, and lots of Indian spices including turmeric and garam masala that turn the sauce orange.
Other delicious spices in Masala sauce are garlic, cumin, and cilantro and it's the combination of all these spices that makes this Masala sauce flavorsome.
Are Indian Curries Keto-Friendly?
Not all Indian curry recipes are keto-friendly.
Some fast-food Indian curry sauces include sugar and even in good quality Indian restaurants, the sauce is thickened with cashews.
Unfortunately, cashews are higher in carbs than other nuts and often raise the carbs in keto Indian curry recipes.
Why You'll Love This Recipe
This recipe is one of my go-to Indian Keto recipes, it's also:
Keto-Friendly (5.4g of net carbs)
Gluten-Free
Vegetarian Option
Vegan Option
Freezer-Friendly
How To Make Keto Chicken Curry
This Keto Curry with Masala spices is very easy to make and your whole family will enjoy it.
The trick to making the best keto curry with chicken is to first marinate the meat with acidic food like lime or lemon juice and yogurt.
Marinating the meat
This is an important step to make a flavorsome keto curry with tender meat.
The longer you soak the chicken pieces into the marinade the more flavorsome the curry will be. Plus, the tenderer and juicier the chicken will be too!
Meat Marinade Ingredients
So the best way to marinate chicken for a keto curry recipe is to combine your chicken pieces along with:
Chicken Breast – I prefer free-range organic chicken. Slices the breast into small cubes. If you like chicken, try my other keto chicken recipes.
Lemon juice – did you know you don't need a juicer to get all the juice of a lime? Read my simple instructions to juice a lime with just a fork!
Dairy-free coconut yogurt – this has no lactose so no sugar and it is made of 100% coconut cream and probiotics which results in a very low-carb high-fat base for a keto meat marinade. Other options are heavy cream or full-fat unsweetened yogurt.
Garlic
Cilantro – Also known as coriander
Ginger
Turmeric
Garam Masala – a delicious curry powder.
Cumin
Since your keto curry will taste even better if it marinates longer, you can make this step the day before and leave the meat in the fridge overnight.
It is perfect for meal prepping for your next day's keto meal.
Baking The Chicken
The next day, bake the chicken on a large baking dish in broil mode. Turn the chicken pieces very often to broil all sides.
Another tasty way to cook chicken for a keto curry is to barbecue the meat! If you have a barbecue, I highly recommend that option.
The chicken will taste like Indian tandoori chicken.
Preparing The Keto Curry Paste
While the chicken bakes, prepare your creamy keto curry Masala sauce.
All you have to do is fry the tomato paste in coconut oil along with all the spices.
The curry paste is what makes the curry sauce bursting in flavors so try to stick to all the spices listed below to achieve the best balance of flavors.
Ingredients
All you need are:
Coconut Oil – coconut oil is one of the healthiest oils.
Onion – the small quantity of onion used is fine for a keto diet.
Garlic – mince it and crush it under the blade of your kitchen knife.
Tomato Paste – even though tomatoes aren't the lowest-carb vegetable, adding a small quantity to this recipe doesn't affect the carbs much.
Ginger
Garam Masala – garam masala is a delicious blend of spices. You can find it in your local Indian grocery.
Cumin
Cilantro – also known as coriander.
Chilli flakes – only if you want your keto curry spicy!
Salt and Pepper
Almond flour or almond meal – this is the keto-approved thickener in your keto curry recipe! No cashews or starch only low-carb almond flour.
Cooking The Curry Paste
When the paste is fragrant and unsticks from the sides of the pan, it is time to create the curry sauce by adding:
Water or chicken stock
Crushed canned tomatoes – make sure there is no sugar added in the ingredient list
Bring to a gentle boil for a few minutes until the chicken is baked and ready to go in the sauce.
Bring the meat back to the pan
It is time to combine the flavors by adding your grilled chicken pieces into the Masala sauce.
This is a keto coconut chicken curry sauce so to make the sauce creamy, I used full-fat coconut milk from a can in this recipe.
Always warm the coconut milk before adding it to the pan to ensure a super-creamy curry sauce. Another option is to use heavy cream or canned coconut cream.
These two options provide an even creamier keto curry sauce.
Serving Keto Chicken Curry
The best keto curry sides are fried cauliflower rice to replace the carb-loaded rice usually served at the restaurant.
Another option is to make my keto naan bread recipe.
Storage Instructions
You can store this keto chicken curry in the fridge for up to 3 days in an airtight container.
This curry can also be frozen in an airtight container for up to 1 month.
Defrost the keto chicken curry the day before by leaving your curry in the fridge.
Then, rewarm it in a saucepan under medium heat or in a microwave for your work lunch.
It can be defrosted and warmed up in the same container that you used to freeze the curry. Make sure it's a microwave-proof container.
Frequently Asked Questions
Can I Make A Keto Vegetarian Curry Recipe?
Yes, you can use this recipe to make a vegetarian keto curry.
Swap the meat with tempeh or tofu. Now you are probably wondering if you can also use paneer, a popular Indian cheese used in curry recipes. Is paneer keto-friendly?
No, it is not, as it contains 6 grams of net carbs per 100 grams, which can be approved on a low-carb diet plan but not on keto.
Of course, if your family is not on a keto diet, serve brown rice on the side for them, it will be a healthy choice, and you can all enjoy the same meal with love.
Can I Use Another Meat?
Yes, you can replace the chicken with pork or a beef cut like a flank.
Is Indian Chicken Curry Keto?
No, most chicken curries you can buy in Indian restaurants are not keto-friendly. The sauce is often made with sugar and high-sugar vegetables.
Made this keto chicken curry recipe? Share a picture with me on Instagram, I love to connect with you.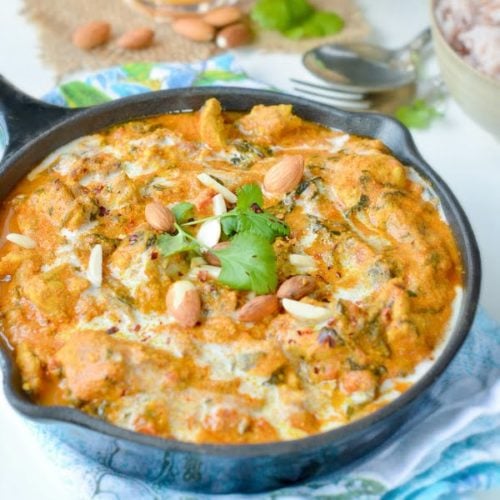 Keto Chicken Curry
Keto Chicken Curry Recipe with Tikka Masala Indian spices.
Ingredients
Curry Indian Masala paste
2

tablespoons

Coconut Oil

or vegetable oil of your choice

¼

cup

Onion

finely diced

2

cloves

Garlic Clove

finely chopped

3

tablespoons

Tomato Paste

1

piece

Fresh Ginger

1

teaspoon

Ground Garam Masala

2

teaspoons

Ground Cumin

1

teaspoon

Ground Cilantro

¼

teaspoon

Chilli Flakes

optional adjust to taste

½

teaspoon

Salt

3

tablespoons

Almond Flour

or ground almonds

13.5

fl.oz

Crushed Tomatoes

(1 can)

½

cup

Water

1

cup

Unsweetened Coconut Milk

warm, microwave 1 minute

¼

cup

Fresh Cilantro

optional
This recipe may contain Amazon or other affiliate links. As an Amazon Associate I earn from qualifying purchases.
Instructions
Marinate the chicken
In a small mixing bowl, place the diced chicken, yogurt, lime, garlic, and add all the marinade spices. Toss until all pieces are well coated with the yogurt marinade. Set aside in the fridge – the longer the better I like to keep it for 1 hour in the fridge. Meanwhile, prepare the sauce.

Preheat oven to 400°F (200°C), broil mode.
Meanwhile, prepare the healthy Tikka Masala sauce
In a large frying pan, under medium heat melt the coconut oil. Add the onion and fry for 2-3 minutes until slightly brown and fragrant. Add garlic and cook for 1 more minute.

Stir in all the spices: ginger, garam masala, cumin, cilantro, chili (if used), salt, and ground almond. Cook for 1 minute until it forms a paste. Remove from heat. Set aside.

Add the tomato paste, crushed tomatoes, and water, and bring the sauce to a boil. Reduce to low heat, cover partially and simmer the sauce until slightly thickened, about

15 minutes.
Bake the marinated chicken
Place the marinated chicken on a baking tray. Slightly spray the tray with olive oil to prevent the chicken from sticking to the tray. Broil for

15

–

20 minutes

or until the chicken is cooked through/charred. Make sure you stir the chicken pieces a few times while cooking to cook each side properly.
Prepare the Tikka Masala
When the chicken is baked transfer into the pan with the sauce. Return to medium heat and stir in the hot coconut milk.

Cover with a lid and simmer on medium heat for

5 more minutes

or until the sauce is thick.

Stir in fresh coriander before serving if you like.
Notes
Store: can be stored in the fridge for up to 3 days in an airtight container. Freeze: can be frozen in an airtight container for up to 1 month. Defrost the day before by leaving your curry in the fridge. Rewarm in a saucepan under medium heat or microwave for your work lunch. It can be defrosted and warmed in the same container you used to freeze the curry. Make sure it's a microwave-proof container. Low-carb side dishes: serve with cauliflower rice instead of rice. Vegan option: make this recipe vegan by replacing the chicken with firm organic tofu and using soy yogurt for the marinade. Ginger: fresh ginger can be replaced with ground ginger if you like. Use 1/2 teaspoon of ground ginger. Milk: I used UHT unsweetened coconut milk for a low-calorie healthy recipe. You can use canned coconut milk but be careful! It's higher in fat and calories. Warm the milk in the microwave for 1 minute on high heat or in a saucepan under medium heat until bubbles form on the saucepan's side – about 3 minutes. Herbs: it's optional, but I love to stir in 1/4 cup of fresh coriander at the end. Yogurt: Coconut yogurt is made of 2 ingredients: coconut cream and probiotics. It's keto with no added sugar. Replace with regular Greek yogurt if needed.
Want My Kitchen Equipment?
Serving:
1
serving
Calories:
362
kcal
(18%)
Carbohydrates:
7.4
g
(2%)
Fiber:
2
g
(8%)
Net Carbs:
5.4
g
Protein:
18.8
g
(38%)
Fat:
29.5
g
(45%)
Saturated Fat:
14.3
g
(89%)
Cholesterol:
99.2
mg
(33%)
Sodium:
288.2
mg
(13%)
Potassium:
431.5
mg
(12%)
Sugar:
3
g
(3%)
Vitamin A:
252.2
IU
(5%)
Vitamin C:
4.8
mg
(6%)
Calcium:
61.1
mg
(6%)
Iron:
2.8
mg
(16%)
Posted In: