How to Start a Keto Diet for beginners
This recipe may contain Amazon or other affiliate links. As an Amazon Associate I earn from qualifying purchases.
Do you want to start the keto diet but don't know where to start? Follow my easy keto starter kit below to get started the best possible way!
The Keto diet is a diet that promotes the consumption of high-fat but low-carb food.
This puts the body in ketosis. Ketosis is a state where the body gets its energy from stored fat instead of getting it from consumed carbohydrates.
Being in ketosis generally has several effects. One of them is a potential rapid weight loss in some people following the diet. Read on to learn more!
Keto Starter Kit
To get started with keto, you need just 3 elements:
A basic understanding of the principles behind the keto diet
Learning what you can and can't eat, so you make the right decisions
Easy recipes with low net carbs to bake your own low-carb meals
It is essential to seek medical advice before starting the ketogenic diet. It is a diet that can be very effective for losing weight, but it is not for everyone as it might have some side effects.
1. What is the keto diet?
The keto diet, also known as the low-carb high-fat diet (LCHF), consists of reducing the number of carbs while increasing the fat.
About 55% of the energy comes from carbs in a regular diet, 35% from protein, and 10% from fat intake. In Keto, it is quite different. Most of the energy intake comes from fat, while carbs only make up about 10%.
This vast reduction of carbs consumed is putting the body in a state called Ketosis. To learn more about Ketosis, Ketones, the health benefits, and the keto diet risks, read my detailed article What is the keto diet?
2. What can I eat on Keto?
The Keto diet is all about reducing carbs in favor of fat and, to a lesser extent, protein. So you need to pick meat, drinks, fruits, and vegetables that are low in carbs and, if possible, high in fat.
a. Knowing your macros
Because the ketogenic diet is all about reducing carbs intake and increasing fat, it is absolutely critical to know what you should be taking.
A regular diet is made of about 55% carbs, 35% protein, and 10% fat, but in keto, you will be aiming for about 10% carbs, 20% protein, and 70% fat to be in ketosis.
However, this number of carbs, protein, and fat varies from person to person. Your current build, target, and aspirations will change your macros.
You could calculate these macros manually or use my macro calculator for your very own figures.
A 10%-carb macro means that only 10% of your calories will come from carbs.
Note that it is not the same as 10% of the weight of your foods that comes from carbs since the energy density of carbs, protein, and fat is different.
One gram of carbs has 4 calories, which is the same as 1g of protein. However, one gram of fat has 9 calories. Therefore when 70% of your energy comes from fat, it is actually 50% of your ingredients' weight that must be fat!
There are different variants of the low-carb diet, and you should choose the one that fits your health background. I personally follow a low-carb diet limiting my carbs to 50g per day.
Some people don't count carbs at all and focus on eating low-carb real food.
The low-carb diet variants are
Moderate low-carb diet – less than 100g of net carbs per day, about 25% of your daily calorie intake
Low carb diet – less than 50g of net carbs per day, about 12.5% of your daily calorie intake
Keto diet – less 20g – 30g net carbs per day, about 5% of your daily calorie intake
b. A typical Keto plate
Your typical keto plate needs to match your macros. You need quite a bit of fat-loaded food. A little protein and very few carbs.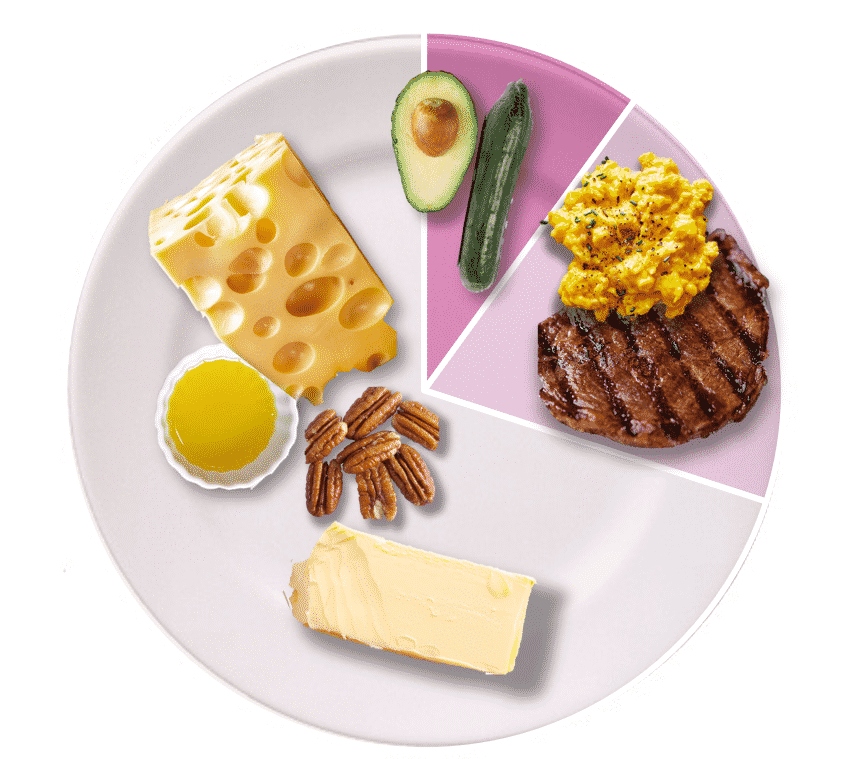 Now, what can you eat in each food group?
Fat: Healthy oil like olive oil or coconut oil, avocados.
Drinks: Water, coffee, bulletproof coffee, tea.
Alcohols: Red wine in moderation. Read my guide on which alcoholic drink to have one keto.
Meat, Eggs & Cheese: Butter, cream, unprocessed cheese, eggs, meat, and fatty fish. Read my guide on keto-friendly dairy.
Keto-friendly vegetables: Cucumber, broccoli, cauliflower, avocado, etc. Read my article on Keto Vegetables for the full list!
Keto-friendly flours: Almond flour, coconut flour, psyllium husk.
Keto-friendly sweeteners: Erythritol, monk fruit, stevia, allulose. Read my review of the best Keto Sweeteners for more!
Keto-friendly snacks: Almonds, pecan nuts, no-bake cookies, keto milkshakes, Keto Twix bars, or any of my snack recipes.
Keto-friendly fruits: Avocado, rhubarb, raspberries, blackberries, coconut. Read my article on keto fruits for the full list!
c. Keto food list
To simplify your shopping, use the keto food list below.
This ultimate low-carb food list lists all the food you can eat daily.
It is a handy keto food list for beginners as it lists all the basic ingredients you should have to start a low-carb diet.
d. What should I avoid on Keto?
You need to eliminate all major sources of carbs on keto. If you didn't, you would not be in ketosis anymore.
I also give you some alternatives to fix your craving.
Bread and grains. Include rice, burger buns, pizza crust, quinoa, etc. Go for my keto bread instead. I have more than 15 Keto-friendly bread recipes on the blog!
High fructose fruits. Like bananas, dried fruits, mango, pear, cherries, or raisins. Go for low-carb fruits instead.
Starchy vegetables. Like corn, potatoes, beets, and sweet potatoes. Ditch all under-the-ground vegetables and favor leafy and keto-friendly vegetables.
Pasta. Consider a low-carb alternative like my Zucchini Noodles or my Zucchini Lasagna or my Keto Spaghetti and Meatballs.
Cereals. Opt for my Low-carb Granola or switch to a Keto Coffee Smoothie.
Sweetened yogurt. Switch to unsweetened coconut yogurt instead.
Juice. Go for a Keto blueberry smoothie or a Keto Green Smoothie.
Beans and legumes. Favor low-carb vegetables instead.
Sugar. Any form, including honey, maple syrup, agave, and brown rice syrup. Replace with a keto-friendly sweetener.
Chips and crackers. Opt for a keto alternative like my Keto Tortillas chips, my Low Carb Tortilla Chips, or my Keto cheese crackers.
Milk. Move to low-carb milk like unsweetened almond milk or unsweetened coconut milk.
Baked foods like donuts, pastries, muffins, or cakes. I have plenty of alternatives like my Low Carb Donuts, Keto zucchini muffins, Keto vanilla cake.
e. How To Read Nutrition Labels
Knowing how to read nutrition labels is critical when following the keto diet. However, it is not that complicated.
First of all, always look at the quantity per 100g, which makes things easier when comparing products for which the serving size is not always identical. Total Carbohydrates will include all carbs, even fiber. Most of the time, the label will give you the amount of sugar, including natural and added sugar. Then you will have a line with the fiber amount, also called dietary fiber.
To calculate how many carbs you will have on your plate, use this formula:
Net Carbs = (your portion in g / 100) * (Total Carbohydrates per 100g – fiber per 100g)
As an example, if you have a food label with 10g Carbs, 6g Fiber per 100g, and you take 30g of it, your net carbs are: (30/100) * (10-6) = 0.3 * 4 = 1.2g of net carbs
f. Implementing Intermittent Fasting
You might have heard of Intermittent Fasting as a way to boost weight loss.
Fasting is a well-documented way of going beyond the keto plateau and more generally of boosting immunity and cell repair.
However, it is not necessarily recommended to implement for new starters.
Most health practitioners recommend waiting for at least 2 to 3 weeks before implementing Intermittent Fasting.
Read my tips to learn more about intermittent fasting and supercharge your weight loss!
3. Finding easy keto recipes
On a keto diet, you need to follow recipes that are easy to make and trust they have low levels of carbohydrates and high levels of fat.
On Sweetashoney, you can filter my hundreds of recipes by meal type (breakfast, meal, snack, etc.) but also by net carbs.
This allows you to find great low-carb recipes that precisely meet your carbs macro!
But if you don't want to have to count your carbs, it is preferable to opt for a keto meal plan.
a. Keto Meal Plans
A Low-Carb Meal Plan or Keto Meal Plan is a pre-defined list of meals tailored to reach a specific number of net carbs every day.
It is the easiest way of starting the keto diet without diving into difficult calculations and measures.
A low-carb diet plan typically lasts for one or two weeks, and the good ones have meal preparation instructions.
I have two meal plans offered on Sweetashoney:
A keto diet plan for beginners, the 14-day keto meal plan. It is made to get you as low as 17g of net carbs per day and contains many delicious, easy low-carb recipes and full meal prep instructions!
A more advanced meal plan, the 14-day intermittent fasting keto meal plan. It is made to help you implement an intermittent fasting method, allowing you to go beyond the keto plateau.
If you want a bit more help, I also have available the 14-day keto meal plan bundled with a keto guide on how to begin the low-carb diet. This is ideal for achieving true low-carb success as it contains a vast amount of tips and tricks for low-carb beginners.
If you're just starting on a keto diet, you can also try my FREE 7-day Keto Meal Plan! No sign-up necessary, just print your shopping list and get going!
While cooking keto recipe is as simple as regular cooking, baking is a bit more complicated.
Because you are using different flours, it requires some adjustments to your regular method!
b. How can I become a keto baking superstar?
Most of my recipes are baking recipes. And I know how different baking keto bread of cakes can be! It requires a few adjustments and re-learning some of the baking rules.
Here is what can go wrong with baking keto recipes, mostly because of the use of low-carb flours:
Sinking bread
Overly moist cakes
Fragile dough
Sticky dough
Blue or purple bread
Crumbly bread
There are many ways to fix and troubleshoot such problems.
I have a set of 10 great free printables to help you bake delicious keto recipes! Register here to receive them.
If you want to go even further, check out my Keto Baking Guide ebook along with my Best Ever Keto Recipe Collection. I have books with many bread-like recipes, gluten-free and grain-free cakes, and other low-carb desserts!
c. Am I in Ketosis?
It takes about two days of eating very low-carb to get into ketosis.
And all it takes to get out of ketosis is one high-carb portion of anything. So, it is important to have a way to measure whether or not you are in ketosis.
The best and easiest way is to test your ketone levels. You can do that with any Ketone Test Strips in a matter of minutes.
There are a few other less measurable signs that you are probably in ketosis:
Bad breath due to the presence of acetone.
Less appetite
Some insomnia
The first week's keto flu.
If you find yourself experiencing the keto flu, read my article on how to deal with it!
Conclusion
The Keto Diet might sound like a complicated and dreadful diet, but it is not.
It is, in a way, simple math! If it is a diet that works for you, all you have to do is stick to your macros, listen to your body and eat easy, simple low-carb recipes!
What's the best advice I can give you? Subscribe to Members for free!