90-Second Keto Bread In The Microwave
This 90-second keto bread recipe is the easiest keto bread recipe to quickly fix all your bread cravings with only 5 grams of net carbs per bread!
Bonus, this keto microwave bread recipe is also gluten-free and dairy-free.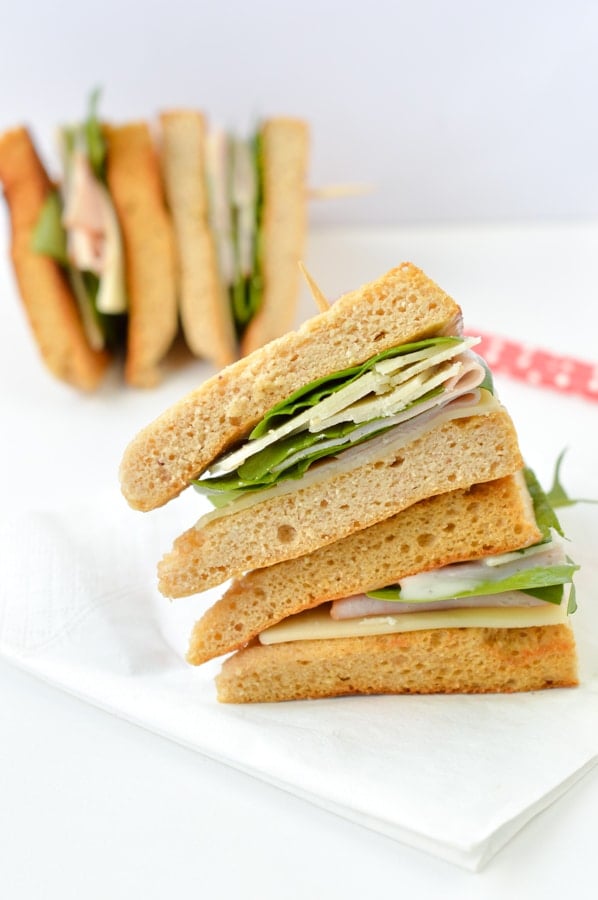 What's A 90-Second Keto Bread?
A Microwave keto bread is a low-carb bread recipe cooked in the microwave bread for only 90 seconds to quickly fix your bread craving.
It's the perfect low-carb keto bread recipe to make a quick breakfast sandwich or toast.
How To Make Keto 90-Second Bread
It's very simple to make keto microwave bread.
Ingredients
All you need to make yours are 6 simple ingredients:
Almond flour or almond meal – both options work very well. However, almond meals make the bread darker in color and a bit gritty in texture. If you are a keto beginner, I highly recommend ultra-fine almond flour to enjoy this keto bread 90-second recipe. Read how to choose your keto flours to become an expert!
Coconut flour – the combination of both flours creates the best bread texture, similar to wheat-based bread, without the carbs. If you don't have coconut flour, you can replace it with more almond flour, but the bread crumb will have a softer, more cake-like texture.
Egg – this recipe needs an egg. It won't work with egg replacers like flax egg or chia eggs. Try my egg-free 90-second keto bread recipe if you are after an egg-free keto bread recipe or on a vegan keto diet.
Baking powder to give your bread a little rise.
Olive oil or melted butter.
Water
Combining Ingredients
Now, in a small bowl, combine the dry ingredients. Then, add the beaten egg, water, and olive oil and whisk until a smooth batter forms.
Spread the batter in a microwave-safe bowl.
There are a few different mugs or containers you can use to bake your 90-second bread recipe.
A regular 12 oz coffee mug – this is the best way to make a small individual bread loaf with a cylinder shape. Then, slice the bread cylinder into 4 thin slices.
A microwave-safe square pan – to make triangle sandwiches as seen in my pictures. Cut the square in half to make triangles.
Baking 90-Second Keto Bread
Most microwave runs at 900W, but some also run at higher power up to 1200W or lower intensity of 600W.
Depending on the watts of the microwave, the regular 90 seconds of baking time won't deliver the same bread texture.
In fact, when we call this recipe a 90-second microwavable low-carb keto bread recipe, it's for a standard microwave setting of 900W!
Adjusting the baking time to the power of your microwave
If your microwave runs at:
900W – microwave the bread for 90 seconds.
600W – microwave the bread for 90 seconds, then add 10 extra seconds if the bread is still moist or wet in the center.
1200W – microwave the bread for 60 seconds, then check the consistency and add an extra 10 seconds if it is still moist or wet in the center.
Don't know what the power of your microwave is? Play it safe and microwave the bread at the minimum baking time of 60 seconds. Then, check the texture and return to the microwave by 10-second bursts until the center is set, not wet or liquid.
Remember that it's always better to underbake microwave bread. In fact, you can always bring it back to the microwave in small 10-seconds bursts. But if you overcook it, it will be very dry and not pleasant to eat.
Toasting The Bread
Now that the bread is cooked, it's very soft. So you have two options to give some texture to the bread.
Toast in a bread toaster until crispy.
Create a sandwich and toast in a sandwich press, spreading butter generously on the outside bread slices.
Pan fry it in butter.
Make keto French toast sticks.
90-Second Bread Toppings
Peanut butter and keto chia seed jam.
Ham, cheese, and spinach.
Bacon and fried eggs to make a keto breakfast sandwich.
Cream cheese and bagel seasonings.
Flavoring Microwave Bread
Obviously, this microwave bread recipe intends to be neutral in flavor to be used in any way you like: sweet or savory.
Like any regular soft bread from the store, it's a soft, airy bread with many possibilities!
Some of my tips to boost your bread with flavor are the addition of dry spices, cheese, or sweeteners.
Let's see below some of the great flavors you can create with this simple recipe.
Keto cinnamon toast – add 1/2 teaspoon of cinnamon and pumpkin spices along with 1 tablespoon of sugar-free crystal. Melt 1 tablespoon of butter or coconut oil in a pan and fry the bread on both sides. Serve with sugar-free maple syrup.
Italian bread. Give your 90-second keto bread some Italian flavor, add 1 teaspoon of dried oregano, 1/4 teaspoon of salt, 1/4 teaspoon of ground paprika, and 1 tablespoon of grated Parmesan.
Garlic bread. Missing garlic bread? Try to add 1/4 teaspoon of salt, and 1/2 teaspoon of garlic powder, and fry the bread in 1 tablespoon of melted butter.
Serving Keto Sandwich Bread
While this is one of the best keto recipes for breakfast, it's also an amazing keto sandwich bread.
Who doesn't love a club sandwich? I am sure you do too! Not sure how to make a keto sandwich using this microwave bread recipe? Here are some great keto sandwich ideas for any time of the day.
Breakfast sandwich – bacon, scrambled eggs with cheese, and scallion.
Keto lunch sandwich – ham & cheese and spinach. Play with the cheese flavor, mix parmesan, Edam cheese, cheddar, or any cheese! Add some mayonnaise and pickles if you like!
Keto vegetarian – mayonnaise, avocado, thin cucumber slices, and baby spinach.
Finally, if you are not fond of eggs in your keto bread recipe but still want quick bread, try my egg-free keto bread in the microwave. As a result, the texture will be dryer, dense, and closer to artisan bread.
Storage Instructions
I hear you, you are busy, and you want to make ahead some quick, tasty keto bread.
Contrary to oven baking, microwaving cooks your food so fast that the texture dries out very quickly if stored for too long.
Clearly, it won't taste as good the next day, but it's still possible to make it ahead 24 hours before. These are my recommendation.
First, cook the bread in the microwave and cool down on a rack until it reaches room temperature.
Next, wrap your keto bread in plastic film to keep it moist and place it in the fridge.
Finally, the next day, toast your bread in the toaster or pan fry in butter.
Other Quick Keto Recipes
If you like making quick keto recipes, you'll love these:
Leave me a comment or review below. I would love to hear back from you!

90-second Keto Bread
This 90-second keto bread will fix all your bread cravings! This is a tasty microwave keto bread with the most wonderful soft bread texture, perfect for sandwiches or toast.
Serving Size:
1
bread (whole recipe)
Ingredients
¼

cup

Almond Flour

1

tablespoon

Coconut Flour

or 2 tablespoons extra almond flour

½

teaspoon

Baking Powder

½

tablespoon

Extra Virgin Olive Oil

or melted butter

1

Large

Egg

beaten

2

tablespoons

Water
Some optional savory flavor
¼

teaspoon

Garlic Powder

¼

teaspoon

Ground Paprika
This recipe may contain Amazon or other affiliate links. As an Amazon Associate I earn from qualifying purchases.
Instructions
In a small mixing bowl, stir almond flour, coconut flour, and baking powder. Set aside.

In another bowl, beat the egg with olive oil and water.

Whisk the liquid ingredients into the dry ingredients until a smooth runny batter forms.

Spray oil on a tall 12 oz coffee mug or a microwave-safe pan. I used a square 6-inch x 6-inch ceramic pan.

Pour the batter into the coffee mug or spread evenly into the pan.

Microwave on high (900W) for 90 seconds until the bread is cooked through. If your microwave has a lower or higher power setting, read my post above for baking time recommendation.

Remove from the microwave carefully as it's hot. Then, use a sharp knife to loosen the sides of the bread and flip over a plate or chopping board.

If baked in a coffee mug, you end up with a cylinder shape, slice in 2 thick slices, or if made in a square pan, slice in half to make 2 triangles.

Bring each bread slice into a bread toaster and toast until crispy or make a sandwich, spread butter on the outside of the bread slices, and toast in a sandwich press or frying pan until crispy.
Notes
No microwave? You can bake the bread for 8-15 minutes in a ceramic oven-proof baking pan at 350F/180C. Stop baking when a toothpick inserted in the middle of the bread come out clean. Storage: if you are using the microwave method, store for a maximum of 24 hours, in the fridge, wrapped in plastic wrap to keep the bread soft and moist. It is recommended to make this bread just before eating to enjoy all it is flavor and texture. This recipe serves 2 slices of bread. The nutrition panel is for one slice.
Want My Kitchen Equipment?
Serving Size:
1
bread (whole recipe)
Serving:
1
bread (whole recipe)
Calories:
322.3
kcal
(16%)
Carbohydrates:
10.8
g
(4%)
Fiber:
5.4
g
(23%)
Net Carbs:
5.4
g
Protein:
13.2
g
(26%)
Fat:
26.6
g
(41%)
Saturated Fat:
4.5
g
(28%)
Trans Fat:
0.1
g
Cholesterol:
186
mg
(62%)
Sodium:
299.4
mg
(13%)
Potassium:
69.5
mg
(2%)
Sugar:
1.7
g
(2%)
Vitamin A:
270
IU
(5%)
Vitamin B12:
0.5
µg
(8%)
Vitamin D:
1
µg
(7%)
Calcium:
205.3
mg
(21%)
Iron:
2.4
mg
(13%)
Magnesium:
6.8
mg
(2%)
Zinc:
0.7
mg
(5%)
Posted In: