Even your most intense chocolate craving doesn't stand a chance against those moist Flourless Chocolate Peanut Butter Cookies. Whip them in 5 minutes with only 6 ingredients and satisfy your next chocolate sweet cravings without guilt! A delicious
clean eating recipe
for the sweet tooth.
Flourless Chocolate Peanut Butter Cookies : no refined sugar !
Do you love peanut butter and chocolate? Heck! what a stupid question. Everyone loves that powerful combo, right? I am absolutely craving on chocolate lately – well I am 33 weeks pregnant now so it is quite normal. What is better than homemade food to satisfy  your food cravings ? I don't count calories but I love to know what is in my plate. At least if indulge too much I know I fuel up with natural food that is good for my baby and body.
Peanut butter is great to use in baking and specially for cookies. It adds a lovely moist texture to cookies. But always make sure that you are using a fresh and runny peanut butter. Some brands tends to get hard and dry when the jar is opened for a while. It makes the ingredients difficult to combine even resulting in some lump in the dough. Nut butter are great ingredient to cut down on carbs and avoid flour in baking. Look at this cookie batter! Really hard to believe it is a flourless cookie, right?
I know what you think. Nut butters contains LOTS of fat. Yep! but the good one so don't be too worry about using nut butter in baking. Also it is an amazing protein food – meaning it is very satisfying and avoids overeating those Flourless Chocolate Peanut Butter Cookies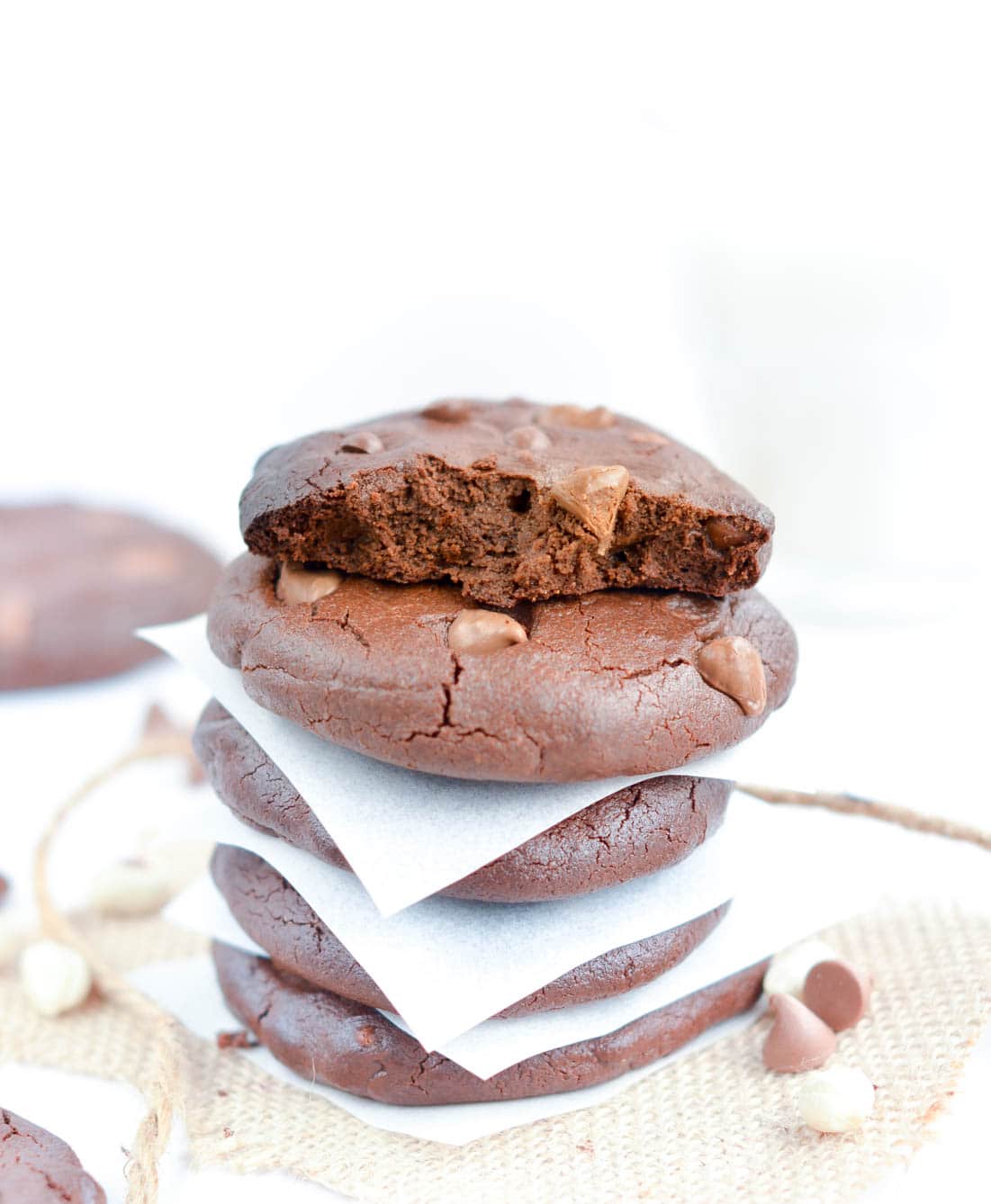 Those Flourless Chocolate Peanut Butter Cookies are also great as an after sport food. My husband ride to work 40 km almost 3 times a week. I know he is crazy ! But he said he love eating one of those cookie after work out.  I used a tiny bit of honey in this recipe but you can also use any natural liquid sweetener of your choice like brown rice syrup or maple syrup. Sooo who's making those Flourless Chocolate Peanut Butter Cookies for Christmas? It looks like an quick and easy cookie recipe to add to our Christmas cookie jar, right?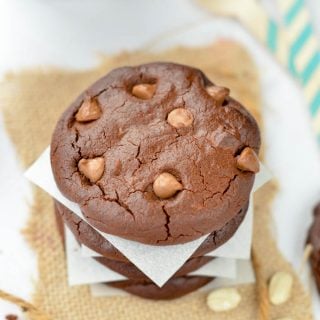 Print Recipe
Flourless Chocolate Peanut Butter Cookies
Flourless Chocolate Peanut Butter Cookies. An Easy, flour less and gluten free moist chocolate cookies with no refined sugar. The best clean eating peanut butter cookies.
Instructions
Preheat oven to 356 F (180C).

Prepare a cookie tray covered with a piece of parchment paper. Set aside.

In a large mixing bowl whisk together the runny peanut butter, egg, sweetener- microwave 15-30 seconds if needed- and vanilla extract - if you add some. Whisk until all combine together.

Add the cocoa powder, baking soda, chocolate chip and combine with a spatula until it forms a consistent shiny cookie dough ball.

Shape 12 cookie balls with your hands. The dough is easy to shape like playdough.

Place each cookie balls on the prepared cookie sheet. Press slightly with your hands to flatten the balls as a cookie.

Bake for 10-12 minutes. The cookies should be soft and moist when removed from the oven. They will slightly get crispy on the border when cool down and the center will stay soft.

Cool down on a cookie rack.
Notes
Chocolate Chips:
I used
low carb chocolate chips
 but any chocolate chips will work well in this recipe.
Storage:
 Store up to 2 weeks in a cookie jar at room temperature.
Make it vegan
: I made those cookies vegan using
a flax egg
instead of an egg. Stir 1 tablespoon of flax meal with 3 tablespoons of water. Sit for 15 mintues until thick. Use s an egg in this recipe. Swap honey for
brown rice syrup. 
Net carb per cookie:
5.9 g using sugar free chocolate chips and sugar free liquid sweetener from Monk fruit
Nutrition
Serving:
1
cookie
|
Calories:
203
kcal
|
Carbohydrates:
12.4
g
|
Protein:
6.5
g
|
Fat:
17.1
g
|
Fiber:
6.5
g
|
Sugar:
2.4
g