This Keto Avocado Chocolate Mousse is an easy, paleo, and healthy 4-ingredient sugar-free dessert recipe with a delicious fudgy chocolate texture. It's also vegan, low carb (3.8 grams net carbs per serving), and gluten-free.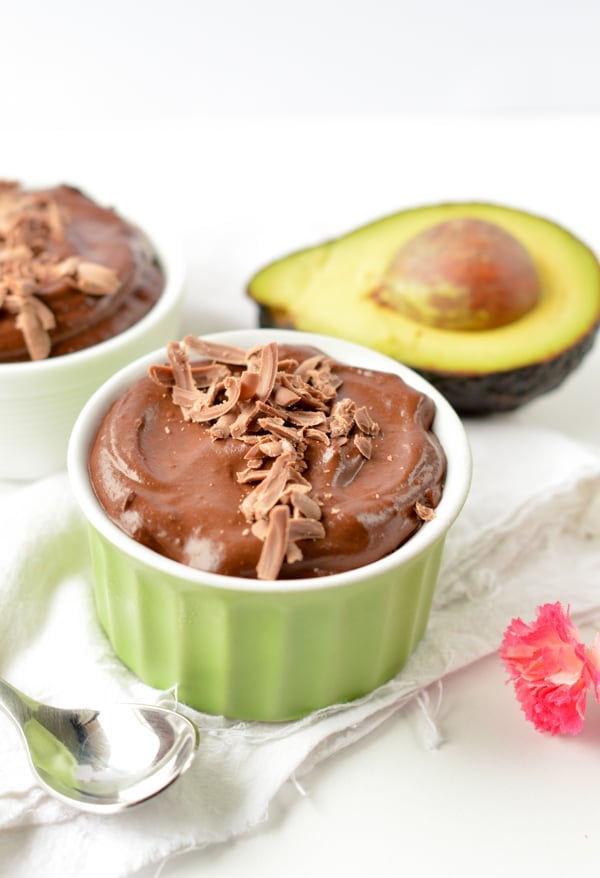 Keto Avocado chocolate mousse
My favorite way to make this keto avocado chocolate mousse is using my sugar-free crystal sweetener – I love Swerve or Monk fruit sugar.
You know how much I love sugar-free dessert recipes right? Even if I am ok to indulge in some sweet refined sugar-free desserts some days I do prefer a 100% sugar-free recipe for myself.
When you have been pre-diabetic, trust me, you are always worried about going back to sugar.
But I have got a family that doesn't enjoy the sugar-free sweetener as much as I do. Monk fruit sugar or erythritol is good for you it's natural but some people don't appreciate their taste at first.
It could have a slightly fresh, minty aftertaste. After 5 years of using it, I don't notice this anymore but well, my husband and the kids usually prefer a refined sugar dessert.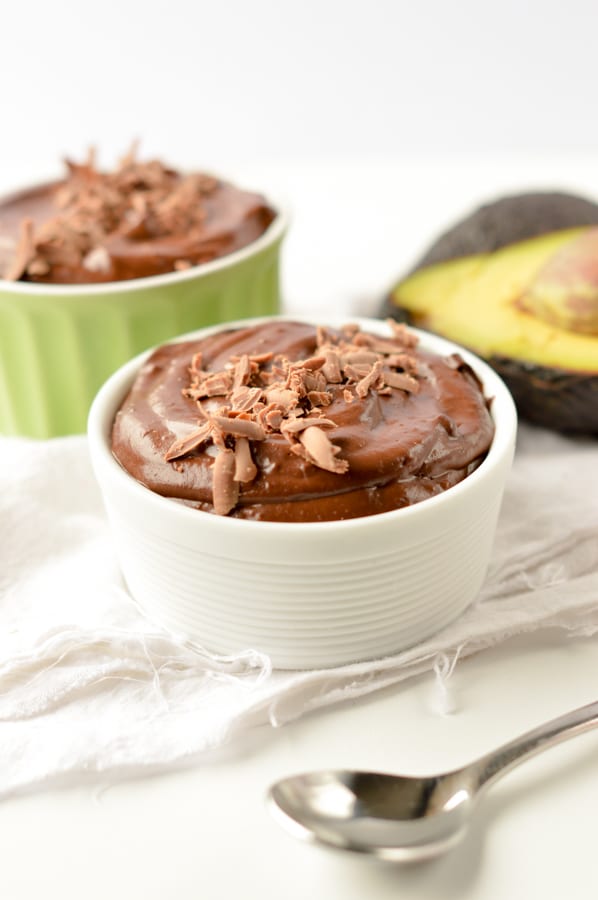 So, that's why today I tested this recipe in two ways.
Are you new to Keto?
Receive my Keto Quick Start email series to learn all about the Keto diet and kick start your keto journey!
Option 1- 100% Sugar-free Avocado chocolate mousse (green ramekin pictures).
A perfect keto dessert since avocado is a keto-approved vegetable.
In order to keep the pudding sugar free, add 2 tablespoons of sugar-free crystal sweetener – swerve or monk fruit sugar blend.
The texture is pretty much the same as the recipe using dates. Honestly, I love the taste of the sugar-free one!
It's silky smooth and creamy, less dense than the one with dates. Plus there are only 3.8 grams of net carbs per serving and you save 100 kcal! Amazing, right?
Option 2- 100% Refined Sugar-free Avocado chocolate mousse (white ramekin).
That's the recipe I make for my husband and kids. I am using Medjool dates, they are softer and blend very well without soaking time.
The texture of the chocolate mousse using dates is slightly thicker more like a cream. It is delicious but more fulfilling too. I recommend serving this one in smaller serves – maybe for 6 people instead of 4.
It will make very small portions but it's enough I think. The kids love to pair this mousse with fresh raspberries. It's a great combo if you love fruits and chocolate.
This version with dates will get super dense if you store it in the fridge for a few hours. It is absolutely amazing!
Below I provided both nutrition panels to cater to any diet. Feel free to try the recipe that makes you feel good and happy. As you can see in these two pictures, the texture of the sugar-free chocolate mousse (green ramekin) is very similar to the one using dates (white ramekin).
More chocolate avocado keto desserts
xoxo Carine
Recipe Card
Paleo Avocado Chocolate Mousse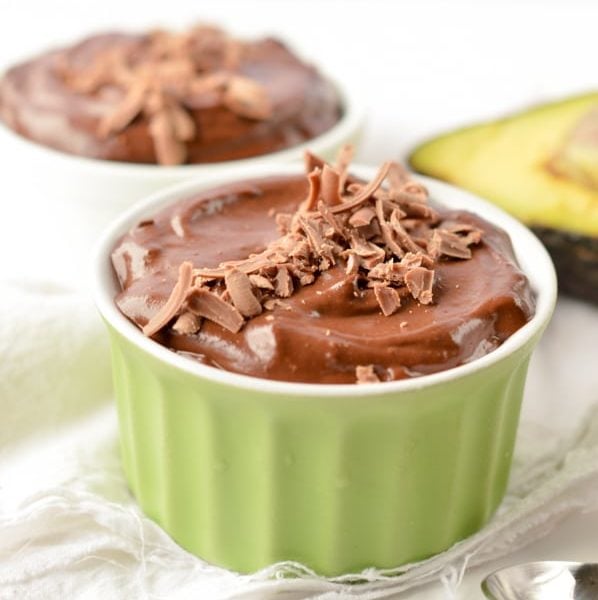 Paleo Avocado chocolate mousse is an easy and healthy 4-ingredient sugar-free dessert recipe with a delicious fudgy chocolate texture. It's also vegan, low carb (3.8g net carbs per serve), and gluten-free. 
In a blender, scoop out the ripe avocado flesh, unsweetened cocoa powder, sugar-free crystal sweetener (or pitted dates), canned coconut cream, and vanilla extract.

Blend until smooth - about 1 minute on high speed.

Transfer the chocolate mousse into ramekins and refrigerate for at least 1 hour. The longer it stays in the fridge, the creamier it will be.

Serve with chocolate flakes or unsweetened desiccated coconut. 
Storage: You can store these avocado chocolate mousses for up to 2 days in the fridge. Simply wrap each ramekin with plastic wrap to prevent the top from drying out. Serving size: this recipe is very rich and fulfilling. I highly recommend serving it in 6 mini ramekins (half the size as the one in the picture).
Starting Keto
What Is Keto Diet?
Macro Calculator
Sweetener Converter
Keto Meal Plans
Keto Recipe Ebooks
Intermittent Fasting
Keto Fruits
Keto Vegetables
Keto FLours
Fighting Keto Flu
Keto Sweeteners
Nutrition Facts
Paleo Avocado Chocolate Mousse
Amount Per Serving (1 mousse (keto option))
Calories 274.5
Calories from Fat 257
% Daily Value*
Fat 28.5g44%
Cholesterol 101.9mg34%
Sodium 29.6mg1%
Potassium 147.7mg4%
Carbohydrates 5.5g2%
Protein 2.6g5%
Vitamin A 1095.9IU22%
Vitamin B12 0.1µg2%
Vitamin C 0.6mg1%
Vitamin D 0.5µg3%
Calcium 55.5mg6%
Iron 0.8mg4%
Magnesium 32.7mg8%
Zinc 0.5mg3%
Net Carbs 3.6g
* Percent Daily Values are based on a 2000 calorie diet.