Paleo Avocado chocolate mousse is an easy and healthy 4-ingredient sugar-free dessert recipe with a delicious fudgy chocolate texture. It's also vegan, low carb (3.8g net carb per serve) and gluten free.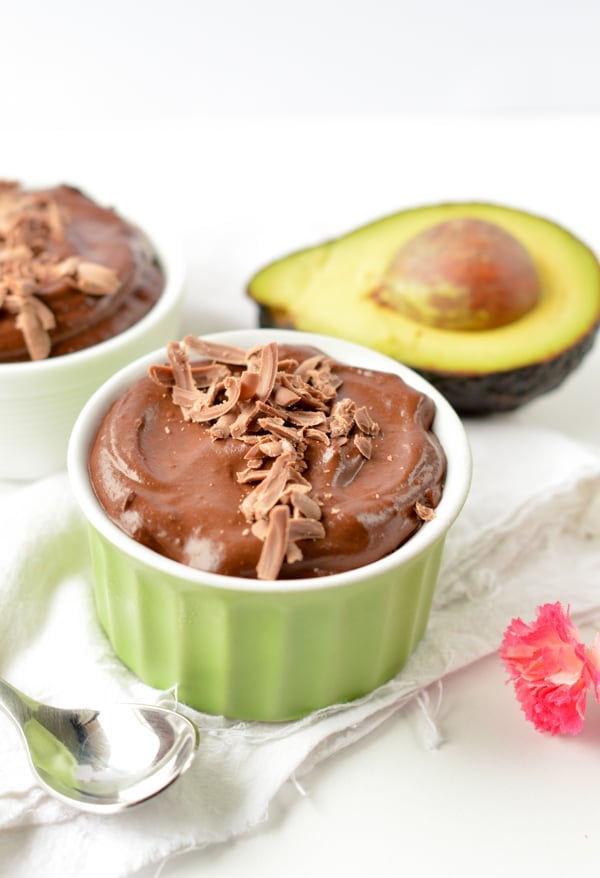 Paleo Avocado chocolate mousse – 2 recipes: Sugar free or refined sugar free
My favorite way to make this paleo avocado chocolate mousse is using my sugar-free crystal sweetener – I love Swerve or Monk fruit sugar. You know how much I love sugar free dessert recipes right? Even if I am ok to indulge on some sweet refined sugar free desserts some days I do prefer a 100% sugar free recipe for myself. When you have been pre diabetic, trust me, you are always worried about going back to your sugar addiction. But I have got a family that doesn't enjoy the sugar-free sweetener as much as I do. Monk fruit sugar or erythritol are good for you it's natural but some people don't appreciate their taste at first. It could have a slight fresh, minty aftertaste. After 5 years using it, I don't notice this anymore but well, my husband and the kids usually prefer a refined sugar dessert.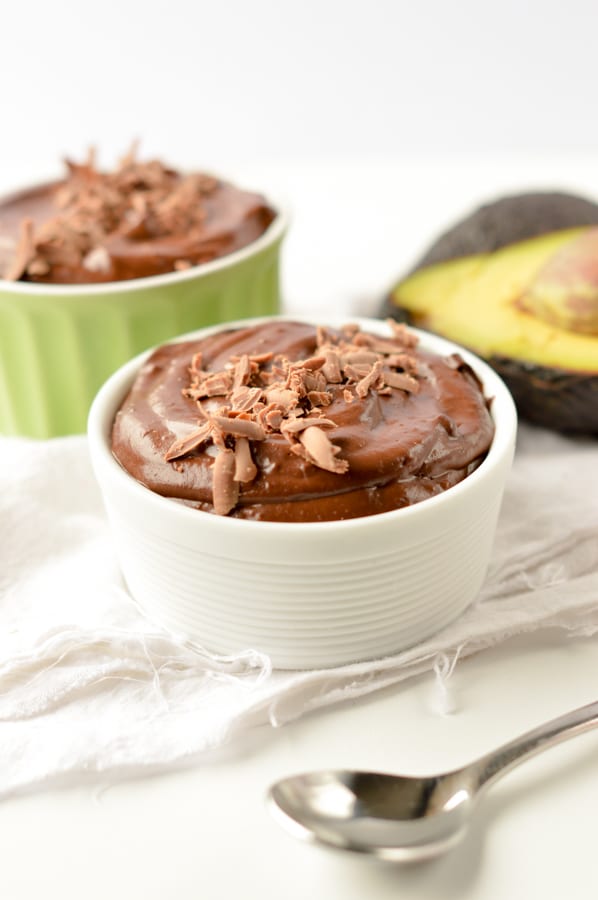 So, that's why today I tested this recipe two ways. 
1- 100% Sugar free Avocado chocolate mousse (green ramekin pictures). A perfect keto dessert since avocado is a keto approved vegetables. In order to keep the pudding sugar free, add 2 tablespoon of sugar-free crystal sweetener – swerve or monk fruit sugar blend. The texture is pretty much the same as the recipe using dates. Honestly, I love the taste of the sugar-free one! It's silky smooth and creamy, less dense than the one with dates. Plus there are only  3.8g of net carbs per serve and you save 100 kcal per serve! Amazing, right?
2- 100% Refined Sugar free Avocado chocolate mousse (white ramekin) That's the recipe I make for my husband and kids. I am using medjool dates, they are softer and blend very well without soaking time. The texture of the chocolate mousse using dates is slightly thicker more like a cream. It is delicious but more fulfilling too. I recommend to serve this one in smaller serves – may be for 6 people instead of 4. It will make very small portions but it's enough I think. The kids love to pair this mousse with fresh raspberries. It's a great combo if you love fruits and chocolate. This version with dates will get super dense if  you store it in the fridge for few hours. It is absolutely amazing!
Below I provided both nutrition panels to cater for any diet. Feel free to try the recipe that makes you feel good and happy. As you can see on these two pictures, the texture of the sugar-free chocolate mousse (green ramekin) is very similar to the one using dates (white ramekin).
More chocolate avocado keto dessert
xoxo Carine
Nutrition panel is for one healthy avocado chocolate mousse. This recipe serve 4 mini ramekins.
Nutrition Panel for one serving of the sugar free/keto recipe using 1/4 cup erythritol instead of dates. This recipe serve 4 mini ramekins.