Avocado oopsie bread recipe is one of my favorite low carb bread recipe. It is a simple keto bread recipe packed with healthy fat from avocado, no cream cheese and 100% dairy free.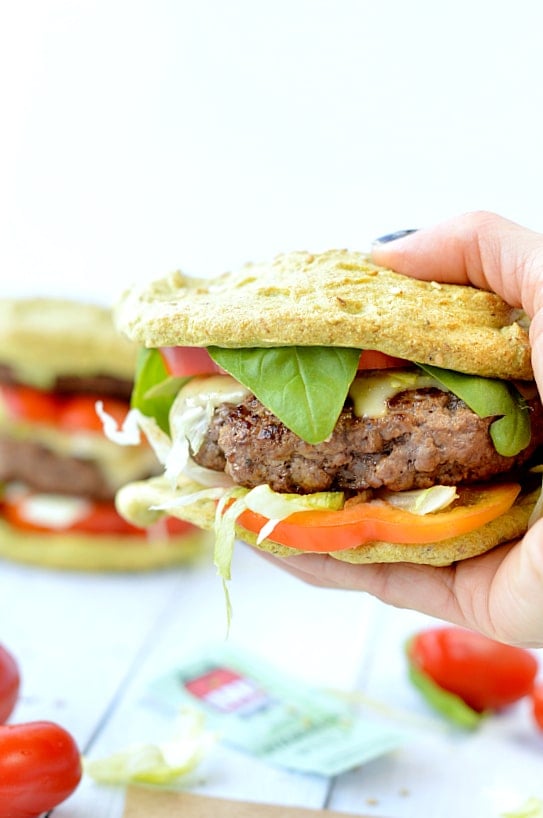 Avocado oopsie bread recipe keto cheese-free low-carb bread !
You know how much I love low-carb recipes but I also love to eat less dairy. I love cheese but I also like the idea of adding more healthy fat and greens to my diet. That's how I came up with this revisited oopsie bread recipe idea. I swapped the regular ricotta cheese with creamy raw avocado. I wasn't sure it would work well but it ended up being superb. Usually, an oopsie bread recipe wouldn't contain almond meal but here I chose to add a tiny bit of it to give more texture to these low-carb burger buns. The result is light, fluffy with a lovely pale green color.
As you can see on the picture it holds the burger filling pretty well! I was amazed to see how this avocado burger buns taste great too. My 3-year old has never been a huge fan of avocado but she loved these low-carb burger buns. This recipe makes 4 burger buns and each bun contains only 0.9g of net carbs for 5g of protein! It means that this avocado oopsie bread is not only fulfilling but also very low-carb while adding some healthy fat from avocado.

I recommend to eat them straight away after baking them. Well, cool down the bread for 10 minutes on a rack but don't wait too long or they lose their beautiful fluffy texture. If you plan to make these for a burger party you can easily double the recipe and bake two batches at the same time. It's optional but you can also add 1/4 teaspoon of sesame seeds on top of each burger bun or poppy seeds if preferred. My favorite healthy & low-carb burger fillings are beef patties, cheese, keto vegetables like capsicum and shredded lettuce. I didn't put sauce in my burger but a bit of homemade mayonnaise is great or some tahini paste.
 
Oopsie bread recipe keto + gluten free
The Oopsie bread is a keto, low-carb, dairy-free buns recipe made with avocado! For some easy, gluten-free burger buns. 
4 oopsie bread
Print The Recipe
Preheat oven to 320F (160 C)

Cover a baking rack with cooking paper. Set aside.

In a large mixing bowl, using an electric whisk, whisk the egg white until it forms some bubbles on the sides - about 30 seconds.

Add the cream of tartar and keep whisking on high speed until a stiff peak forms. Set aside.

In a food processor with the S blade attachment place the ripe avocado flesh.

Process until smooth and creamy. You may have to stop the food processor every 20 seconds, scrape down the side of the bowl with a spatula and process again. You want a creamy avocado puree with no lumps.

Place the creamy avocado puree onto the fluffy egg white.

Add the almond meal, baking soda and psyllium husk.

Using a spatula or wooden spoon gently combine all the ingredients, rubbing the fluffy egg whites with all the others ingredients. Don't go too fast to keep the mixture light and fluffy like for a souffle.

Keep stirring until all the ingredients are coming together and no more lump appears. You should obtain a fluffy batter with a pale green color.

Spoon the batter onto the cookie rack covered with cooking paper. You must evenly split the batter into 4 buns.

Use the back of your spoon to flatten the batter and shape regular round buns.

It is optional but you can sprinkle some sesame seeds on top of each bun before baking. Usually 1/4 teaspoon per bun is enough.

Bake at 320 F (160 C) for 15 minutes or until the sides are slightly golden and the center is set.

Cool down on a rack for 10 minutes and use as regular hamburger buns.
Storage: I highly recommend to eat the buns straight away after baking. Although you can rewarm the buns in a toaster for 30 seconds the next day,  they would lose the light fluffy texture Psyllium husk: don't use metamucil fiber supplement in my recipes, this is not the same product as whole psyllium husk fiber. Metamucil is a husk powder that is not suitable for baking keto bread. It will turn food dry, purple or blue.
Nutrition Facts
Oopsie bread recipe keto + gluten free
Amount Per Serving (1 bread)
Calories 80 Calories from Fat 88
% Daily Value*
Fat 9.8g15%
Carbohydrates 3.7g1%
Fiber 2.2g9%
Protein 11.6g23%
Net Carbs 1.5g
* Percent Daily Values are based on a 2000 calorie diet.