Keto Cloud Bread is a delicious, easy cloud bread recipe that is low in carbs, dairy-free, and made in less than 25 minutes.
Also called Oopsie bread, Cloud Bread is light, fluffy, and can be used to make a Keto-friendly burger or a low-carb sandwich.
This recipe is one of my favorite low carb bread recipes. It is a simple keto bread recipe packed with healthy fat from avocado, no cream cheese, and 100% dairy-free.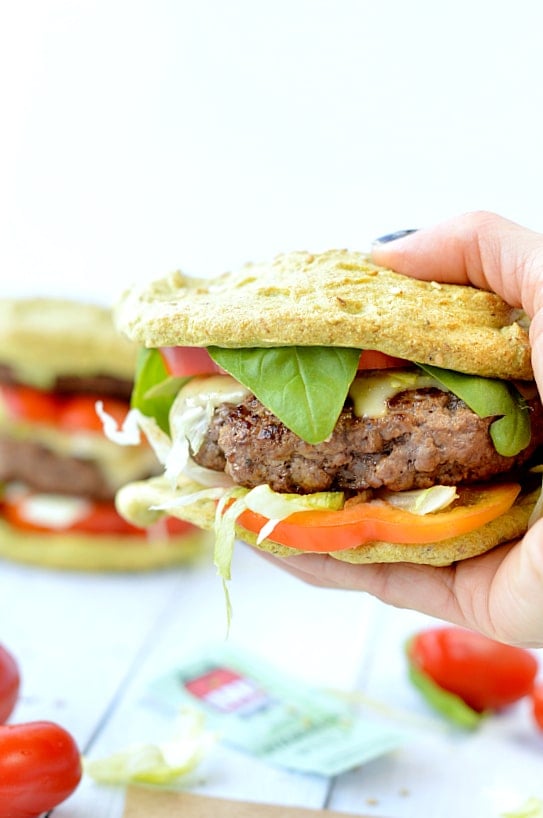 What is cloud bread?
Cloud bread is a light and fluffy flat-ish bread. It is ideal for burgers and sandwiches as the bread holds together pretty well.
What ingredients in this cloud bread recipe?
You know how much I love low-carb recipes but I also love to eat less dairy.
I love cheese but I also like the idea of adding more healthy fat and greens to my diet. That's how I came up with this revisited oopsie bread recipe idea.
I swapped the regular ricotta cheese with creamy raw avocado. I wasn't sure it would work well but it ended up being superb.
Usually, an oopsie bread recipe wouldn't contain almond meal but here I chose to add a tiny bit of it to give more texture to these low-carb burger buns.
Are you new to Keto?
Receive my Keto Quick Start email series to learn all about the Keto diet and kick start your keto journey!
The result is light, fluffy with a lovely pale green color.
I used the following simple, wholesome ingredients for this keto oopsie bread:
Egg White
Cream of Tartar: useful to bind the egg whites together.
Avocado: choose a ripe avocado. The softer the flesh, the fluffier your keto avocado bread will be!
Almond flour
Baking Soda
Whole Psyllium Husk
How to make this keto cloud bread recipe?
As you can see in the picture it holds the burger filling pretty well! I was amazed to see how this avocado burger buns taste great too.
My 3-year old has never been a huge fan of avocado but she loved these low-carb burger buns.
This recipe makes 4 burger buns and each bun contains only 0.9g of net carbs for 5g of protein!
It means that this avocado oopsie bread is not only fulfilling but also very low-carb while adding some healthy fat from avocado.
Can I store the low-carb oopsie bread?
I recommend eating them straight away after baking them.
Let the bread cool down for 10 minutes on a rack but don't wait too long or they lose their beautiful fluffy texture.
If you plan to make these for a burger party you can easily double the recipe and bake two batches at the same time.
It's optional but you can also add 1/4 teaspoon of sesame seeds on top of each burger bun or poppy seeds if preferred.
My favorite healthy & low-carb burger fillings are beef patties, cheese, keto vegetables like capsicum, and shredded lettuce.
I didn't put the sauce in my burger but a bit of homemade mayonnaise is great or some tahini paste.

More easy keto bread and roll recipes
If you like this cloud bread loaf, you will enjoy the following recipe: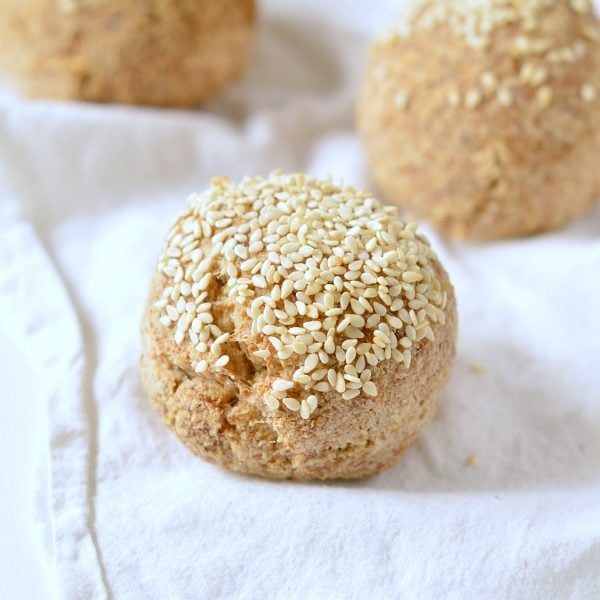 Keto Bread Rolls
Keto bread rolls with no eggs! 100% Vegan, Dairy-free, Low Carb, and Grain-free. Delicious crispy bread rolls made of almond flour, coconut flour, and psyllium husk. 
4.7
g
Check out this recipe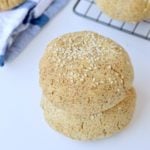 Low-carb Burger Buns
Low-carb Burger Buns are easy homemade gluten-free keto bread buns with a soft brioche texture. No yeast or eggs in these buns, only nourishing almond flour, coconut flour, and psyllium husk for a 100% Vegan and paleo burger. 
6.4
g
Check out this recipe
90-second Keto Bread
This 90-second keto bread will fix all your bread cravings! This is a tasty microwave keto bread with the most wonderful soft bread texture, perfect for sandwiches or toast.
5.4
g
Check out this recipe
Made this recipe yet? Share a picture with me on Instagram!
xoxo
Carine.
Recipe Card
Keto Cloud Bread
The Keto Cloud Bread low-carb, dairy-free oopsie bun recipe made with avocado! For easy, gluten-free burger buns. 
Storage: I highly recommend eating the buns straight away after baking. Although you can rewarm the buns in a toaster for 30 seconds the next day,  they would lose the light fluffy texture. Psyllium husk: don't use Metamucil fiber supplement in my recipes, this is not the same product as whole psyllium husk fiber. Metamucil is a husk powder that is not suitable for baking keto bread. It will turn food dry, purple, or blue.
Nutrition Facts
Keto Cloud Bread
Amount Per Serving (1 bread)
Calories 80
Calories from Fat 88
% Daily Value*
Fat 9.8g15%
Carbohydrates 3.7g1%
Protein 11.6g23%
Net Carbs 1.5g
* Percent Daily Values are based on a 2000 calorie diet.