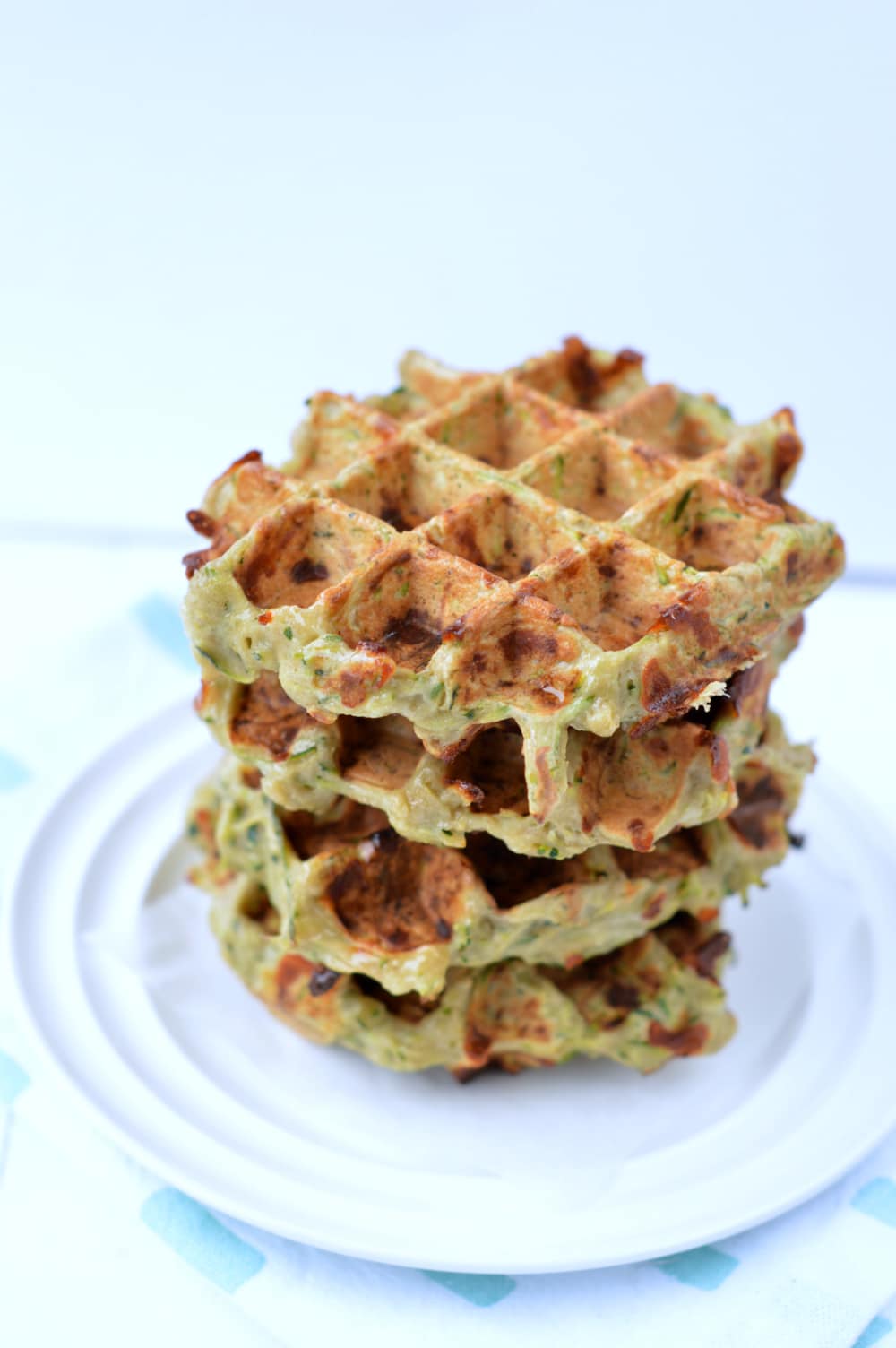 Keto zucchini waffles are cheesy almond flour waffles, 100% gluten free with only 2.3g net carb per serve. They are delicious savory keto breakfast or light dinner served with cream cheese and lettuce.
Keto zucchini waffles – cheesy almond flour waffles
There is nothing easier than keto waffles and even the non keto eaters will devour these savory waffles in no time. All you need to make the most delicious crispy zucchini waffles is:
Zucchini – grated, skin on to ad fiber. Also make sure you squeeze out the extra juice from the zucchini before adding to the batter or they release juice an the water gets too moist
Eggs
Cheese – I love a combo of parmesan and mozzarella but mature cheddar will be great too
Garlic powder or fresh garlic
Salt
Almond flour or almond meal – both work
Can I use something else than zucchini?
Yes, you can make these keto waffles with chopped spinach or chopped kale. Both are low carb vegetables that go very well with these cheesy waffles.
How to serve zucchini waffles?
Zucchini waffles make delicious breakfast or light keto dinner. They are delicious on their own or topped with guacamole, cream cheese or bacon.
More keto zucchini recipes
Zucchini is one of the best low carb vegetable to cook on keto diet. I recommend you try the following keto zucchini recipes too:
So, who's keen to try this zucchini waffle recipe? share a picture of your creation with me on Instagram if you give it a go! Talk to you soon!
xoxo Carine
Zucchini Cheese Waffles
Keto zucchini waffles with a delicious parmesan mozarealla flavor
4 waffles
Print The Recipe
1 1/2 cup Grated zucchini washed, skin on, squeee out juice, about 3 medium zucchini
2 large Egg
1/3 cup Almond Flour
1/3 cup Grated Mozzarella
3/4 cup Grated Parmesan
1/2 teaspoon salt
1/2 teaspoon Garlic powder
To grease the waffle iron
NEW
My no-fail Keto Baking Recipe ebooks are now available
for a limited time, 50% OFF if you enter the code
INPLNCHOFFER
Preheat a iron waffle.

Wash and cut the extremity of the zucchini. Discard them.

Grate the zucchini using a grater - the thinner the better. Squeeze out the extra water with your hands and measure the quantity of grated zucchini required by the recipe. Discard the zucchini water or keep for another recipe.

In a large mixing bowl combine the almond flour, eggs, grated parmesan, mozzarella, garlic powder, salt until it forms a batter.

Stir in the grated zucchini., combine until all the grated zucchini are covered with the batter.

Brush some coconut oil or vegetable oil on the waffle iron.

Spoon the batter into the hot waffle iron and bake for 3-5 minutes or until the outside is crispy.

Serve hot topped with mashed avocado, cream cheese or bacon and lettuce on side for a light dinner.

Can be precooked 4-5 hours before. Store on a rack covered with foil.

Rewarm until crispy and hot when ready to heat.
Nut free flours: if you don't like almond flour and you can use same amount of sunflower seed flour, or if not on keto diet you can use buckwheat flour, it is low GI healthy flour replacement too Cheese: any hard grated cheese works in this recipe like mozarella, edam, or cheddar. I used a blend of cheese for flavor it is up to you to choose your favorite one. Net carb per waffles: 2. 3 g
Nutrition Facts
Zucchini Cheese Waffles
Amount Per Serving (1 waffle)
Calories 166 Calories from Fat 74
% Daily Value*
Fat 8.2g13%
Carbohydrates 2.9g1%
Fiber 0.6g3%
Sugar 1.8g2%
Protein 13.3g27%
Net Carbs 2.3g
* Percent Daily Values are based on a 2000 calorie diet.