Learn how to make no bake chocolate peanut butter fat bombs, a quick keto snack with only 4g of net carbs. This easy fat bomb recipe require only 4 ingredients and tastes just like real chocolate fudge to fix all your chocolate cravings.
Are you constantly looking for a quick and sweet keto treat that is both chocolatey and somewhat decadent? These chocolate fat bombs with peanut butter are the answer and you can make them in only 15 minutes!
What are fat bombs?
Fat bombs are high-fat sugar-free snacks that are one of the best tools to have in your Keto toolbox. Made to be high in fat, low in carbs a 30g fat bomb typically reaches over 20g of fat content.
So a fat bomb is exactly what its name suggests, a concentrated amount of fat. Therefore, it's very important to make sure that the fat used in fat bombs are heathy fats. Saturated fats in particular that are found in coconut oil or peanut butter are actually very good for your blood pressure, to increase good cholesterol and to lower blood sugar.
Why should you eat fat bombs?
The Keto diet is all about adhering to your calculated macros – a set amount of carbs (low), fat (quite high, generally) and protein to eat every day in order to both stay in ketosis and yet feel full.
Too much sugar and you're out of ketosis. Not enough fat and you feel extremely hungry at the end of the day.
But if you are getting close to reaching your carbs macros, it can be extremely challenging to get to your fat requirements while not adding too much carbs. Fat Bombs are the answer to that problem!
They are the best macro filler to inject a large amount while eating something absolutely delicious. So fat bombs are the best single serve food that you need to eat when you want to reach your macros or just to fix your sweet craving quickly, with very few carbs.

How to make fat bombs?
Fat bombs are very easy to make with only few pantry ingredients. To make these chocolate peanut butter fat bombs you need:
Peanut butter – you are probably wondering 'is peanut butter keto?' Well, not all peanut butter brands are keto, so always make sure you are using peanut butter with no sugar added. Actually, real, pure peanut butter would generally have oil on top. A natural separation that occurs when peanut butter stays still for a while. This is a good sign, just stir the peanut butter and it's ready to be used!
Coconut oil – or butter. Coconut oil contains a lot of MCT (Medium-Chain Triglycerides) which are great to boost the fat burning ability of your body on a keto diet
Unsweetened cocoa powder
Powdered erythritol – not crystal or the fat bomb will be gritty. If you prefer to use stevia drops or others sugar-free keto sweeteners, use my keto sweetener converter to find out how much you need.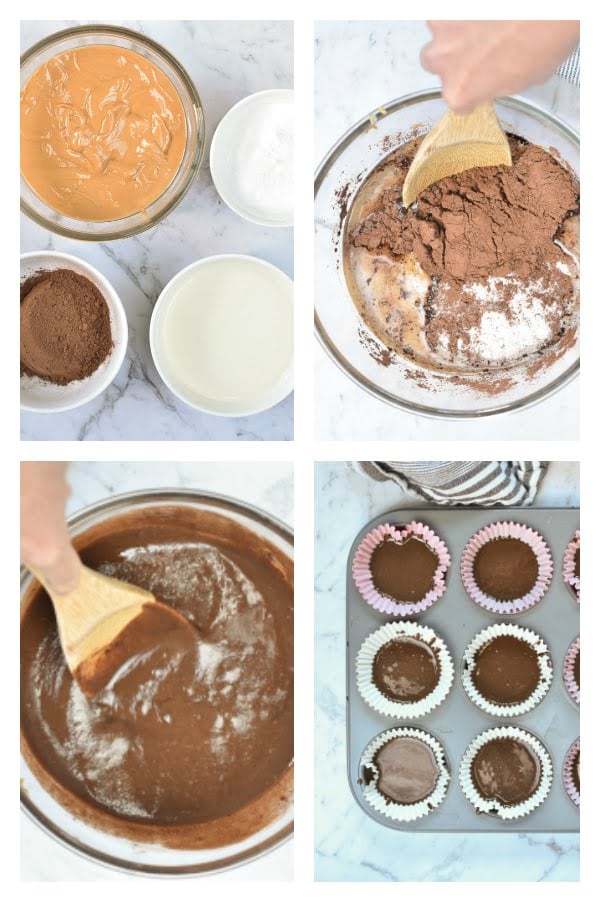 Can you freeze fat bombs?
Yes, you can freeze these keto fat bombs. They defrost very quickly, usually in less than 30 minutes but you can also enjoy them frozen or half frozen for a refreshing twist.
More keto fat bomb recipes
Have you made this recipe yet? Share a picture of your lovely creation with me on Instagram!
xoxo Carine
no bake chocolate peanut butter fat bombs
a melt-in-your mouth chocolate peanut butter fat bomb to fix your sweet craving
Prep Time: 10 mins
Freezing time 15 mins
Total Time: 25 mins
12 fat bomb
Print The Recipe
Lay a 12 muffin pan with muffins case. Set aside.

In a medium size mixing bowl, add runny peanut butter, melted coconut oil, powdered erythritol and unsweetened cocoa powder.

Combine with a spoon unti the batter is smooth and consistent. Taste the batter and adjust sweeteness to your liking. You can add up to 4 tablespoons of powdered erythritol or few stevia drops to boost sweeteness. This con't impact the net carbs per serve.

Fill evenly each muffin case with the fat bomb batter. One fat bomb will be the size of about 2 to 2.5 tablespoons of batter.

Freeze the whole muffin tray for 15 minutes or until the fat bomb are solid.

Remove from the freezer, and store the in the fridge, in an airtight container for up to 2 weeks or keep in the freezer and defrost 30 minutes before eating.

You can eat those fat bomb frozen, half frozen or cold, straight out of the fridge. They soften at room temperature so you must store them in the fridge or freezer. I recommend a pinch of salt on top of the fat bomb !
Net carb per serve : 4.2g
Nutrition Facts
no bake chocolate peanut butter fat bombs
Amount Per Serving (1 fat bomb)
Calories 214 Calories from Fat 183
% Daily Value*
Fat 20.3g31%
Carbohydrates 5.8g2%
Fiber 1.6g7%
Sugar 2.3g3%
Protein 5.1g10%
Net Carbs 4.2g
* Percent Daily Values are based on a 2000 calorie diet.