An easy Chickpea Flour Frittata recipe made with 5 ingredients and filled with a combo of vegetables for a delicious gluten-free, vegan breakfast. Bonus, these vegetable frittatas contain only 83 calories per serving and are packed with 5 grams of fulfilling plant-based protein.
I am all into chickpea flour right now. I discovered that magic yellow flour a few weeks ago, and I can't stop myself from cooking with it. Since hubby goes vegan, this is my favorite flour to use as an egg replacement. I made chickpea flour crepes and now chickpea flour frittata.
If you are not vegan, you probably wonder if it tastes great? Well, it does taste like an egg frittata. It has the same egg-like texture with similar yellow colors, but it's pretty tasty. So let me share with you my chickpea frittata recipe.
What's chickpea flour frittata?
A chickpea frittata is an egg-free frittata recipe made of chickpea flour and water. When combined, these two ingredients create an egg-like texture that makes delicious frittata suitable for vegans and vegetarians.
Chickpea frittatas are naturally:
egg-free
vegan
dairy-free
gluten-free
oil-free
Chickpea frittata can't be made with any other flours. Also, you can't make chickpea frittata from canned chickpeas. You must use chickpea flour made from unroasted cooked chickpeas.
How to make chickpea frittata?
This vegan frittata recipe with chickpea flour is super easy to make!
All you need to make 12 muffin size frittata with chickpea flour are few basic ingredients:
ⓧ
Are you new to Keto?
Receive my Keto Quick Start email series to learn all about the Keto diet and kick start your keto journey!
Chickpea flour – read my paragraph below to pick the right chickpea flour from the store.
Water
Baking powder
Garlic powder
Salt
Kala Namak, also called black salt. It adds a Sulphur flavor similar to eggs in vegan egg-free dishes.
Italian seasonings
Cumin
Smoked paprika
Pepper
Nutritional yeast – adds a cheesy flavor to the vegan frittata.
A combination of vegetables – I mix steamed diced sweet potatoes, trimmed kale, and red bell pepper. However, feel free to use any vegetable you love in your crustless quiche, like spinach, stir-fried mushrooms, or corn kernels.
Chickpea batter
First, prepare the chickpea flour batter. It's your egg-free binder in the frittata. In a large bowl, sift the chickpea flour to remove any lumps and stir in spices, salt, and pepper.
Then, whisk in water until it forms a smooth batter. The batter won't be as thick as pancake batter, it's more liquid, and that's what you want. Set aside in the mixing bowl. Meanwhile, prepare the vegetables for your frittata.
Cook vegetable
In a large non-stick skillet, warm olive oil and cooked finely chopped kale, bell pepper, mushroom's or any vegetables you love. If you use hard vegetables like potatoes or sweet potatoes, as seen in my picture below, steam before adding them into the skillet.
Stir fry until the vegetables are fragrant and cooked—season with salt and pepper.
Stir in the cooked vegetable into the chickpea flour batter.
Bake in muffin tins
Then, spray non-stick 12 muffin tin with olive oil and fill each muffin tin with the batter – about 1/4 cups per muffin tin. If you are using jumbo 8 hole muffin tin, you may fit 1/2 cup batter, but it takes longer to set in the middle.
Bake the chickpea frittata in the center rack of your oven in preheated oven 350 F (180C) for 20-30 minutes. Don't overbake your frittata, or they dry out very quickly in the center.
Bake as a crustless quiche
You can also bake this recipe in one baking dish of 8 inches x 8 inches. The best dishes to bake this egg-free frittata are ceramic dishes. They keep the frittata moist and soft.
First, spray oil all over the surface of your baking dish. Then, pour the frittata mixture and bake until set in the center.

Vegan frittata filling ideas
There are many vegetables that you can add to a vegan frittata. If you want to use root vegetables like potatoes, sweet potatoes, turnip, it's recommended to pre-cook the vegetables before adding in the batter.
You can steam or boil the vegetable to tender their flesh before stir-frying with the remaining vegetables.
The best filling for vegan frittatas are:
Mushrooms – you must stir fry mushrooms slices, or they release too much water in the batter, and the frittata won't cook through.
Onion
Corn kernel
Vegan cheese
Cooked black beans
Spinach – finely chopped
Green asparagus
Cooked lentils
Chickpea flour choices
Did you know that chickpea flour contains more protein than eggs per serve? There is 22 g of protein in 100 g of chickpea flour compared to 13 g in 100 g of cooked eggs. Amazing right?
Another interesting point, there 27% iron in chickpea flour compared to 7% in eggs. So, enough nutritional talk, and let's jump to this easy delicious chickpea flour frittata recipe.
But the confusing thing about chickpea flour is the different names you can found at the store.
There are a few names for chickpea flour:
Chana flour is made from roasted chickpea and NOT recommend in this recipe.
Garbanzo flour or gram flour or besan flour – this is the one you need to make chickpea frittata. It's made from unroasted chickpeas and less liquid absorbent to make a creamy egg-free frittata.
Also, remember that chickpea flour forms lumps very easily. So for any recipe calling for chickpea flour, it's better to sift the flour first to remove any lumps and create a smooth frittata chickpea batter.
Vegan frittata taste and texture
The taste and texture of this egg-free frittata made of chickpea flour are pretty unbelievable. It tastes eggy, thanks to Kala Namak. It's creamy and chewy like egg bake dishes but without the eggs!
Storage
Also, these vegan chickpea frittatas are great to make breakfasts ahead for a week. You can store them in an airtight box in the fridge or freeze them for later.
Thaw in the fridge the day before and rewarm in preheated oven on a medium heat – 140C until hot. You can also microwave these frittatas for a quick hot lunch.
Is chickpea frittata low-carb?
Chickpea flour is not keto-friendly, but if you are looking to cut the carbs on a vegan diet, then a chickpea flour frittata is considered a low-carb meal.
In fact, one serve of chickpea frittata contains between 8g – 10 g net carb, depending on the vegetables you add in your filling.
Of course, to keep this vegan frittata low-carb, focus on low-carb friendly vegetables and avoid starchy vegetables like potatoes, sweet potatoes, or corn!
Serve with a dip
These chickpea frittatas are very good on-the-go breakfast, easy to carry in a box, and eat by hand. However, they can be a bit dry, and we found them tastier way topped with some vegan sour cream, coconut yogurt, or some dips like:
More vegan recipes
I love to create vegan recipes, and below I listed some more chickpea flour recipes for you to try.
Made this vegan frittata chickpea flour recipe? Share a comment or review below to connect with me,
XOXO Carine
Recipe Card
Chickpea Flour Frittata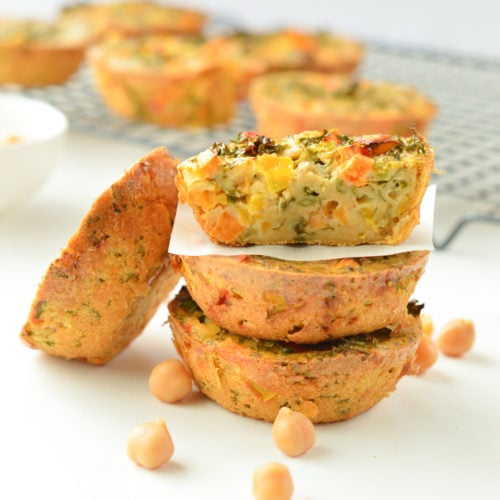 Chickpea flour frittata is a delicious vegan version of the Italian dish that doesn't compromise on flavor. It's 100% gluten-free, clean-eating-approved and protein-loaded. 
Ingredients
Frittata Batter
2

cups

Chickpea flour

2 ½

cups

Water

1

teaspoon

Baking Powder

optional, use if you like fluffy/less dense frittata
Spices
1

teaspoon

Italian seasoning

½

teaspoon

Garlic Powder

¼

teaspoon

Kala namak

add an egg flavor

1

teaspoon

Ground cumin

½

teaspoon

Ground paprika

or smoked paprika

1

teaspoon

Salt

¼

teaspoon

Pepper

1

tablespoon

Nutritional Yeast
Vegetable filling - choose 3 cups of your favorite vegetables
½

cup

curly kale

trimmed, chopped

½

cup

capsicum

cubed. I used half a red, half a yellow, and half a green capsicum.

½

cup

Steamed orange sweet potatoes

peeled, finely diced
Instructions
Preheat oven to 200°C (400°F).

Spray a 12-hole non-stick muffin tray with olive oil or rub olive oil in each muffin hole using a piece of absorbent paper. Make sure you oil them very well to prevent the frittata from sticking. Set aside. 
Frittata batter
In a large mixing bowl, sift the chickpea flour to remove any lumps. Then, stir in all spices and baking powder. Whisk in the water until it forms a liquid, slightly creamy yellow batter. Set aside while you prepare your vegetable filling.

Finely cube or chop your vegetables. For hard vegetables like sweet potatoes or potatoes, steam or cook in boiling water before adding to the recipe.

Warm a large non-stick skillet over medium heat with 1 tablespoon olive oil. Stir fry vegetables for 2-3 minutes or until the kale has wilted and vegetables are fragrant. Season with garlic powder, salt, and pepper.

Stir the cooked vegetables into the chickpea flour batter.

Fill each muffin hole up to the top with the frittata batter.

Bake at 200°C (400°F) for 20-30 minutes or until the borders are golden and the center is set. Check using a toothpick inserted in the center. If it comes out clean, it is ready.

Loosen the sides using a knife to easily remove the frittata from the tray. 

Serve immediately with a green salad on the side, or cool down on a rack and store the leftovers in an airtight container in the fridge for up to 3 days. 
Freezing: freeze well in an airtight container. Defrost an hour before and quickly rewarm in the oven at 160 C (320F) for 3-5 minutes or until warm in the center. Storage: store well in the fridge for up to 3 days. Can be rewarmed in the oven at 160 C (320F) for 3-5 minutes or until warm in the center. At work, rewarm in a sandwich press - I recommend wrapping the frittata between two pieces of parchment paper to keep the moist texture - and rewarm for 3 minutes in a hot sandwich press.  Serving: I love to top up my chickpea flour frittata with mashed avocado, homemade tomato sauce or hummus, and a green salad on the side. 
My Recipe Notes
Tools
Starting Keto
What Is Keto Diet?
Macro Calculator
Sweetener Converter
Keto Meal Plans
Keto Recipe Ebooks
Intermittent Fasting
Keto Fruits
Keto Vegetables
Keto FLours
Fighting Keto Flu
Keto Sweeteners
Nutrition Facts
Chickpea Flour Frittata
Amount Per Serving (1 frittata)
Calories 83.7
Calories from Fat 13
% Daily Value*
Fat 1.4g2%
Sodium 245.1mg11%
Potassium 203.9mg6%
Carbohydrates 12.6g4%
Protein 4.9g10%
Vitamin A 248.8IU5%
Vitamin C 7.9mg10%
Calcium 35.3mg4%
Iron 1.3mg7%
Magnesium 35.9mg9%
Zinc 0.6mg4%
Net Carbs 10g
* Percent Daily Values are based on a 2000 calorie diet.