This easy keto cinnamon rolls recipe with almond flour is also dairy-free, paleo and gluten free. If you are missing fluffy, soft cinnamon rolls with gooey filling this keto cinnamon rolls recipe will fix it for sure!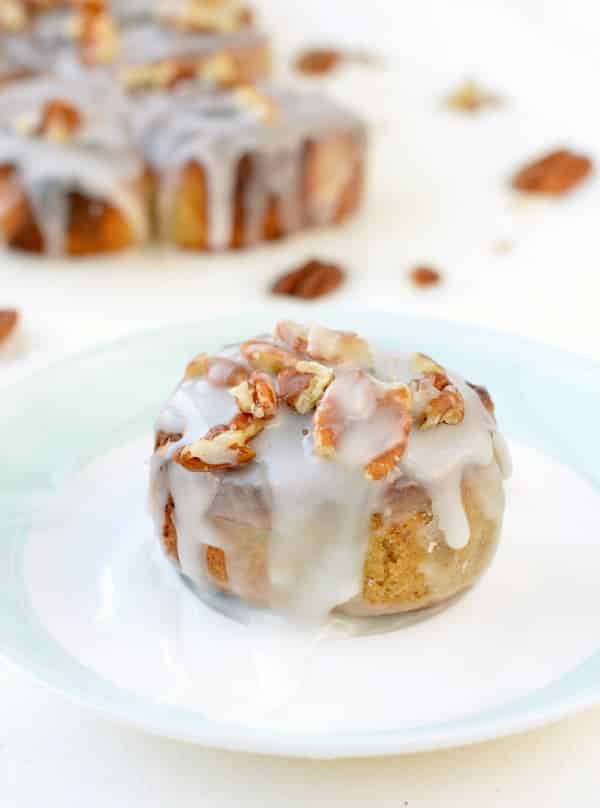 Calling all the cinnamon lovers with these paleo cinnamon rolls ! You won't believe that these cinnamoon rolls contains only 3.2 grams net carbs per rolls. They taste like the real thing: a soft, fluffy bun with sticky sugar-free glazing and gooey cinnamon sugar filling.
Keto cinnamon rolls recipe – 100 % dairy free + paleo
There is plenty of keto cinnamon rolls recipe out there but most use mozzarella and cream cheese as a base. While, fathead cinnamon rolls are delicious, they are not dairy-free ! Here I am sharing with you a keto paleo cinnamon rolls recipe made with only wholesome ingredients and no dairy.
Let see the ingredients you need to make these keto paleo cinnamon rolls :
Almond flour – use blanched, fine almond flour for best result. Almond meal is coarse and will leave a gritty texture to the buns
Flaxmeal – this adds the gooey texture to the buns, don't replace
Ground psyllium husk and xantham gum – the combo of both create a fluffy, pillowy texture. You can't swap one for the other in this recipe, both are required or the dough will end up sticky and wet, impossible to roll out
Eggs – I didn't try the recipe egg free and I cant' advice on egg-free cinnamon rolls yet
Melted coconut oil or melted butter – butter add a lovely golden color to the buns but both options works
Vanilla extract or essence
Apple cider vinegar & baking powder – for an extra raise and fluffy texture
Yeast & maple syrup – I know maple syrup is NOT keto but it is ok to proof yeast see next paragraph for details on how yeast use sugar. Otherwsie, use inulin for a sugar-free keto replacement
Sugar free crystal sweetener of choice like erythritol, monk fruit or allulose. The dough recipe will work without sweetener if you prefer the dough unsweetened.
Cinnamon – for the sugar-free cinnamon filling

How to roll keto dough ?
Keto dough is stickier than regular dough. Therefore you must roll the dough between two pieces of parchment paper preferraly slighlty oiled. This will avoid the dough to stick to the rolling pin.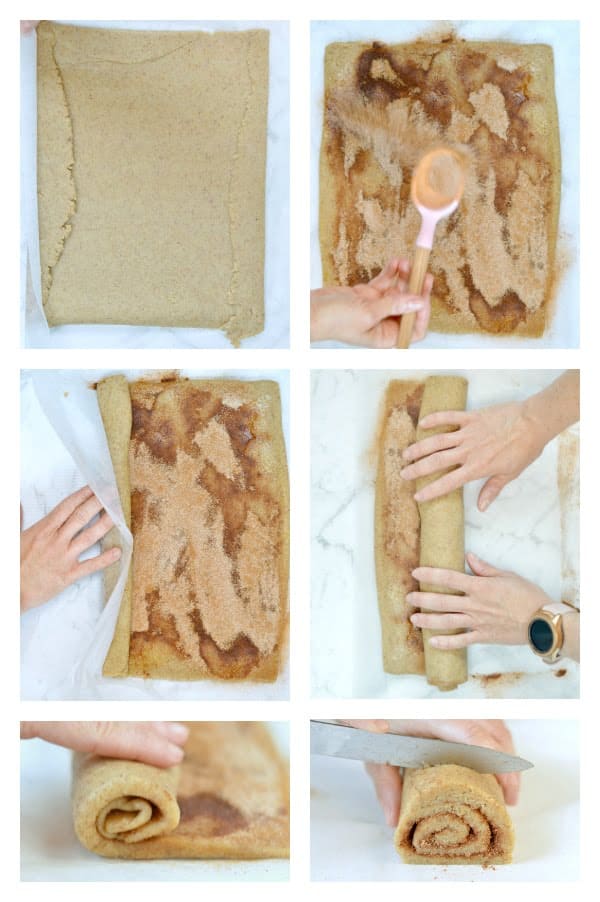 Then, make sure you roll the dough into a rectangle, size of 32 cm x 22 cm (12.5 inches x 9 inches). You can simply fold the border of the bottom piece of parchment paper to form a rectangle. Consequently, when you roll the dough it stays in the rectangle shape you designed resulting into a perfect rectangle. Finally, add the sugar-free cinnamon filling and roll tightly the dough using the bottom parchment paper sheet as a guide. I highly recommend you watch my recipe video below to guide you through this.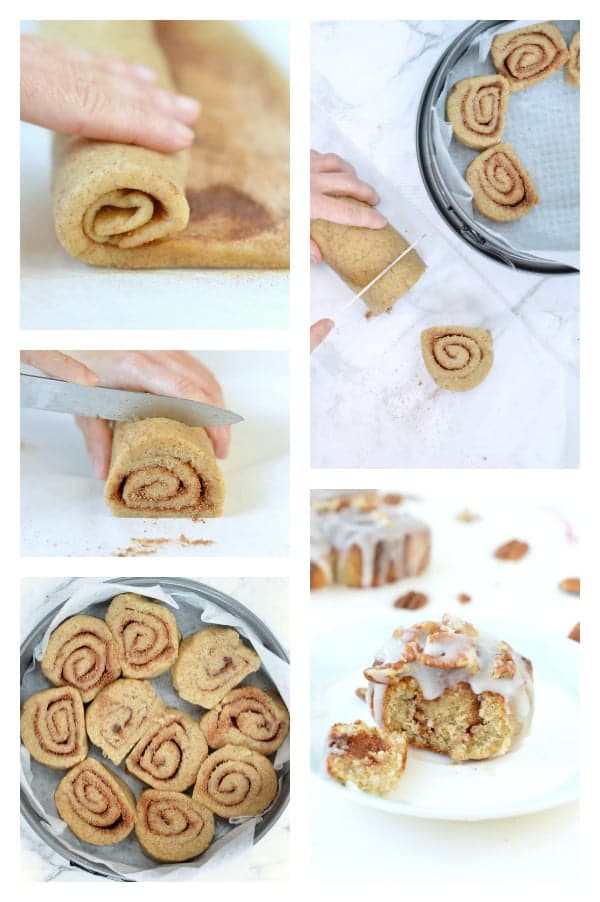 Yeast cinnamon rolls recipe
Cinnamon rolls won't be the same without the yeasty flavor right? Now, you probably wonder if it is safe to use yeast on keto diet as it requires sugar to proof the yeast. Great news, you can proof yeast with sugar like maple syrup ! If you respect the ratio provided in the recipe, the yeast will consume all the sugar to activate resulting in no sugar left in the recipe. However, the yeast addition will guarantee the best fluffy, dairy-free keto buns with a pillowy texture like your favorite cinnamon rolls.
More cinnamon keto recipe
Cinnamon rolls mug cake – perfect if you are craving cinnamon rolls flavor but can't wait. Those mug cake are ready in 90 seconds!
Keto cinnamon muffins – a breakfast flaxmeal muffin delicious to starts the day with a keto sweet treat
Did you made the keto cinnamon rolls recipe yet ? Share a pic with us on Instagram.
XOXO Carine
keto cinnamon rolls recipe
Keto cinnamon rolls are fluffy pillowy rolls with almond flour and flaxmeal
Prep Time: 20 mins
Cook Time: 30 mins
Resting time 1 hr
10 rolls
Print The Recipe
Proofing the yeast
Before you starts, make sure the almond milk is lukewarm, think bath temperature 37C(100F). You can microwave the milk for 15 seconds if needed but it shouldn't be hot or it will 'kill' the yeast.

In a small mixing bowl, add dried yeast, maple syrup and lukewarm unsweetened almond milk. Don't worry the yeast will feed on sugar and their will be no sugar left in the recipe, otherwise use inulin for 100% sugar-free yeast activator.

Whisk to combine, cover with a towel and set aside 8 minutes or until the yeast is foamy and proofed.
Cinnamon rolls dough
Meanwhile, in a large mixing bowl whisk together all the dry ingredients : almond flour, flaxmeal, psyllium husk, sugar-free crystal sweetener of your choice, baking powder and xantham gum. Set aside.

In another large mixing bowl, add eggs, melted butter (not hot ! or it will cook the eggs), apple cider vinegar and vanilla.

Whisk the egg mixture with an electric beater on medium/high speed for about 1 minute or until light. You can also whisk manually it will simply add less air into the dough resulting in slighlty less fluffy rolls.

Pour the egg mixture and the proofed yeast onto the flour bowl. Combine with a spoon at first then gently knead the dough with your hands until it forms a sticky dough ball. The dough will be very sticky so rub your hands with 1/2 tablespoon of oil and rub the ball with oil to smooth the outside.

Return dough ball into the mixing bowl, cover with a towel and set aside in a warm place for 30 minutes. You can also warm the oven to 40C and store the bowl in the oven to help the dough relax and slighlty expand. It won't raise very much but this step makes the rolls fluffier.
Rolling the dough
Punch down the dough and knead the dough for 10-20 seconds to remove air after the raising step. Use a slight amount of coconut oil to rub your hands if too sticky.

Place a large piece of parchment paper onto your benchtop (about 45 cm long/18 inches).

Slightly oil the paper surface and then place the dough ball in the center of the paper.

Place another piece of lightly oiled parchment paper on top of the ball (oiled surface should stick to the dough), same size.

Press the dough ball with your hands to roughly flatten into a disc. Starts rolling with a rolling pin until you form a large rectangle. You can fold the bottom piece of parchement paper into a rectangle - size of 32 cm x 22 cm (12.5 inches x 9 inches). This way, when you roll the dough it will encase the dough into the paper resulting in a perfect rectangle shape. Watch my recipe video for technique

Peel off the top piece of parchment paper.

Brush the rectangle of rolled dough with melted butter and sprinkle cinnamon sugar-free sugar all over except the first inch top border or it will be difficult to close the cylinder of dough.

Use the bottom piece of parchment paper to help you roll the dough as tighly as you can into a long cylinder. I recommend you watch my recipe video for the technique!

Pinch the top of the cylinder to firmly close the cylinder.

Wet the blade of a sharp knife and cut the cylinder of dough into 10 cinnamon rolls.

Place each cinnamon rolls into the prepared round pan. Cover the pan with a towel and let the dough sit for another 20-30 minutes in a warm place or in lukewarm oven as before (40C/105F).

Meanwhile preheat oven at 200C/400F, regular or convection mode.

Bake the cinnamon rolls for 25-30 minutes or until golden on the top. After, 10 minutes, you can cover the top of the pan with a piece of foil to avoid the top to darken too much.
Glazing
In a small mixing bowl, combine sugar-free powdered sweetener with unsweetened almond milk and coconut oil. Add more sugar-free powdered sweetener for a thicker glazing or more milk for a lighter/less sweet glazing. Note that powdered allulose is less sweet than powdered erythrtiol. Set aside at room temperature.

Remove the pan from the oven, pull out the cinnamon rolls from the pan lifting the parchment paper and bring to a cooling rack.

Cool down the cinnamon rolls on a rack for at least 1-2 hours or until it reach room temperature before adding the glazing.

Use a pastry brush or spoon to spread the glazing on top of the cooled rolls.

Serve with crushed pecan on top if desired.
Net carbs per rolls : 3.2 g includes glazing
Nutrition Facts
keto cinnamon rolls recipe
Amount Per Serving (1 roll)
Calories 216 Calories from Fat 84
% Daily Value*
Fat 9.3g14%
Carbohydrates 6.4g2%
Fiber 3.2g13%
Sugar 1g1%
Protein 6g12%
Net Carbs 3.2g
* Percent Daily Values are based on a 2000 calorie diet.