Do you love green smoothie? This 4-ingredients dairy free green smoothie is the most decadent and refreshing drink I ever made.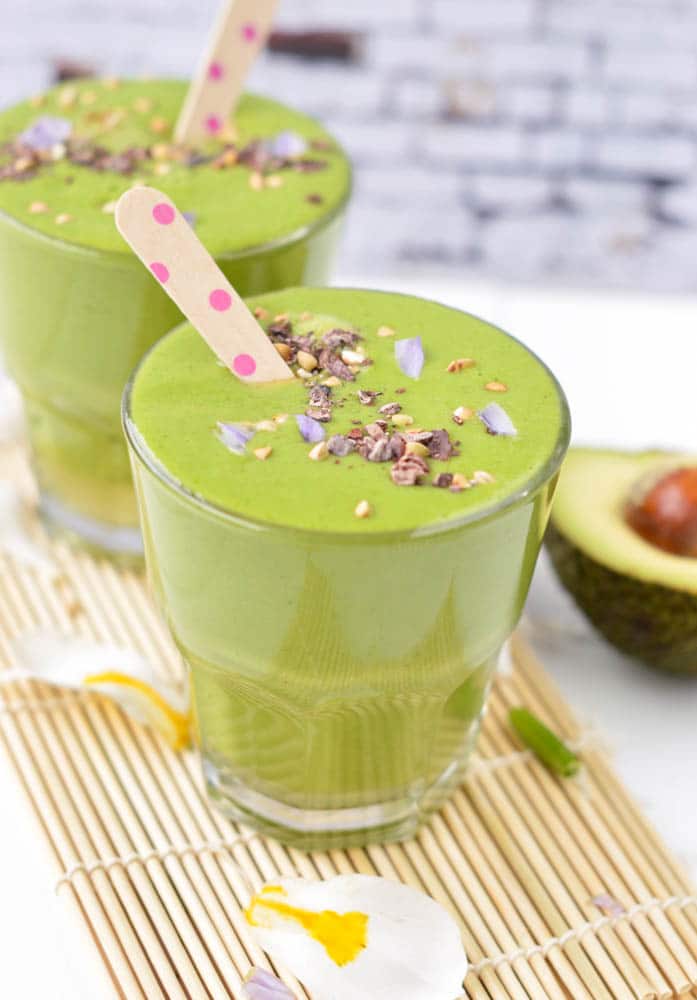 Green Smoothie – Almond Milk smoothie recipe to reach your 5-a-day goal
Hello world! Still on maternity leave at the moment. But as I told you in my last posts I developed tons of healthy recipes before caring for baby Luka. It is always great to have healthy recipes on hand when you are busy caring about your baby. And to me smoothie are the easiest way to re hydrate with nutrient while enjoying a sweet guilt-free treat.
Those green smoothies are super simple to make. All you need is 4 ingredients and a blender. I love this green smoothie recipe because it contains two vegetables – avocado and spinach. Spinach is rich in iron which is great when you breastfeed. Avocado is loaded with healthy fat and fiber too which makes this green smoothie very fulfilling. Because it is summer I choose frozen pineapple to sweetened the drink. The taste is absolutely mind blowing! Why frozen pineapple ? because frozen fruits add a lovely thick texture to smoothie. It is also easier to prepare pineapple in advance. It is such a huge work to peel, chop, trim pineapple with a baby to feed. It is the kind of the food I always prepare in advance and freeze.
As always I used almond milk in my smoothie and in New Zealand I choose Almond Breeze. Here I used the unsweetened almond milk range. it is light, dairy free. It doesn't contains added sugar while adding a lovely milk like texture to the drink.
Tropical Green Smoothie Video to inspire !
Check the video and make this smoothie in a sec!
Green Smoothie with Spinach and Avocado | Dairy free
A light dairy free green smoothie to boost your green and help you reach your 5-a-day goal while enjoying a sweet guilt free treat.
Instructions
In a blender add all the ingredients.

Blend until smooth.

Serve immediately.

Decorate with extra pineapple, mint or coconut.
This post has been sponsored by Almond Breeze NZ and I receive a compensation to develop this recipe. Please note that I only recommend product I love and use on daily basis in my kitchen. Thank you