No-bake Keto Cookies are easy 5-ingredient chocolate almond butter cookies ready in 20 minutes. They are perfect to fix your sweet cravings in no time with only 1.9 grams of net carbs.
If you have been following Sweetashoney for a while, you know I have a sweet tooth and I am French. As a kid, I used to eat a delicious no-bake french cookie called "rose des sables". I created these no-bake keto cookies to bring back some childhood memories, without the sugar!
How to make your no-bake keto cookies?
This is the easiest no-bake cookie recipe! Trust me, anyone can make them, it is a no-fail cookie recipe. All you need to make your delicious no-bake keto cookies are 4 wholesome ingredients.
Sugar-free dark chocolate chips or bar – I am using stevia-sweetened chocolate chips otherwise you can make your own following my sugar-free chocolate chips recipe.
Almond butter – fresh, smooth, and runny. You can also use peanut butter, pecan butter, or macadamia butter to create different cookie flavors.
Chia seeds – this is optional but recommended to add a delicious crunch to the cookie along with protein and fiber.
Coconut oil – you can use refined coconut oil to avoid the strong coconut flavor of unrefined coconut oil. Don't use butter or the cookie will be too soft.
Sliced almonds or slivered almonds

How to make nut-free cookies?
I heard you, you can't eat nut and you crave these no-bake keto cookies. Don't worry I have lovely nut-free options for you. These no-bake keto cookies taste amazing if you replace the almond butter:
Sliced almonds can be replaced by coconut flakes or toasted coconut flakes.
Almond butter can be substituted by tahini also known as sesame seed butter. You can use hulled or unhulled tahini both are pretty similar. Another option is to use sunflower seed butter – make sure you check the ingredient list and use no sugar added sunflower seed butter.

How to store your cookies?
No-bake cookies are better stored in the fridge especially on hot summer days. However, these ones won't melt that fast at room temperature, they soften for sure but won't melt. It means that you can take them away easily, in a small bag or airtight container.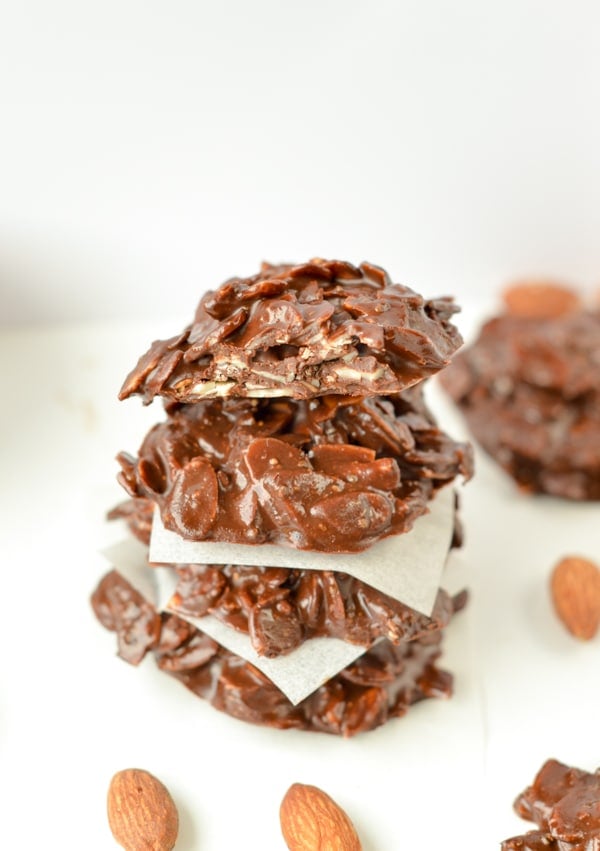 More no-bake keto snacks
If you love no-bake snack recipes you may want to try my other recipes below!
Of course, don't forget to pin this recipe to save it for later!

xoxo Carine
Recipe Card
No-bake Keto Cookies
No-bake keto cookies are keto almond clusters with 1.9 grams of net carbs per serving.
Instructions
Cover a large plate or chopping board with a piece of parchment paper. Place the plate in the freezer while you prepare the cookie batter.

In a microwave-safe bowl, add almond butter, coconut oil, and sugar-free chocolate chips (or bars chopped in small pieces).

Microwave by 30 seconds burst, stirring between to prevent the almond butter from burning. It should take a maximum of 90 seconds to fully combine all your ingredients.

If you don't have a microwave, place all the ingredients into a small saucepan. Place under medium heat and stir all the time until the chocolate has melted and all the ingredients are combined.

Stir in the sliced almonds and chia seeds. You want to fully cover the almonds and seeds with the chocolate mixture.

Remove the plate from the freezer.

Spoon some cookie batter, then place the batter onto the prepared cold plate covered with parchment paper. As the plate is cold, the cookie shouldn't expand too much and the base should set fast. Leave 1 thumb space between each cookie just in case they expand slightly. Repeat until no more batter left. You should be able to form 10 bite-size cookies.

Place the plate back in the freezer for 10 minutes or until the chocolate is firm and set.
Storage, freezing, make-ahead snack
Store your cookies in an airtight container in the fridge for up to 3 weeks. They are crunchier if stored in the fridge.

You can triple the recipe to meal prep your snack for the week and freeze these cookies in a ziplock bag for later. Defrost for 3-4 hours before eating.
Tools
Starting Keto
What Is Keto Diet?
Macro Calculator
Sweetener Converter
Keto Meal Plans
Keto Recipe Ebooks
Intermittent Fasting
Keto Fruits
Keto Vegetables
Keto FLours
Fighting Keto Flu
Keto Sweeteners
Nutrition Facts
No-bake Keto Cookies
Amount Per Serving (1 cookie)
Calories 141
Calories from Fat 113
% Daily Value*
Fat 12.5g19%
Carbohydrates 4.9g2%
Protein 4.5g9%
Net Carbs 1.9g
* Percent Daily Values are based on a 2000 calorie diet.