No-bake Keto Cookies are easy 5-ingredient chocolate almond butter keto clusters ready in 20 minutes. They are perfect for fixing your sweet cravings in no time with only 1.9 grams of net carbs.
If you have been following Sweetashoney for a while, you know I have a sweet tooth, and I am French. As a kid, I used to eat a delicious no-bake french cookie called "rose des sables." I created these no-bake keto cookies to bring back some childhood memories without the sugar!
How to make your no-bake keto clusters?
This is the easiest no-bake keto cluster recipe! Trust me; anyone can make them. It is a no-fail cookie recipe. All you need to make your delicious no-bake keto cookies are 4 wholesome ingredients.
Sugar-free dark chocolate chips or bar – I am using stevia-sweetened chocolate chips. Otherwise, you can make your own following my sugar-free chocolate chips recipe.
Almond butter – fresh, smooth, and runny. You can also use peanut butter, pecan butter, or macadamia butter to create different cookie flavors.
Chia seeds – this is optional but recommended to add a delicious crunch to the cookie along with protein and fiber.
Coconut oil – you can use refined coconut oil to avoid the strong coconut flavor of unrefined coconut oil. Don't use butter, or the cookie will be too soft.
Sliced almonds or slivered almonds

How to make nut-free cookies?
I heard you, you can't eat nuts, and you crave these no-bake keto cookies. Don't worry. I have lovely nut-free options for you. These no-bake keto cookies taste amazing if you replace the almond butter:
Sliced almonds can be replaced by coconut flakes or toasted coconut flakes.
Almond butter can be substituted by tahini, also known as sesame seed butter. You can use hulled or unhulled tahini. Both are pretty similar. Another option is to use sunflower seed butter – make sure you check the ingredient list and use no-sugar-added sunflower seed butter.

How to store your keto clusters?
No-bake cookies are better stored in the fridge, especially on hot summer days. However, these ones won't melt that fast at room temperature. They soften for sure but won't melt. It means that you can take them away easily, in a small bag or airtight container.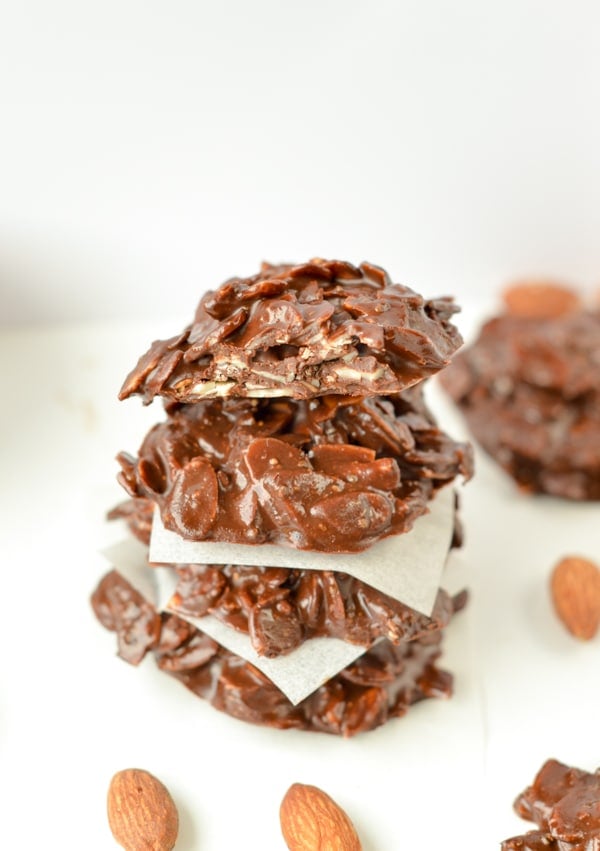 More no-bake keto snacks
If you love no-bake snack recipes, you may want to try my other recipes below!
Of course, don't forget to pin this recipe to save it for later!

xoxo Carine