What do you think of my sugar free vanilla cake for my birthday ? Cute isn't it ? 
Yes you read me very well, this Sugar Free Vanilla Cake is 100% sugar free and gluten free too. You know I am only sharing clean food recipes on this blog right? This sugar free vanilla cake deserve to be listed with my best sugar free dessert recipe for diabetic!  The cake batter is light, fluffy, melt in your mouth ! Plus, it is super easy to prepare. Only 5-ingredients for the mos delicious light and airy Sugar Free Vanilla Cake. You will absolutely love it.  
Sugar Free Vanilla Cake – The perfect diabetic birthday cake
I used swerve as a sugar free sweetener in this recipe. The good thing about this product is that you can use it in the same amount as regular sugar in any baking recipes! Plus it contains only 0.4 kcal per 100g so let me tell you that I love making cakes with this product! You can find Swerve HERE or if you live in France use Truvia HERE.
I know those product works because my mum tested the recipe in France with Truvia. Another option is to use monk sugar. Behind its name it is a sugar free sweetener safe for diabetic.  In this recipe I used a combo of  ground almond and brown rice flour to keep the whole cake gluten free. However, you can replace brown rice flour by all purpose flour or spelt flour if you are not gluten intolerant. This Sugar Free Vanilla Cake is light, melt in your mouth and nobody noticed it was sugar free – even my little girl said 'this is delicious mummy !'
I choose to cut this  Sugar Free Vanilla Cakes in half and spread a yogurt cream cheese vanilla cream between layers – plus some fresh raspberries too. OMG! This was a great idea! The whole cake taste AMAZING!
As this was my birthday cake – yes I turned 33 this year! I really wanted to give a decadent look to this cake. So I made some Sugar Free Raspberry Cheesecake Chocolate Cups to decorate the top. It is optional but it looks very cool – I think !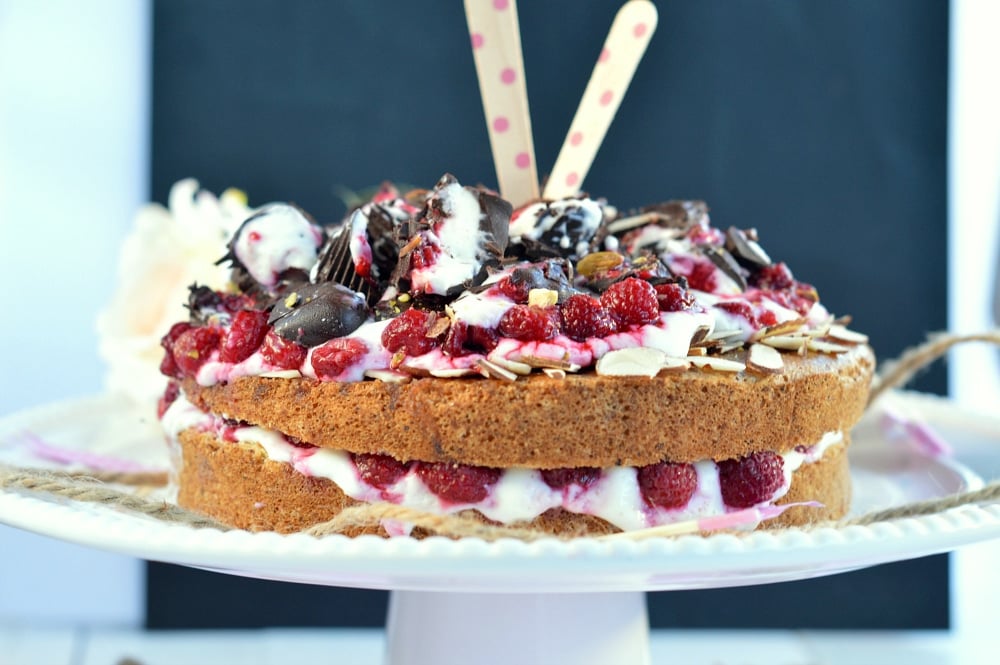 SO who is going to make this lovely sugar free vanilla cake ?
Sugar-free and gluten-free vanilla cake
Healthy Sugar-free vanilla cake with whipped cream and raspberries. An easy and delicious low-carb birthday cake recipe with stevia. Diabetes friendly, gluten free. 
12 people
Print The Recipe
Vanilla Yogurt Cream
1 cup Greek yoghurt
8 ounces Cream Cheese (220g)
4 tbsp Erythritol
1 cup Raspberries , defrost
Raspberry Cheesecake Chocolate Cups
Preheat the oven to 356 F (180 C).

Grease one 8-inch round cake pan.

In a large mixing bowl, using an electric mixer, beat together the eggs, swerve and vanilla until it almost double in size. It has to be light and fluffy and could take up to 5 minutes.

Combine the flour and almond meal in a bowl.

Add the flour mixture slowly to the beaten eggs. I recommend to add the flour mix 1/4 cup at a time - mixing with a spatula to well incorporate the flour and avoid lumps.

Transfer the batter into the prepared round cake pan.

Bake 20-30 minutes or until a skewer inserted in the middle of the cake comes out clean.

Cool down on a rack before cutting the cake and stuffing with the cream.
Meanwhile prepare the vanilla cream
In a bowl whisk together the Greek yogurt, cream cheese and swerve until it become thick. Refrigerate for 30 minutes. The vanilla yogurt cream will be used for 2 layers make sure you use it evenly in the next steps.

Cut the cake in half and spread a first layer of vanilla yogurt cream. Add fresh raspberry and more vanilla cream on top of the raspberries. Place the top cake layer and decorate with extra vanilla yogurt cream and fresh raspberries.

Melt the sugar-free dark chocolate in the microwave or in a saucepan until fully liquid and shiny.
Prepare the raspberry cheesecake chocolate cups
Place mini paper cups in a 12 holes mini muffin tray.

Add 2 teaspoon of melted chocolate in each paper case and freeze 5 minutes to harden.

Add 1 teaspoon of vanilla cream, 1 teaspoon of mashed fresh raspberries and cover with more melted chocolate.

Freeze 5-10 minutes to harden.

Remove the chocolate cups from the freezer and break them roughly on a chopping board with a knife to decorate the cake.

You can keep the chocolate cups in the fridge or in the freezer to eat later.
Sweetener: the recipe works with monk sugar as well . Monk sugar is sugar free, diabetes friendly and contains no calories. However, if you eat sugar replace swerve by coconut sugar. Cream cheese choice: I used light Philadelphia cream cheese but any cream cheese will work well in this recipe
Nutrition Facts
Sugar-free and gluten-free vanilla cake
Amount Per Serving (12 servings/slices)
Calories 70 Calories from Fat 35
% Daily Value*
Fat 3.9g6%
Carbohydrates 4.9g2%
Fiber 0.7g3%
Sugar 0.2g0%
Protein 3.4g7%
Net Carbs 4.2g
* Percent Daily Values are based on a 2000 calorie diet.
Nutrition panel is for the sugar free vanilla cake only (without the filling) using all purpose flour. This cake serve 12 slices/persons. Nutrition panel is for one slice.