Say hello to my low carb chocolate chip cookies or the best guilt-free low carb cookies.We all love a sweet and crispy chocolate chip cookie right? So what about an easy Sugar free chocolate chip cookies recipe that don't blow your sugar level! It sounds unbelievable but I did it.  You know how much I love sharing easy low carb recipes on the blog. Trust me, those sugar free Chocolate Chip Cookies are the most delicious low carb cookies I made.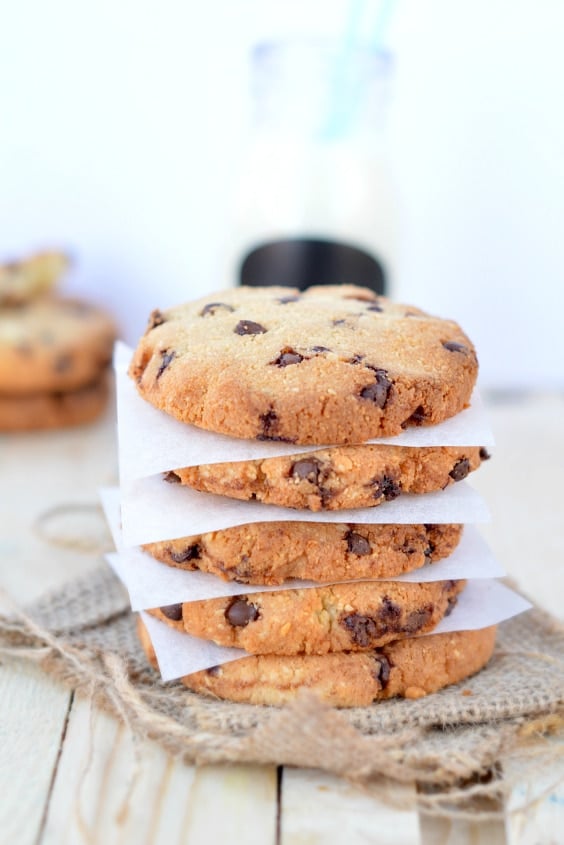 Low carb Chocolate Chip Cookies with macadamia nuts
I read all your emails, comments and lot of you requested easy low carb chocolate chip cookies. So here I am sharing with you my new creation. A one bowl food processor cookie recipe, because I love my recipe to be fast and easy. All you need to make those keto chocolate chips cookies are:
Macadamia nuts – macadamia are very low in carbs and contains a good amount of fat. It is a great nuts to use on low carb keto diet and it blend really well. You can use cashews as a replacement but be aware of carbs! Cashews have more carbs.
Unsweetened desiccated coconut 
Coconut oil – use refined coconut oil if you don't like the flavor of coconut
Eggs
Coconut flour
Vanilla extract
Sugar free crystal sweetener – I love Monk fruit or erythritol
The best chocolate chips cookie texture
If you love crispy borders, moist nutty center and melted sugar free chocolate chips, make those now ! You won't regret it. I am using sugar free chocolate chips, you can use either sugar free dark chocolate or milk chocolate chips If you can't find sugar free chocolate chips at the store, make your own following my chocolate chip recipe. Last option, replace the sugar free chocolate chips by roasted cocoa nibs. It won't melt but it doesn't contain sugar and it has a strong cocoa flavor.
Another great thing about those Sugar free Chocolate Chip Cookies: they don't use flour. They are made of low carb ingredients that create the most delicious crunchy cookies: coconut, coconut flour and macadamia nuts. Coconut flour is essential in this recipe. It brings all the ingredients together to create a crunchy cookie. 
You can store those sugar free chocolate chip cookies in a metallic box up to a week. I hope you enjoy those cookies.  Happy sugar free baking and if you love my clean eating recipes leave me a comment!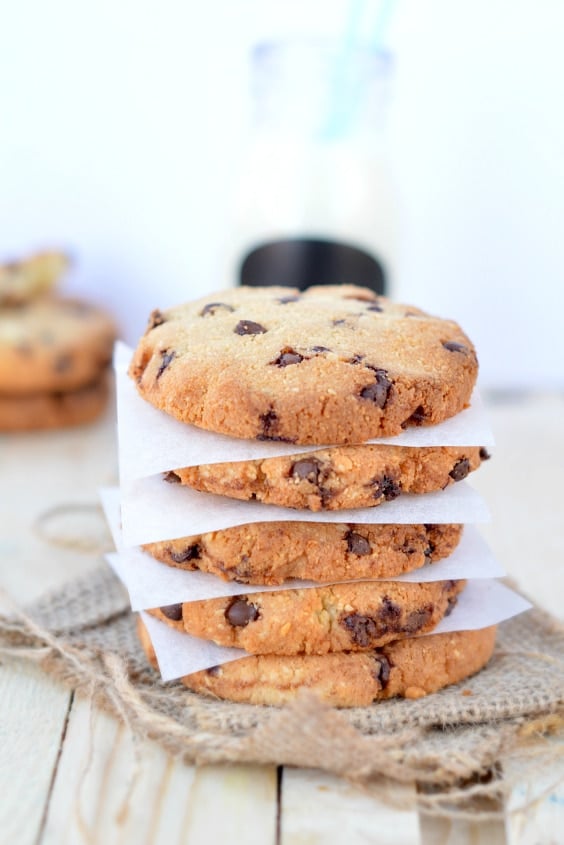 low carb chocolate chip cookies
Delicious sugar free chocolate chip cookies recipe. One bowl easy low carb chocolate chips cookie recipe with coconut flour, macadamia and erythritol. Healthy gluten free chocolate chip cookies for diabetic.

8 cookies
Print The Recipe
Preheat oven 320 F (160 C).

Cover a cookie sheet with parchment paper. Set aside,

In a food processor, with the S blade attachment, add all the ingredients except the chocolate chips and process until it forms a cookie dough.

Transfer the cookie dough into a mixing bowl and using your hands incorporate the sugar free chocolate chips into the dough.

Remove from the bowl and shape 8 cookies into ball similar to golf ball size.

Place cookie balls on the prepared baking tray leaving 1 thumb between each cookies.

Flatten with your hand palm. If crumbly on the side reshape slightly with your finger until the sides looks smooth.

Bake 15-20 minutes or until slightly golden on the edges. Some oil may slightly release on the tray and that is fine.

Remove from oven and using a spatula transfer the cookies on a rack to cool down for 1 hour to firm up. They will harden when cooling down.
Storage: Store well in an airtight container or cookie jar up to 1 week.
Sugar free chocolate chips alternatives: cocoa nibs or make your own following my sugar free chocolate chips recipe.
Nuts: you can use roasted or un roasted nuts in this recipe. Macadamia nuts replacement can be cashews (more carbs!) or blanched almonds.
Nutrition Facts
low carb chocolate chip cookies
Amount Per Serving (1 cookie)
Calories 285 Calories from Fat 73
% Daily Value*
Fat 8.1g12%
Carbohydrates 8.1g3%
Fiber 4.6g19%
Sugar 2.2g2%
Protein 4.1g8%
Net Carbs 3.5g
* Percent Daily Values are based on a 2000 calorie diet.