This crustless zucchini quiche are the most convenient keto breakfast on the go, baked in jumbo muffin tins! You will love the combo of egg, zucchini, pesto and Parmesan. Bonus, this single serve crustless quiche freeze really well too to meal prep your next keto breakfast.
What's a crustless zucchini quiche?
Crustless zucchini quiche are simply quiche with no crust ! Consequently, they are perfect keto quiche since they don't have the carb from wheat crust. There is few ways to bake a crustless zucchini quiche, it can be baked in a large 9 inches quiche pan or in single muffins hole tray for single serve breakfast.
How to make muffin tray quiche?
This is a muffin tray recipe it means that each crustless quiche are baked in a jumbo 8 hole muffin tray. It is a very convenient recipe to create single serve keto breakfast with same amount of carbs per serve. First, you need to prepare the zucchini, peeling then lengthwise with a vegetable peeler and create ribbon. The zucchini ribbons act as crust. It is the trick to make single serve crustless quiche that hold in one hand. Below, you can see how to arrange the zucchini ribbons in the muffin holes to make sure they are fully covered.
Next, prepare the filling by cooking some grated zucchini along with pesto. Finally, combined the cooked zucchini with egg almond milk batter and fill each hole with the filling.
How to rewarm your quiche?
It is better to serve these zucchini quiche hot. However, you can also store leftover in the fridge up to 3 days or freeze them in airtight container. In order to rewarm your crustless zucchini quiche, you can:
pop them in the microwave for 1 minute – not the best as the egg texture gets a bit chewy but if you are at work it is a way to do!
bake them at 120C (250F) for 10-12 minutes until warm in the center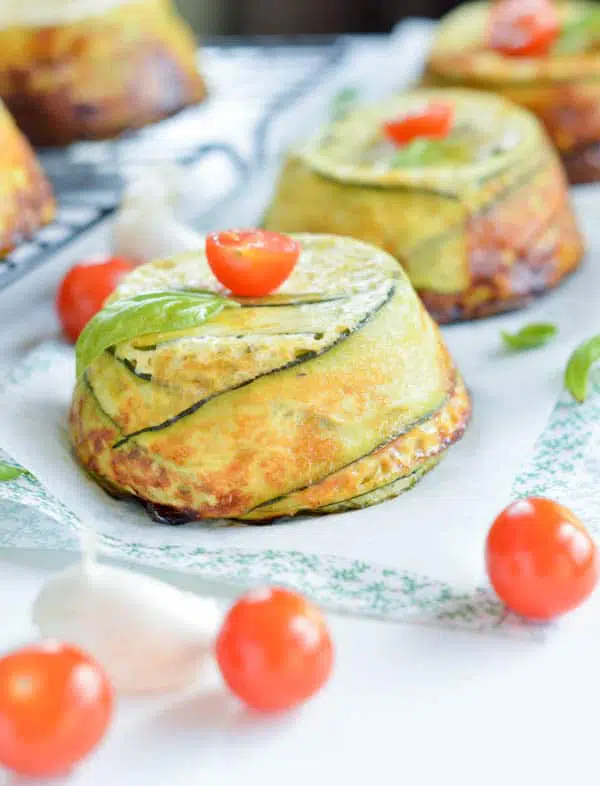 More keto zucchini recipes to try
Zucchini is an amazing keto vegetable, low in carb and tasty! if you love zucchinis, try some of my others keto zucchini recipes below
Did you made these muffin tin crustless zucchini quiche ? Share your picture with me on Instagram
xoxo Carine