This Almond Flour Chocolate Cake is the best easy keto chocolate cake for birthday parties! You'll love its moist texture and sweet chocolate almond butter frosting!
Keto chocolate cakes are the essential ingredient that makes living on a keto diet easier. Everyone loves chocolate, but most cake recipes are so full of sugar that low-carbers need to stay way clear of them.
This recipe solves that problem. With a keto-friendly cake, you can treat yourself without having to worry about your macros!
How do you make a keto chocolate cake?
There are a few tricks to making a keto version of a chocolate cake.
Now let's get into this specific recipe. This Almond Flour Chocolate Cake is an easy, gluten-free chocolate cake made of 9 simple keto ingredients, which means it's not only keto-friendly, but it's also a diabetic-friendly chocolate cake!
The basic ingredients to make this easy moist chocolate cake are:
Are you new to Keto?
Receive my Keto Quick Start email series to learn all about the Keto diet and kick start your keto journey!
Almond flour – make sure you are using fine, blanched almond flour. Almond meal is coarser and dries out cakes recipes. Find out how to choose your Keto Flours.
Unsweetened cocoa powder – brings the lovely chocolate flavor to the cake without the sugar and carbs.
Sugar-free crystal sweetener – feel free to choose your favorite from erythritol, Monk fruit, or xylitol. Another non-keto healthy option is coconut sugar if you are on a paleo diet. Use my Sweetener Converter to convert from one sweetener to another.
Eggs – this recipe doesn't work with any egg replacement.
Unsweetened almond milk or unsweetened coconut milk if desired.
Baking powder or use half the amount of baking soda.
Vanilla essence or vanilla stevia drops.
How to make a moist keto chocolate cake?
The key to creating a moist cake is to bake it at low temperature – 160C (325F) is the best – and on conventional mode. Also, I always recommend checking the baking quite often during the last 10 minutes.
You should remove the cake from the oven when a pick inserted in the center of the cake comes out clean but slightly moist and wet. This means that some moisture is still in the center to ensure the best texture.
Finally, always beat all the liquid ingredients on high speed with an electric mixer before incorporating them into the dry ingredients. Therefore, the cake is less dense and fluffier.
Making a delicious chocolate almond butter frosting
This is the best part of this almond flour chocolate cake. You will love the combination of creamy chocolate, almond buttercream, and moist keto chocolate cake.
Of course, you can replace almond butter with peanut butter if desired, but it will raise the carbs slightly! Read more about my chocolate almond butter frosting recipe here.
Can I make ahead a keto chocolate birthday cake?
If you want to create a 2-layer keto chocolate cake, as you see in my pictures, you will have to bake this recipe twice, one per layer. Also, make sure you bake each layer one at a time in your oven.
You can actually bake the layers 24 to 48 hours before assembling your cake. In order to keep your layers moist, you can store them in a cake box or on a plate in the fridge wrapped with a piece of wrap.

How to assemble the keto chocolate cake?
First, make sure the cake layers are cold, at room temperature. This might mean you have to cool them for at least 3 hours or overnight before adding any frosting if you didn't do them ahead of time. Then, I recommend using a turning table.
Place the first cake layer on the turning table, add 1/3 of the frosting in the middle of the cake, and using a spatula, spread the frosting from the middle to the side while you turn the table at the same time.
Next, add the second cake layer and 1/3 of the frosting.
Proceed as before to spread the frosting all over the cake. Obviously, some of the frosting is going to leak out on the side of the cake, but that's ok. Spread the rest of the frosting on the side and keep turning the table while applying medium pressure with your spatula on the side of the cake.
Can I store this keto chocolate cake?
Yes, you can store this chocolate cake in the fridge for up to 4 days. Always make sure the cake is in an airtight container or in a cake box to keep it moist and fresh.
My other favorite keto cake recipes
If you've liked this recipe, you will love my other cake recipes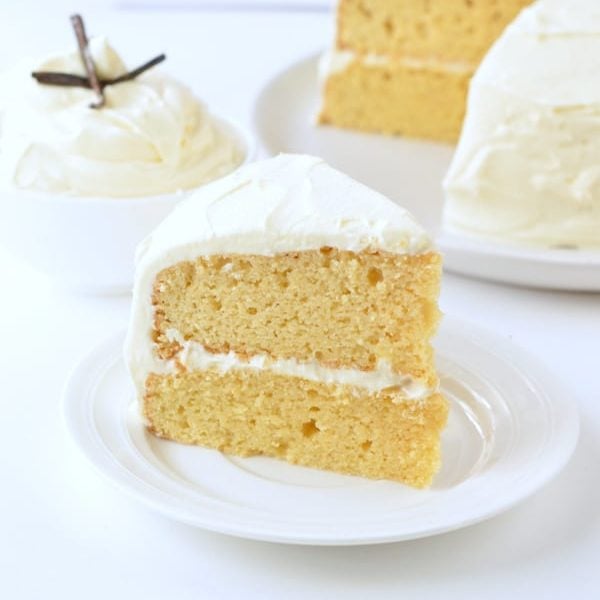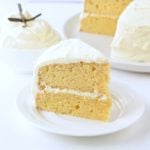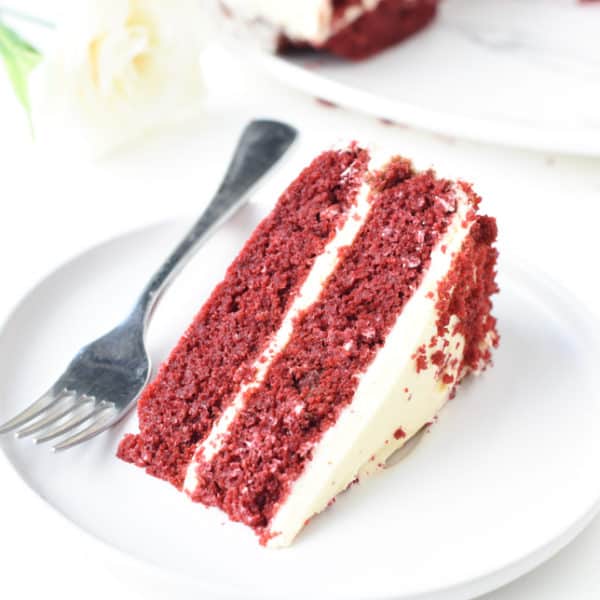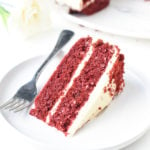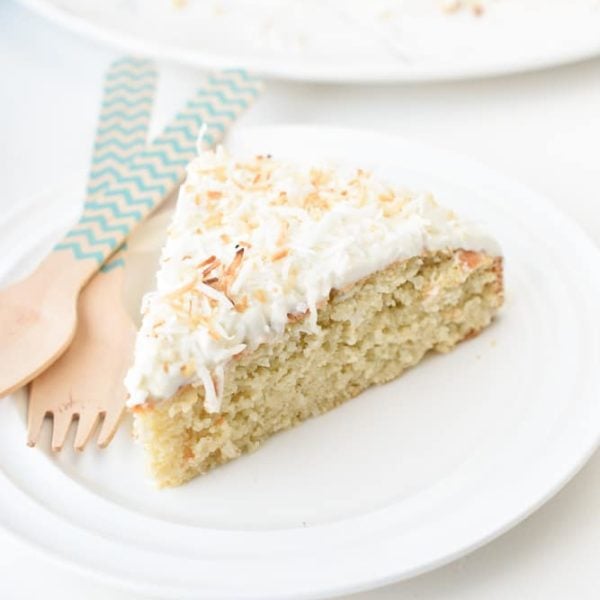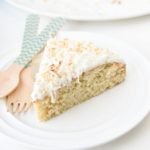 Don't forget to share a picture of your cake with me on Instagram if you give this a try! I love to look at your creations.
xoxo Carine
Recipe Card
Keto Chocolate Cake
This Keto Chocolate Cake is an easy almond flour chocolate cake with a creamy chocolate almond butter frosting.
Chocolate almond butter frosting
Preheat oven at 160C (325F). Grease a 9-inch round cake pan with coconut oil or butter. Set aside.

In a large mixing bowl, using an electric beater, beat eggs, melted coconut oil (or butter), unsweetened almond milk, and vanilla together for 45 seconds on medium/high speed or until fluffy and small bubbles form on the top. Set aside.

In another bowl, stir together the almond flour, unsweetened cocoa powder, sugar-free crystal sweetener, and baking powder.

Pour the egg mixture onto the dry ingredients and use a manual whisk to gently combine the ingredients and form the chocolate cake batter.

Transfer the cake batter into the prepared round cake pan and place the pan in the center rack of your oven.

Bake for 40-45 minutes or until the center is set and a skewer inserted in the middle comes out clean but still wet and moist. If it comes out with crumbs on the skewer, keep baking, but it's better to keep the center slightly moist for the best melt-in-your-mouth cake texture.

Cool the cake in the pan for 5 minutes, then transfer on a cooling rack and wait until it reaches room temperature before frosting.

Repeat the same recipe to create a second cake layer if desired. Make sure you clean, dry and grease the cake pan again before adding the second cake batter to it.
Chocolate almond butter frosting
Make the frosting just before frosting the cake to keep it soft and easy to spread. In a large mixing bowl, beat the soft butter along with almond butter until creamy and smooth.

Beat in the stevia drops, unsweetened cocoa powder, and almond milk until fluffy and sweet. If your frosting is too dry, this can happen if your almond butter was a bit old/less oily. You can adjust the texture of the frosting by adding 1-4 tablespoons of almond milk at room temperature. Add 1 tablespoon at a time, beat, and stop adding when it reaches your favorite keto frosting texture. The more you add, the fluffier and creamier it will be. Taste sweetness and adjust stevia drops to taste!
How to assemble a layer cake?
Make sure both cake layers are cold before frosting your cake or the frosting will melt. I recommend you wait at least 3 hours after the cake has been baked, or place the cake for 1 hour in the fridge for the best results.

Place one cake layer on a plate, add 1/3 of the fresh frosting in the middle of the cake layer. Spread the frosting from the center to the edge using a flat tool or spatula. Add the second cake layer on top, add 1/3 of the frosting on top of the cake layer, and repeat as before. Use the leftover frosting to spread on the sides of the cake.
Storage
You can store your cake in a cake box or airtight container in the fridge for up to 4 days.
Nutrition panel notes:
The cake serves 12 slices.  The nutrition panel card below is for one slice of one cake layer with NO frosting. If you make 2 layers of cake, it means you bake two cakes. The net carbs will be 2 times the one shown on the panel plus frosting meaning 4.6 grams of net carbs per slice. Details below. 
Nutrition panel for one slice, two cake layers, with frosting: Calories: 280 kcal, Fat: 22.4 g, Protein: 7.2g, Carbs: 8.3 g, Fibers: 3.7 g, Net carbs: 4.6 g, 
Nutrition Facts
Keto Chocolate Cake
Amount Per Serving (1 slice)
Calories 142
Calories from Fat 78
% Daily Value*
Fat 8.7g13%
Carbohydrates 5g2%
Protein 4.5g9%
Net Carbs 3.2g
* Percent Daily Values are based on a 2000 calorie diet.